NBC Insider Exclusive
Create a free profile to get unlimited access to exclusive show news, updates, and more!
Sign Up For Free to View
Everything to Know About Law & Order's Jeffrey Donovan
The actor now stars as Det. Frank Cosgrove on Law & Order — but you might recognize him from Burn Notice.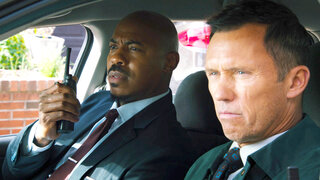 Jeffrey Donovan, who plays Det. Frank Cosgrove on Law & Order, is no stranger to the Wolf Entertainment franchise or playing a television cop. You've likely already seen him in half a dozen other roles, including the cult favorite Burn Notice, which aired on USA Network from 2007 to 2013 (and was recently heavily referenced in Poker Face's Season 1 finale).
Donovan made his debut as Det. Cosgrove when original series Law & Order returned to NBC with Season 21 in February 2022. Read more about his career below.
From a Law & Order Corpse to Starring as Det. Frank Cosgrove
This isn't Donovan's first appearance on the crime drama in which he now stars: He told Seth Myers on a May 2022 episode of Late Night with Seth Meyers that he'd actually first appeared on Law & Order as a corpse and then later returned to the show as a murder suspect.
"I got out of school and everyone wanted to be on Law & Order; it was a badge of honor," Donovan said. "I started off as a dead guy and then, like 10 years later, I came back as a suspect."
Donovan played murder victim Eddie Nicodos in Season 4, Episode 4 ("Jeopardy") in 1995. (Though Nicodos' murder itself was not related to a case in the news, the question of double jeopardy that came into play in his killer's trial was based on the murder case against Chicago mobster Harry Aleman, who bribed a judge to obtain an acquittal in a murder trial and was re-indicted and convicted after the bribery was proven.)
Donovan then played the killer, Jacob Reese, in Season 17, Episode 17 ("Good Faith") in 2007. Reese was a fundamentalist Christian who claimed he killed his daughter's teacher in fear of her soul because she was being taught evolution. It turned out he mistakenly believed the teacher had been in a sexual relationship with his daughter and killed him over that.
Now, he's starring in the original Law & Order as Cosgrove, and starred alongside the Law & Order: Organized Crime and Law & Order: Special Victims Unit casts in 2022's Law & Order Premiere Event.
Burn Notice
Most people, however, likely recognize Donovan from the USA series Burn Notice, which aired from 2007 to 2013.
He starred as Michael Westen, a former CIA agent burned by the agency and forced to work as an off-the-books private eye as he tries to figure out who burned him and why.
While the show has been off the air for a decade, fans are still holding out hope for a return. Donovan told the Great Adventures podcast in 2019 that he had been more than ready to move on once the series ended, but over the years has come to miss the show. 
"People who watched the show know that [Westen and his girlfriend Fiona] escaped to Ireland and raised my brother's son as our own," he told the outlet. "I would be interested to catch up with where their lives are at this point. I have spoken with [creator] Matt Nix about it and he likes the idea. I have spoken to Bruce [Campbell] and he loves the idea."
Whether a Burn Notice reboot is in the cards is yet to be seen, but last year Donovan told TODAY that he would love to reunite with his former co-stars Bruce Campbell, who played Westen's best friend Axe, and Cagney And Lacey star Sharon Glass, who played Westen's mother, on Law & Order.
"I spent seven years with them," he said. "They feel like my mom and my brother and I've already reached out to them, and I hope they come on."
Donovan's Burn Notice co-star Gabrielle Anwar, who played Westen's girlfriend, Fiona Glenanne, however, has actually already appeared in the Law & Order franchise. She played victim/suspect Eva Sintzel on Season 9, Episode 14 ("Inconceivable") of SVU in 2008. Sintzel had her frozen embryos stolen and destroyed by anti-fertility extremists, one of whom was killed after his arraignment.
Jeffrey Donovan's Other Acting Credits 
Donavan has more than a dozen film credits, including having portrayed Robert F. Kennedy in J. Edgar (2011) and his brother, President John F. Kennedy, in LBJ (2016). He also appeared as an abusive prison guard-turned-politician in 1996's Sleepers; as an obsessed Blair Witch fan in Book of Shadows: Blair Witch 2 (2000); as the playboy antagonist in Hitch (2005); as a corrupt cop in Changeling (2008) opposite Angelina Jolie; and as CIA Officer Steve Forsing in both Sicario movies. 
In addition to iconic series like Law & Order and Burn Notice, his other television roles include: failed magician-turned-psychic Charlie Haverford in Shut Eye (2016-17), mobster Dodd Gerhardt in Fargo Season 2 (2014), lawyer William Ivers in Season 6 of NBC's Crossing Jordan (2007), and Detective David Creegan in the USA Network series Touching Evil (2004).
Martial Arts and a Boston Red Sox Fan
According to Entertainment Weekly, Donovan has a black belt in karate and has studied aikido and Brazilian jujitsu. "If someone grabbed me, I'd probably be able to choke them out in about eight seconds," he told EW in 2009.
A Massachusetts native, Dovovan has also thrown out the first pitch at a Red Sox game at Fenway Park in Boston. 
Want more content like Law & Order? From television's most prolific crime storyteller Dick Wolf, comes a new series Blood & Money. Each episode chronicles true stories of notorious, ripped from the headline murder cases and trials motivated by greed.  
Watch Blood & Money on CNBC Tuesdays at 10/9c & Saturdays at 9/8c on Oxygen True Crime.