NBC Insider Exclusive
Create a free profile to get unlimited access to exclusive show news, updates, and more!
Sign Up For Free to View
Celebrities Who Appeared on Law & Order Before They Were Famous
Some of the biggest A-list celebrities got their early breaks by appearing on Law & Order.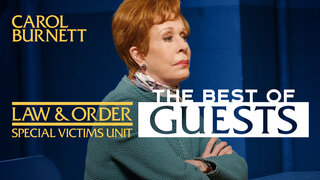 Law & Order has long been a first-time credit for many actors, in part because it's been filmed in New York since its premiere in 1990. In the decades since, the show has been a lifeline for a multitude of up-and-coming actors — especially those in theater work — and provided many with a much-needed paycheck or first-time acting credit. But it's not just a stomping ground for aspiring thespians: It's also welcomed more established actors.
The myriad of guest stars and small appearances by actors who later made it big is one reason the show's reruns remain so binge-worthy: You never know who you're going to spot! 
Some actors have portrayed good guys; others have played despicable and memorable bad guys; and some have even made multiple appearances as different characters. The impressive roster of guest-starring actors today includes Emmy, Oscar, and Tony nominees and winners.
After returning to the airwaves for its 21st season in 2022 after an 11-year hiatus with an all-star cast, the show is once again offering new opportunities to a whole new generation of actors, many who may later make it big.
But here are 10 A-list actors who made appearances on Law & Order before they were household names.
Pedro Pascal
Season 18, Episode 10 ("Tango"), 2008
The Last Of Us and The Mandalorian star made an early career appearance in the original Law & Order franchise as Tito Cabassa, a pimp who, along with the sex worker he managed, was the prime suspect in the murder of a teenager.
It wasn't, however, Pascal's first or only appearance in the Law & Order universe: He appeared on Seasons 6 and 8 (2006 and 2009, respectively), of Law & Order: Criminal Intent and on Season 12 (2011) of Law & Order: Special Victims Unit.
Idris Elba
Season 12, Episode 9 ("3 Dawg Night"), 2001
A year before his break-out role as Stringer Bell on The Wire, the British actor guest starred as Lonnie Liston, the floor manager of Mega-Fly, an exclusive nightclub. In the episode, a man was shot and killed at the club while a famous rapper and his equally famous girlfriend were in attendance.
The episode was inspired by an incident at a New York nightclub involving Sean Combs (who changed his name from Puff Daddy to P. Diddy as a result) and his then-girlfriend, Jennifer Lopez, at a New York City nightclub in 1999.
Sarah Paulson
Season 5, Episode 4 ("Family Values"), 1994
The star of many a Ryan Murphy project, Paulson's first on-screen acting gig was actually playing Maggie Conner in one of the very early seasons of Law & Order! Conner was put on trial for the murder of her mother, only to eventually confess that her stepfather initiated a sexual relationship with her and accidentally killed her mother when she found out about it. 
Stills from her 1994 appearance were later shown during her 2010 turn as nepo-baby Anne Gillette on SVU.
Jennifer Garner
Season 6, Episode 23 ("Aftershock"), 1996
In one of her earliest on-screen appearances, the Alias star played Jamie, a graduate student who did some heavy flirting with the very-married Detective Reynaldo "Rey" Curtis (Benjamin Bratt). The episode is probably most notable for longtime fans because Assistant District Attorney Claire Kincaid (Jill Hennessy) died in a car accident at the end, after witnessing the execution of a man she helped convict. 
Zoe Saldana
Season 9, Episode 24 ("Refuge: Part 2"), 1999
The Star Trek and MCU actress got her first television role in the second part of a two-part season finale playing a character named Belinca, who was connected to the Colombian part of a dangerous Russian mob money laundering operation. The episode, however, is now most notable for being the last cast appearance of Bratt, whose character, Curtis, retired at its end to take care of his wife.
Saldana went on to appear on a Season 5 SVU episode in 2004 as Gabrielle Vega, the daughter of a murder suspect.
Laverne Cox
Season 19, Episode 6 ("Sweetie"), 2008
Before going to prison in the groundbreaking series Orange Is the New Black, the Cox made a brief appearance in one episode as a truck stop sex worker named Minnie who asked an undercover Det. Cyrus Lupo (Jeremy Sisto) if he would like to "party."
It was her second of two franchise appearances that year: She appeared in a Season 9 episode of SVU as a gym manager who was interviewed as witness.
Claire Danes
Season 3, Episode 1 ("Skin Deep"), 1992
The star of My So-Called Life made her first on-screen appearance in Law & Order as Tracy Brandt, the suspect in the murder of a photographer.  
Danes remains part of the Law & Order family, in a way: She's now married to Hugh Dancy, who has been playing Senior Assistant District Attorney Nathan Price on the series since 2022. 
Kate Walsh
Season 8, Episode 3 ("Navy Blues"), 1997
Before joining Emily In Paris and Private Practice, Walsh guest-starred on Law & Order as U.S. Navy Lieutenant Kirstin Blair, who became the number one suspect after her lover, a fellow naval officer, was murdered.
Julianna Margulies
Season 3, Episode 17 ("Conduct Unbecoming"), 1993
A year before checking into NBC's ER and 15 years before becoming The Good Wife, Margulies played Ruth Mendoza on Law & Order — her second on-screen role. Mendoza was a lieutenant in the U.S. Navy called in as a witness to the investigation after female Naval officer died during a hotel party. (The episode was "ripped from the headlines" of the Navy and Marine Corps' Tailhook scandal.)
Allison Janney 
Season 2, Episode 12 ("Star Struck"), 1992 and Season 4, Episode 22 ("Old Friends"), 1994
Long before winning a best supporting actress Oscar for her role in I,Tonya or playing press secretary C.J. Cregg on NBC's The West Wing, Janney appeared as a witness, Nora, in an episode that centered on a soap opera star who was severely beaten by an obsessed fan.
Two years later, Janney returned to the show as Ann Madsen, a witness to a mob hit who was reluctantly compelled to testify and then killed on her way to a safe house.
Watch Law & Order on NBC Thursdays at 8/7c and the next day on Peacock.