NBC Insider Exclusive
Create a free profile to get unlimited access to exclusive show news, updates, and more!
Sign Up For Free to View
Is Law & Order: SVU on Tonight? Learn When New Episodes Return
When will Benson and the squad return with new Law & Order: SVU episodes?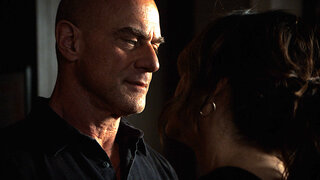 Season 24 of Law & Order: Special Victims Unit has been an emotional rollercoaster, and with each new episode, the suspense continues to build. 
Captain Olivia Benson (Mariska Hargitay) has been dealing with non-stop action as she takes down NYC's most horrendous criminals. The SVU itself has evolved dramatically, with new detectives settling into the squad room as beloved characters, like Amanda Rollins, begin new chapters. If Benson's work life getting complicated wasn't enough, her relationship with Elliot Stabler (Christopher Meloni) has also caused some massive drama. After Stabler went in for that intimate kiss, it's clear Benson needs more time before exploring any romance with him. 
From shocking deaths to scandalous almost-kisses, SVU Season 24 has been a wild watch. While many fans are begging to see more of Benson, it appears viewers will need to hit the brakes. Law & Order: SVU is going on a brief hiatus. But fret not, fans: Keep reading to learn when and how to watch new episodes of Law & Order: SVU.
Is Law & Order: SVU on tonight (February 9, 2023)?
Unfortunately, no. The original Law & Order, Law & Order: SVU, and Law & Order: Organized Crime will be skipping new episodes during the week of February 9, 2023. 
When does Law & Order: SVU Season 24 return?
Law & Order: SVU will continue with a new episode on Thursday, February 16 at 9/8c and next day on Peacock for the return on NBC's Law & Order Thursdays. In the meantime, fans can rewatch all their favorite nail-biting episodes on Peacock.
We know, it's going to be hard waiting to see the fallout between Benson and Stabler. Meloni spoke to TODAY about how he prepared for that intimate exchange. "It was an interesting scene, a delicate scene, a difficult scene. Awkward, but that's all good. Because I think those were all elements that were part of the scene," Meloni revealed.
How do I watch Law & Order: SVU?
As always, watch Law & Order: SVU Thursdays at 9/8c on NBC and next day on Peacock. Catch up on your favorite SVU episodes ahead of the return of new episodes.