NBC Insider Exclusive
Create a free profile to get unlimited access to exclusive show news, updates, and more!
Sign Up For Free to View
Here's Why Severide Just Put Himself—And Maybe Stella—in Danger on Chicago Fire
The Chicago Fire Season 11 premiere did not let up.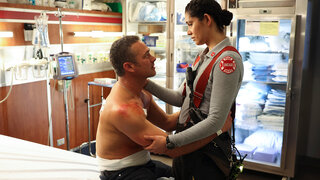 The Chicago Fire Season 11 premiere didn't waste time getting right into the action. When we left Stella (Miranda Rae Mayo) and Severide (Taylor Kinney) in Season 10, they'd just gotten married and were headed into a cabin for their first romantic night as husband and wife. However, a mysterious car pulled into the driveway after their arrival, leading fans to think the couple was in danger.
Related: All About Sam Carver, the Cocky New Firefighter Who's Got Stella Worried
And they were right. It turns out, Dell—the drug dealer whose truck Severide busted in Season 10, sending him to jail—made bail and immediately set his sights on hurting Severide. And what's worse: A mole in the Chicago P.D. knew this was going to happen. Severide being Severide, though, he was able to kill Dell before he or Stella were harmed. But now Severide has an even bigger question: Who is the mole in the Chicago P.D.? 
Naturally, Severide seeks out Detective Pryma (Troy Winbush) for help, but Pryma is noticeably cage-y about the subject, confusing Severide even more. So he asks Upton (Tracy Spiridakos), who tells him Pryma may protect the mole's identity if he can be used as an informant. Angered by this, Severide climbs up the ladder of command to Martin Pearce, who, after a tense conversation with Severide, exposes the mole: Danny Kavanagh, who we surely will meet soon. Kavanagh was quickly stripped of his badge and is now facing charges—and Pryma is pissed, telling Severide that Kavanagh was going to help P.D. shut down a major heroin pipeline. Still, Severide doesn't understand how that justifies Kavanagh putting both him and Stella in danger. The episode ends with Pryma telling Severide he's lost a friend in the Chicago P.D.—and the entire thing feels quite ominous. Did Severide just put himself—and Stella—in major danger? 
"It's intense," Chicago Fire co-showrunner Derek Haas tells NBC Insider. "It's not just the fact this drug case Severide sniffed out is happening but also they were getting inside help in the police department. Severide makes an enemy in the premiere that will continue on through Season 11. We have not seen the end of this storyline."  
Oof. Looks like we'll have to keep watching this season to see how much trouble is coming Stella and Severide's way. 
Watch Chicago Fire on NBC Wednesdays at 9/8c and next day on Peacock.