NBC Insider Exclusive
Create a free profile to get unlimited access to exclusive show news, updates, and more!
Sign Up For Free to View
Stellaride Made a Major Relationship Decision in the Latest Chicago Fire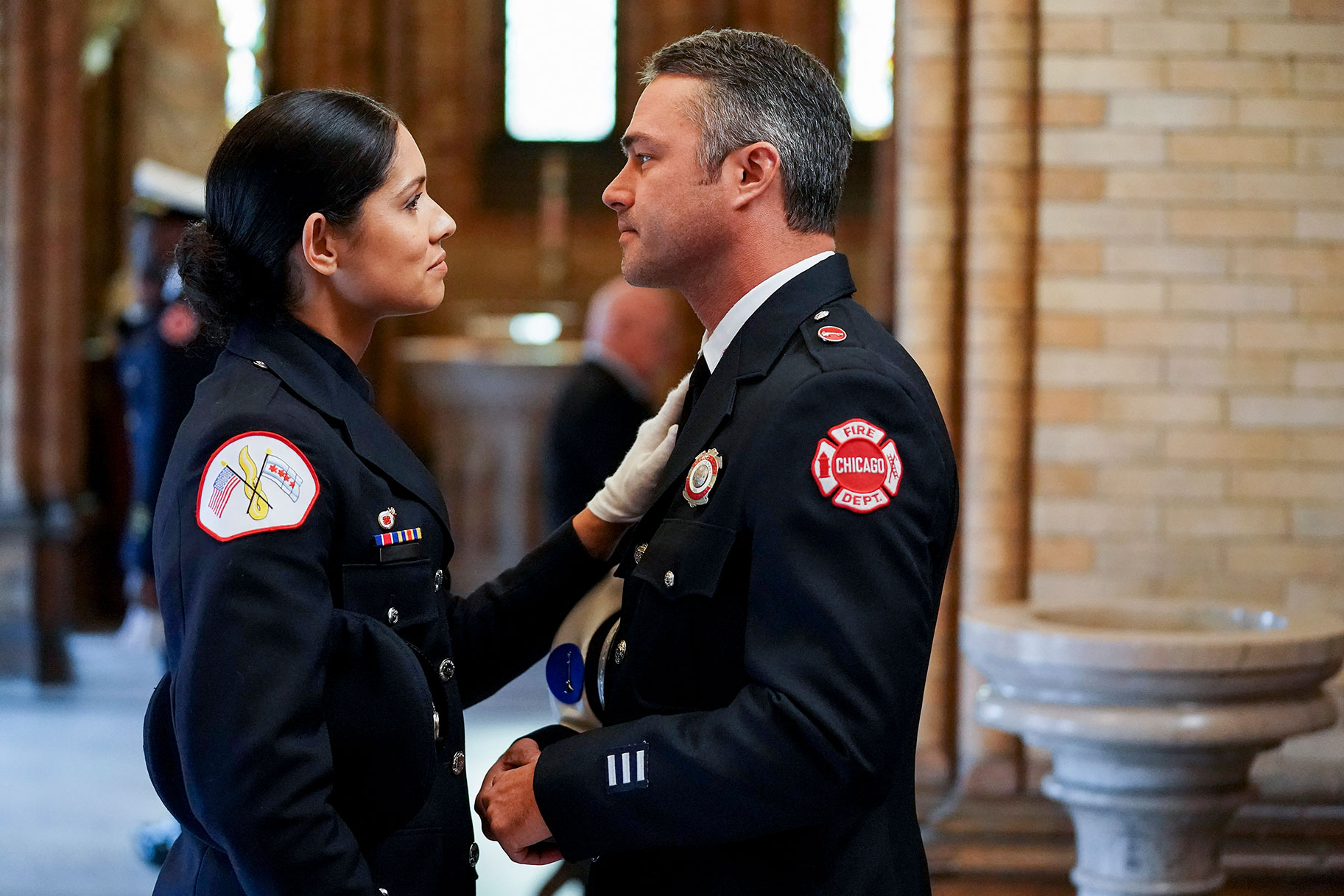 Chicago Fire Season 10, Episode 21 confirmed what fans have been assuming for weeks now: The Stellaride wedding is coming sooner than you think. Like, really soon. As in: It's happening during the Season 10 finale. 
Like we said, this isn't huge news for Chi-Hards, but it is news for Stella Kidd (Miranda Rae Mayo) and Kelly Severide (Taylor Kinney), who made the decision after a seriously dramatic sequence of events. 
To recap: Episode 21 started off with some palpable awkwardness between Kidd and Severide in light of Gallo's (Alberto Rosende) decision to stay at Truck 81. Kidd thought Severide was trying to poach one of her best teammates—it was a whole thing. And the weirdness continued when Severide asked Kidd if they could skip a wedding tasting they had planned for weeks. For Kidd, the writing was on the wall, and she said as much to Christopher Herrmann (David Eigenberg) at Molly's: Severide was getting cold feet. For whatever reason. Maybe it was their past issues with marriage coming to a head, maybe it was the wedding becoming actual reality. Either way, the couple was talking about the wedding less and less—and that was freaking Kidd out. 
It took a pretty scary incident for Severide to see the light. After turning a drug dealer over to Chicago P.D., the veteran firefighter found himself the target of some very dangerous dudes. They jumped Severide and put him in the hospital—and of course, Kidd was by his side in an instant. (Side note: We probably haven't seen the last of those drug dealers!) 
Severide confessed to Kidd that he didn't know why this—why marriage—was so scary. After all, they run into burning buildings for a living. Kidd says it's because there's no Academy for love; they have to figure it out on their own. Severide takes this as a sign they should approach their wedding like they do fires: run straight into them, no fear. No hesitation. He suggests not putting their wedding off for another second—that they should tie the knot next week. (The week of the Season 10 finale.) Kidd agrees, and they embrace. 
It's official, people: There's going to be a wedding! Tune into the Chicago Fire Season 10 finale Wednesday, May 25 at 9 p.m. ET on NBC to watch it all unfold.