NBC Insider Exclusive
Create a free profile to get unlimited access to exclusive show news, updates, and more!
Sign Up For Free to View
What's Next For Burgess After That Emotional 200th Episode of Chicago P.D.?
Marina Squerciati breaks down the concerning ending of Season 10, Episode 14's "Trapped."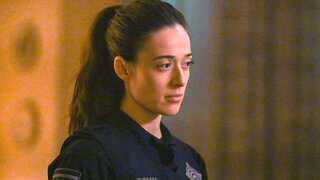 Chicago P.D.'s 200th episode (Season 10, Episode 14's "Trapped") put Burgess (Marina Squerciati) front and center and took fans through a rollercoaster of emotions.
Throughout the season we've seen Burgess' trauma from her Season 8 kidnapping begin to catch up with her, but it all came to a head in the episode's first scene. While at home, she suffers a severe panic attack in front of Makayla and reluctantly goes to therapy. But soon after her first session, she's thrust into a high-stakes case that sees her and Ruzek (Patrick Flueger) stuck in a shootout on the "L," which triggers her PTSD and another panic attack.
By the end of the hour, she suffers yet another panic attack while trapped in a well with a young boy she was tasked with finding for the case. But even though he was saved in the end, Burgess clearly still feels defeated and protective over her position in the Intelligence Unit.
"I can't feel this. Like I'm getting shot all over again. Like I'm bleeding out every time I hear a gun go off," she tells her therapist in "Trapped's" final scene. "I almost lost that boy. I can't be who I wanna be with this. Not for my daughter and not for Adam. And I can't be a cop, they bench cops for this. I can't not do this job. I don't ever wanna not do this job. You said I'm trapped, but I can't be trapped."
Her therapist's response? "OK, then we work on getting you free."
Burgess' words understandably had fans questioning what's next for Burgess in Season 10. Luckily, Squerciati and showrunner Gwen Sigan explained it all to NBC Insider, below. 
What's next for Kim Burgess in Chicago P.D.?
Despite her fear that her PTSD could put her position in the Intelligence Unit at risk, Squerciati told NBC Insider that Burgess has been fighting similar issues since as early as Season 2. Now, going to a therapist will only make her better.
"If it was really affecting her job, the showrunner would have to bench me in Episode 201," Squerciati said. "While it affects her at the job and Kim's not at 100%, she's still able to cope and breathe through her fear. However, that probably wouldn't have worked for that for much longer, which is why she goes to therapy."
Sigan tells us that it was important for Burgess to face her trauma this season because it was another way to show "our characters and moral dilemmas are what make this show unique." The good news is we won't see Burgess in this place of suffering for long.
"So much of this season has ended up diving into trauma, old wounds, the parts of us that feel broken, and then of course hopefully the growth that comes out of that," Sigan says. "Burgess is a character that has been through so much, has changed because of this job and the events in her life, and this journey felt honest for her.  We wanted to give her a strong story of recognizing that trauma this season and growing to a place of self-awareness, and hopefully, healing."
Watch Chicago P.D. on NBC Wednesdays at 10/9c and next day on Peacock.