NBC Insider Exclusive
Create a free profile to get unlimited access to exclusive show news, updates, and more!
Sign Up For Free to View
What Happened to Leslie Shay on Chicago Fire?
Leslie Shay was a paramedic and friend to many in Firehouse 51, and her tragic death left a big mark.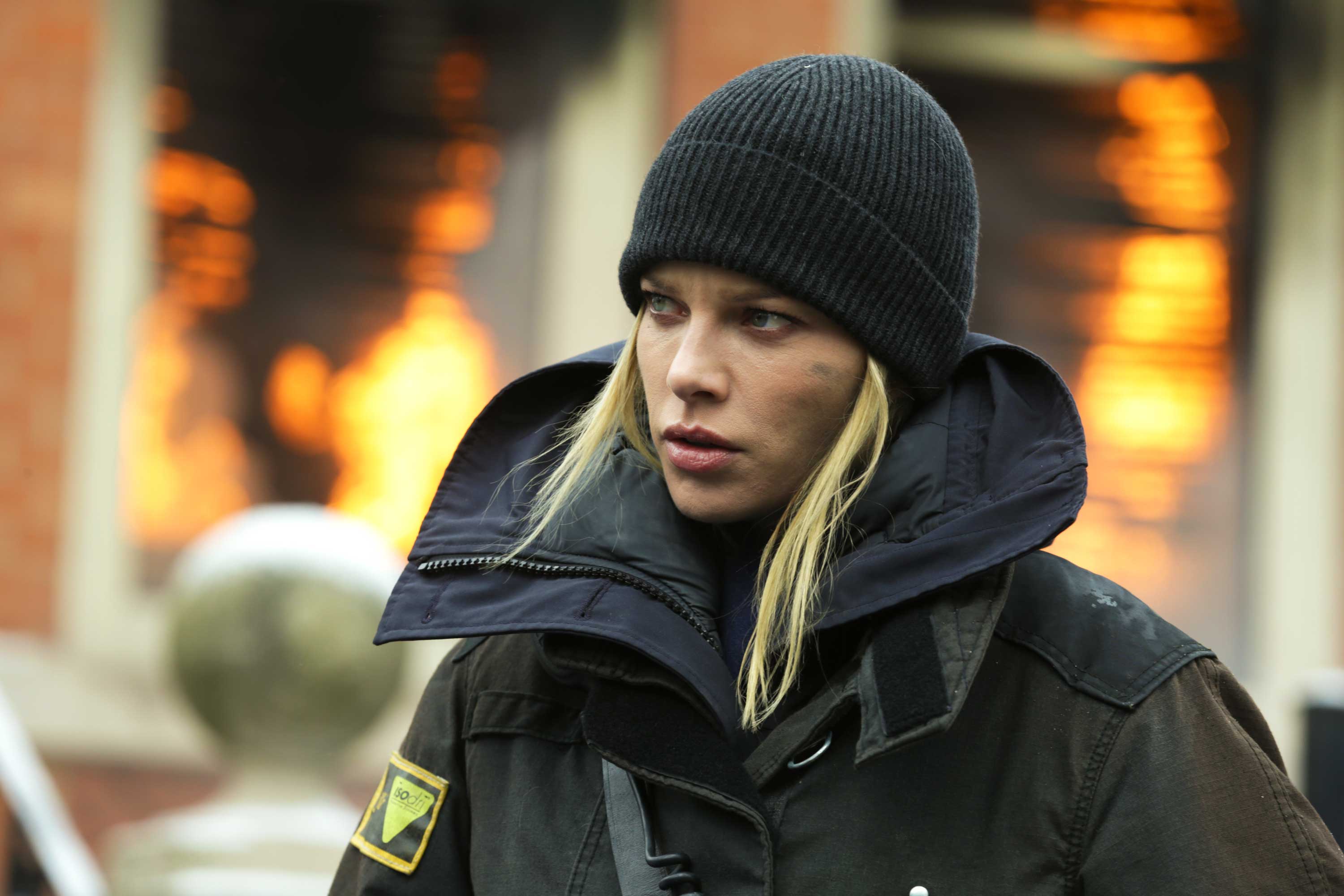 Leslie Shay (Lauren German) was a prominent character in the first two seasons of Chicago Fire. She worked alongside Gabriela Dawson (Monica Raymund), with whom she had a complex friendship, and she was roommates and friends with Kelly Severide (Taylor Kinney). 
Sadly, Shay died in a fire that was later connected to a larger arson plot, and Firehouse 51 mourned the loss of one of their own. Revisit Shay's full character history and the tragic Season 2 death that left a mark on Fire. 
Leslie Shay's coming-out scene
Shay won over audiences' hearts from the very beginning, proving herself to be a funny and intriguing character who was well established in the Firehouse 51 ranks. In the pilot episode, she came out as gay in what would soon become clear was a classic Shay way.
A new recruit, Peter Mills (Charlie Barnett), was told by the rest of the squad to ask Shay out on a date. 
He approached Shay, asking her to grab a beer with him sometime. "Peter Mills, are you gay?" Shay asked him. "No," he responded, confused. "Because I am," she said.
The rest of the firehouse laughed as Mills pieced together their prank. This casual coming-out scene solidified Shay as someone who was confident in her identity and beloved by her coworkers. 
Shay's dramatic relationship with her ex, Clarice
In Season 1, Episode 4 ("One Minute"), Shay encountered an old girlfriend, Clarice (Shiri Appleby) while on a call. Clarice, who was pregnant, was excited to see Shay and gave her her number, offering to reconnect and return some old records of hers.
However, Dawson stepped in before Shay called the number. 
"Don't think I don't remember peeling you off of the floor," Dawson said of Shay's failed romance with Clarice. 
Clarice ended up leaving her husband and moving in with Shay (and her roommate, Severide) in Episode 13 for a few blissful weeks until the baby was born — and Clarice's estranged husband sued for full custody. 
In Season 1 Episode 16 ("Viral"), a social worker told Shay that the baby's father could take the child away if the two women don't have a stable home, implying that their unconventional living arrangement with Severide as a roommate would be an issue for the court. The two looked for a place together, but ultimately Clarice accepted a deal with her baby's father that she would move to New York and share custody with him, so she left Shay abruptly. 
Shay's bond with Kelly Severide
Another big Shay scene in the pilot episode was when she handed Severide a bottle of medication, which we later learned was painkillers used for his shoulder and neck injury. This minor moment provided an understanding of their friendship, which served as a centerpiece in the first few seasons. 
Roommates Shay and Severide were constantly looking out for each other in the first two seasons despite their romances with other people; when Severide's painkillers became a problem in Season 1 Episode 3 ("Professional Courtesy"), Shay confronted him and told him he needed to see a doctor about the injury.
Their friendship stayed strong over the following episodes, with both of them always having each other's backs. 
Shay and Severide's parenting journey
In Season 1, Episode 17 ("Better to Lie") Shay — upset that Clarice had left with the baby — decided to have a baby of her own. She looked into a sperm bank and even found Randy "Mouch" McHolland (Christian Stolte)'s donor profile, but after hearing about the process decided it was too impersonal.
Instead, Shay asked Severide to father a child with her platonically in Episode 18 ("Fireworks"). "I've been searching for the perfect guy to be the father of my baby. Someone honorable, strong, good-looking, maybe even someone who would want to be part of the child's life," she said. "Kelly, I want to know if you'd like to have a baby with me." 
She left a dumbfounded Severide to think on it, and in Episode 19 ("A Coffin That Small") he told her, "I'm in."
The two began the process of artificial insemination, but in Episode 20 ("Ambition"), Severide missed a critical window because he wasn't checking his phone Shay came to him angry and said, "I release you of the obligation."
Later in that episode, he apologized to Shay and said, "You're trying to give me an easy out but I don't need one. We're doing this, OK?"
In the Season 1 finale ("A Hell of a Ride"), Shay learned that the first insemination attempt did not take, and she and Severide grieved the news. At the end of the episode, an ex-lover of Severide's, Renee Royce (Sarah Shahi) returned to Chicago and revealed she was pregnant.
In the Season 2 premiere ("A Problem House"), it was revealed that Shay and Severide were leaving their apartment and Severide was moving in with Renee to have the child together. 
Shay and Dawson's Complex Friendship
While the paramedic partners Shay and Dawson always looked out for each other and shared their insight and advice on certain romantic endeavors, their relationship wasn't always easy. The pair ended up getting into a big fight in Season 2 Episode 4 ("A Nuisance Call") when a patient committed suicide in front of them while they were on a call. 
In wake of their horror from the event, Dawson said that Shay should have let her handle things instead of trying to help the man: "Let me remind you that I am the paramedic in charge of Ambulance 61. If you had stepped back, like I asked, he might still be alive right now," she said. 
"Do not talk to me. We will work together, that's it," Shay said, angry with her partner.
Though the two later made up, their relationship struggled to return to normal, especially when Dawson decided to train to be a firefighter in Season 2 Episode 22 ("Real Never Waits"). 
Shay's Tragic Death
In the finale of Season 2, Shay and the rest of the 51 squad ran into a burning building that suddenly exploded with nearly all of them inside. Season 3's premiere episode ("Always") showed that Shay had run in ahead of Dawson and had been hit in the head with a pipe during the explosion. 
Severide found Dawson giving chest compressions to Shay but, despite her best efforts, Shay's injuries were fatal.
Firehouse 51 mourned her death by dedicating an ambulance to her, and they hosted a tear-jerking memorial where Dawson gave an incredible tribute to her fallen friend and partner. 
"This house, this family, it's all as strong as it ever was. Stronger even, because I think deep down we think to ourselves, 'Shay would want us to be better. She would want us to lean on each other,'" Dawson said.