NBC Insider Exclusive
Create a free profile to get unlimited access to exclusive show news, updates, and more!
Sign Up For Free to View
NBC's Medical Drama Transplant Announces a New Season 3 Premiere: Details
The series, starring the beloved Hamza Haq as Bash Hamed, returns mid-fall.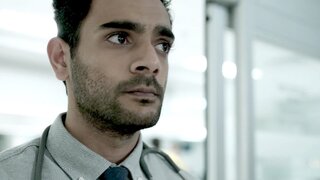 NBC's beloved medical drama Transplant is making a comeback. Fans, you've been waiting for this, and now it's happening: Seasons 3 and 4 are officially on the books! 
Dr. Bashir "Bash" Hamed (Hamza Haq) will be back at the helm of the must-watch medical series. Fans of New Amsterdam or Chicago Med are going to love watching the hospital's inner workings as Bash and his fellow physicians tackle whatever diagnosis comes their way next. 
Find out everything to know about Transplant's exciting NBC return, including premiere dates and plot details, below: 
When is Transplant's Season 3 release date on NBC?
The third season of Transplant will now air a week later than its previously announced release, officially airing on on Thursday, October 12 at 9/8c.

Season 3 first aired all 13 of its episodes on Canada's CTV from September 2022 until February 2023, but it is currently not available to watch or stream anywhere in the U.S. until the October 2023 premiere.
How many episodes of Transplant will there be in Season 3?
There will be a total of 13 episodes.
Where can I stream and watch Transplant?
Seasons 1 and 2 are currently available to stream on Peacock. You'll be able to watch Season 3 every Thursday at 9/8c once it premieres on October 12.
What is Transplant about?
The intense medical drama follows Syria refugee, Dr. Bashir "Bash" Hamed, as he restarts his medical career as a resident at Toronto's fictional York Memorial Hospital. Season 3 will see Bash and the rest of the team deal with the absence of Bishop after he resigned from York and his new replacement, Dr. Neeta Devi (Rekha Sharma) joins the team. And in the midst of all the changes that comes with this huge shift, Bash will also continue his pursuit for his and Amira's Canadian citizenship
 
RELATED: Meet the Cast of Transplant, NBC's Canadian Medical Drama
"We see a different version of Bash than we've seen in the past," Haq told TV Meg about the third season. "There's a bit more confidence and arrogance that he can exude because... obviously he thinks very highly of himself as a doctor, and considered himself highly capable, but there's always been this like protocol thing where you can't prove it or, you know, it's one more, one wrong move and you're out kind of thing. And I think without that tension or that pressure that's being put on him, I think he's able to flourish and flex his chops more as an individual, for better or for worse."
The Transplant cast
The talented cast of Transplant includes the beloved Haq as Bash Hamed, Rekha Sharma as newcomer Neeta Devi, Ayisha Issa as June Curtis, Laurence Leboeuf as Magalie "Mags" Leblanc, and Jim Watson as Theo Hunter. 
Originally published May 12, 2023.