NBC Insider Exclusive
Create a free profile to get unlimited access to exclusive show news, updates, and more!
Sign Up For Free to View
Inside Maddie Baez's Surprise AGT Audition That Left Howie Mandel 'Gobsmacked'
"That was, for me, the most surprising, jaw-dropping moment I have ever personally experienced in my history on AGT," Mandel said.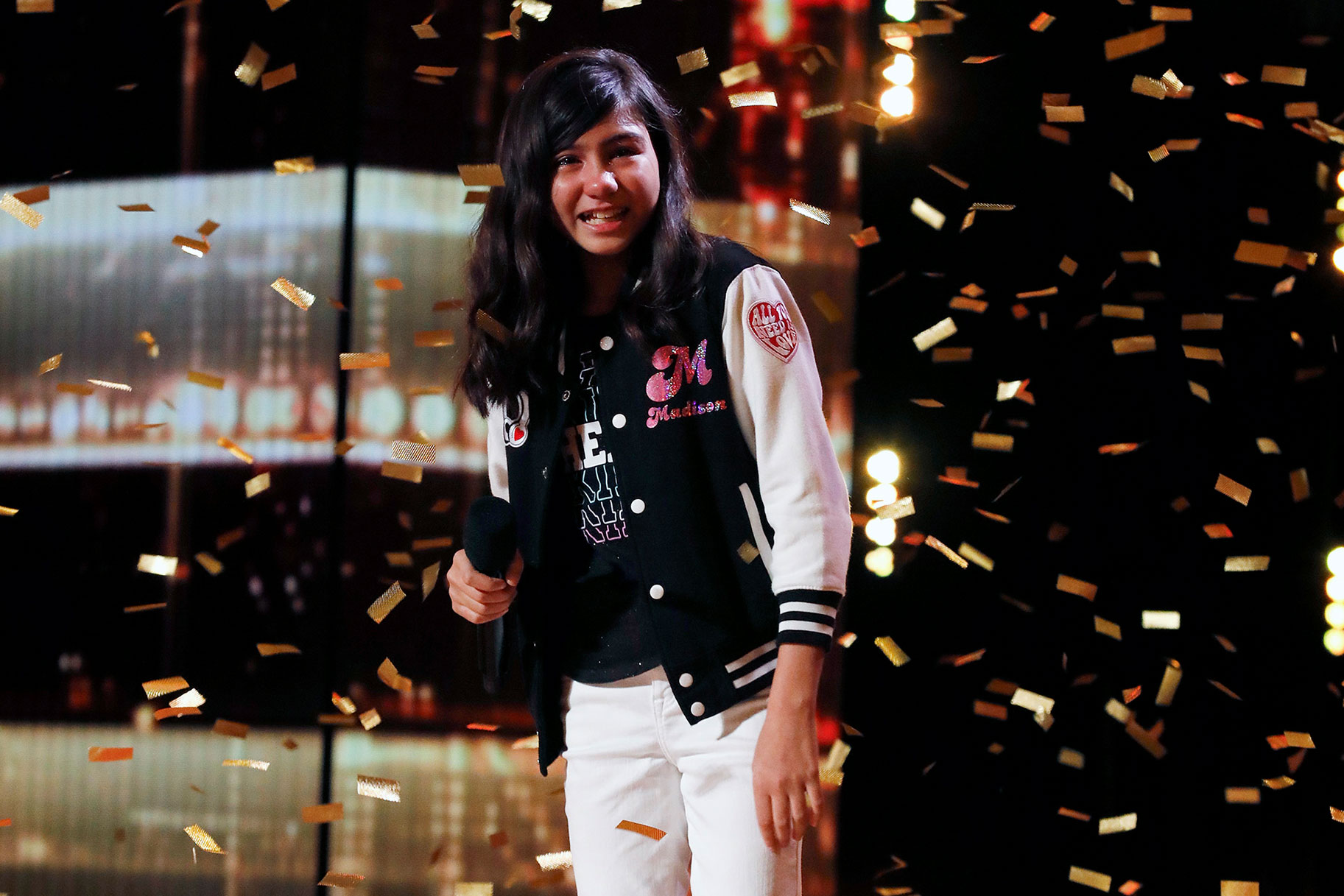 America's Got Talent Season 17, Episode 2 packed a huge Golden Buzzer surprise in the form of 11-year-old Madison Baez.
Here's what happened: During breaks between Acts, producers invite audience members to sing a song of their choosing, passing the microphone around the Pasadena Civic Auditorium.
Baez was eventually given the mic and took the opportunity to wow us all, belting out a powerful rendition of "Amazing Grace." Her voice—and the audience's reaction—alerted the Judges, with Simon Cowell inviting her on the AGT stage.
"I heard this voice thinking, 'Who in the hell is that?'" Cowell said. "And then I see this little thing in the audience, and it's you."
The Yorba Linda, CA native proceeded to have a spur-of-the-moment Audition, performing "Amazing Grace" (again). But before she sang, Baez (through tears) explained that she's an AGT super-fan.
"I've been to many of the tapings and ever since I was 4 years old, I would try to sing during the commercial breaks," she said. "It's always been my dream to be on this show, and I'm finally here."
Her second go at "Amazing Grace" earned even more praise from the Judges.
"In all the years we've ever done this, this has never actually happened before. I normally leave during the break because people do sing. This is actually the opposite. It actually brought me back into the room," Cowell said.
Howie Mandel was so moved that he awarded Baez the Golden Buzzer, sending her automatically to the next round alongside saxophonist Avery Dixon.
"This is what you wanted, this is your dream to be on this stage, not just to watch," Mandel said. "Everybody's 'gonna know your name now, young lady. Your life has just changed."
"My jaw hit the desk. I was surprised, I was entertained, my heart is still gushing from that moment," Mandel told People about Baez's Audition. "There was something about that sound, that clarity, that strength, that made us turn our heads, and not only made us turn our heads but just say, 'Wow.'"
He added, "Wow is what I felt, wow is what I heard, and wow is what I did. And I wasn't alone. The whole audience, they all were chanting, 'Golden Buzzer! Golden Buzzer!' They really don't do that a lot unless they feel it. And I think that America's going to feel it...There are not words to describe the feeling of her singing. We see singers all the time, but this was magic. She is magic. That was, for me, the most surprising, jaw-dropping moment I have ever personally experienced in my history on AGT."
Mandel told People he had "no idea" Baez was placed in the crowd by producers. "I think it was a surprise to the producers that we would, number one, call her up on stage, and then give her a Golden Buzzer," he said. "...They maybe thought she was good, it would be a nice surprise and it would perk us up ... but not to that level. She filled that room when she was standing in the audience. Even before she was on stage, Simon was out having a coffee. He walked in with his coffee cup, going, 'What is this sound?' From outside the building, people were just piling into the room to see what this was...I did not see it coming. I was gobsmacked. It's just amazing, and I'm so proud of her and so proud that that was my Golden Buzzer."
On her incredible Audition, Baez told People, "It really felt like I was living my dream. I was filled with excitement. I've been watching the show ever since I can remember. It's always been my lifelong dream, and it finally came true...I was kinda freaking out [when Simon walked in] ... but I was so thrilled...I'm most excited to share my voice with everyone that needs it. My main goal has always been to inspire other kids to follow their dreams, so I'm really excited to be able to do that now."
So, what would Baez do in the event she wins AGT Season 17 and its $1 million grand prize? She revealed to the Judges she'd help her father, Chris, who is battling stage four colon cancer.
"I've been battling cancer for the last nine years, and that's how she learned to sing," Chris told the audience. "She would sing to me at the hospital throughout all my surgeries, during my chemo treatments. Sing to me and helping me get better, and I'm doing very well."
America's Got Talent Season 17 airs every Tuesday at 8 p.m. ET on NBC.