NBC Insider Exclusive
Create a free profile to get unlimited access to exclusive show news, updates, and more!
Sign Up For Free to View
Every Golden Buzzer Audition on AGT Season 17
There wasn't a dry eye in the house when saxophonist Avery Dixon took the stage.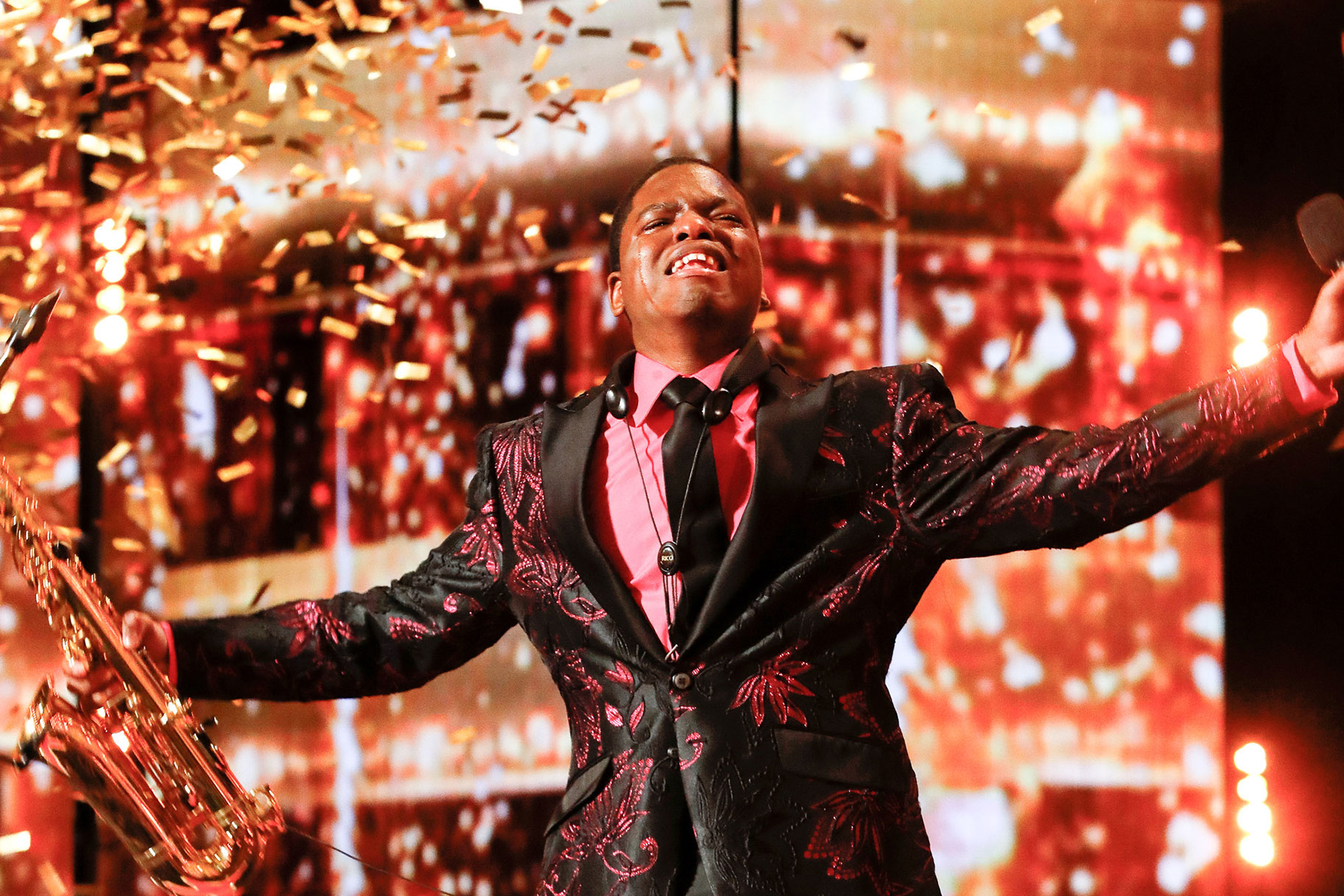 While America's Got Talent's Golden Buzzer doesn't solidify the season's winner, it marks the Acts you should definitely watch out for. So far, five previous AGT winners (like Grace VanderWaal and Kodi Lee) have earned the coveted honor.
How does the Golden Buzzer work on AGT 2022?
Each season during Auditions, the Judges—Simon Cowell, Heidi Klum, Howie Mandel, Sofia Vergara, plus Host Terry Crews—all have one chance to use their Golden Buzzer on the Contestant of their choosing. This automatically advances the Act to the next round of competition.
All throughout AGT Season 17, we'll keep an eye out to see who is lucky enough to have that special moment. Below, see all the Golden Buzzer Auditions from AGT 2022.
Avery Dixon, Episode 1
Hometown: Atlanta, GA
Golden Buzzer given by: Terry Crews
Act: Saxophonist
There wasn't a dry eye in the house during Dixon's emotional audition. Before his stirring saxophone performance, the 21-year-old opened up to the Judges and audience about the years of bullying he endured, which nearly drove him to suicide.
"When you're in that mindset, the only thing you want to do is quit," Dixon said. "That's when I started actually learning how to play... My goal with the music, with this, is to be able to do the thing I love. And if I can do that, I'll have found my purpose for being on America's Got Talent."
Madison Baez, Episode 2
Hometown: Yorba Linda, CA
Golden Buzzer given by: Howie Mandel
Act: Singing
What started as a spur-of-the-moment open mic performance in the AGT audience turned into a full-blown Audition for 11-year-old Madison Baez. When Simon Cowell heard Baez singing "Amazing Grace," he invited her on stage, a dream for the AGT super-fan. Her powerful vocals quickly earned her a Golden Buzzer from Howie Mandel.
Baez said, "I've been to many of the tapings, and ever since I was 4 years old, I would try to sing during the commercial breaks, and it's always been my dream to be on this show, and I'm finally here."
Sara James, Episode 3 
Hometown: Poland 
Golden Buzzer given by: Simon Cowell 
Act: Singing
Thirteen-year-old James stunned the Judges with her cover of Billie Eilish's "Lovely." "It must be such an unbelievable feeling doing this in front of an American audience because I'm guessing this is where you dreamt of performing," Cowell said to James. "I can remember when I came to America for the first time 20 odd years ago, and that was a moment I'll never forget. And I want to make this a moment for you to remember forever." With that, he slammed down his Golden Buzzer. 
Mayyas, Episode 4
Hometown: Lebanon 
Golden Buzzer given by: Sofia Vergara
Act: Dancing
The Mayyas dance group traveled all the way from Lebanon to inspire with their creative choreography. The women explained to the Judges that their work was the ultimate display of self-expression in a country that doesn't always accept them. 
"Unfortunately, being a dancer as a female Arab is not fully supported, yet," they said. "Us being here standing on the biggest stage of the world is our only chance to prove to the world what Arab women can do, the art that we can create, the fights we fight."
Their performance impressed all the Judges but particularly moved Sofia Vergara, who awarded the group with the Golden Buzzer. "I would be so honored to empower you even more in this journey because you deserve it, and I want to be a part of this," she said.
Lily Meola, Episode 5
Hometown: Hawaii
Golden Buzzer given by: Heidi Klum
Act: Singing
Meola's original song, "Daydream," touched the Judges when the singer explained its moving backstory.
"I wrote it at a time in my life when things were really beautiful and I was essentially living my daydream," she said. "I had a major label record deal, I had a publishing deal, I had butterflies I was hatching. It was magical...And then my life flipped upside down and my mom was diagnosed with cancer, and I became her full time caretaker."
Though Klum revealed that she was hesitant to give her Golden Buzzer to another singer, Meola's performance was enough for her to reverse her decision.
"When Lily came onto the stage and she was talking about losing her mother, and I could see how she was struggling with that, and I don't know. I have four kids and immediately, my heart was melting for this girl who was still a young woman struggling with that," Klum told NBC Insider. "I feel like some people, they need a little nudge in life, and I wanted to be that person that gave her that nudge—for me to be that person that gave that spotlight on her for her to be seen and get her beautiful talented voice out there."
Chapel Hart, Episode 7
Hometown: Mississippi
Golden Buzzer given by: Howie Mandel, Heidi Klum, Sofia Vergara, Simon Cowell, Terry Crews 
Act: Girl band
From the second girl band Chapel Hart took the stage, you could tell they were special. The country singers—sisters Danica and Devyn Hart and their cousin Trea Swindle—poured their infectious energy into their original song "You Can Have Him Jolene." The track was written as an answer to Dolly Parton's classic song, "Jolene." 
"We've always been country music fans, and Dolly is by far our favorite," Danica said. "We were so inspired by the song 'Jolene,' we just love the storyline. And we figured though, from 1973 to 2022, we could not still be fighting over the same man, so we decided to tell him you can just have him, Jolene."
Their performance convinced the Judges Chapel Hart were stars in the making, and though they'd all used their Golden Buzzers, they decided to join forces for the ultimate honor: a Group Golden Buzzer.
"Everything was perfect. The song, the energy," Sofia Vergara said. "You guys look like you've been doing this for a long time, and I'm so proud of you guys."