NBC Insider Exclusive
Create a free profile to get unlimited access to exclusive show news, updates, and more!
Sign Up For Free to View
Where to Watch Lopez vs Lopez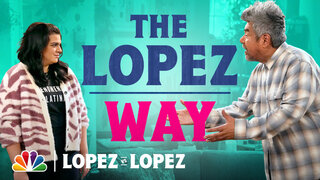 Lopez vs Lopez — starring George Lopez and his daughter, Mayan Lopez — has been bringing so much joy to fans since its premiere in November 2022. 
The father-daughter duo play fictional versions of themselves in this heartfelt comedy that explores the ups and downs of navigating parent-child relationships when both parties are adults.
Here's everything you need to know about streaming the show before its Season 2 premiere in 2024.
What is Lopez vs Lopez about?
In an interview with NBC Insider, Mayan Lopez revealed what audiences can expect from the series, which marks her father's return to comedy and her debut as a lead actress. 
"I think [the show] is an amalgamation of the writers' cultural experience in the Latinx community as a whole," she said. "We're just trying to tell our story and it's going through the vestibule of our relationship, so there are things that are very similar."
Mayan hopes viewers enjoy the unique mix of raw, sentimental moments and laugh-out-loud humor. "When you watch it, the audience will see that there are really moments when I'm just talking to my dad," she says. "This show has so much heart, and it's funny."
Originally published May 8, 2023.