NBC Insider Exclusive
Create a free profile to get unlimited access to exclusive show news, updates, and more!
Sign Up For Free to View
All About Halstead & Upton's Passionate First Kiss Just 2 Seasons Before Their Breakup
A look back at how Upstead's romance kicked off on Chicago P.D.
Jay Halstead's (Jesse Lee Soffer) and Hailey Upton's (Tracy Spiridakos) whirlwind romance on Chicago P.D. was certainly a suspenseful slow burn, but it was totally worth the wait once they finally locked lips for the first time in Season 8, Episode 3 in a super vulnerable moment.
We unpack the emotional scene, below. 
Jay Halstead and Hailey Upton's romantic first kiss
In the episode called "Tender Age," Upton was discussing her new job offer with the FBI while the two were grabbing dinner together. The position was very prestigious and a perfect fit for Upton, she revealed something to Halstead that had him taken aback: She didn't want to take the job because of him.
"I'm better with you as my partner," she said, while Halstead looked at her with wide eyes. 
They sat in tension for a few moments. "Its been a long time since I've seen you as just my partner," Upton said, tears emerging in her eyes. 
Then, without hesitation, Halstead leaned in towards her and the two shared a passionate kiss.
In a 2021 interview with HollywoodLife, the showrunner at the time Rick Eid discussed the steamy, yet tender moment that fans had been waiting for after three seasons of the two being just friend despite clear chemistry.
"I think they've had feelings for each other for a while now, even if they weren't open about it," Eid told the outlet. "By turning down the FBI job offer, Upton's clearly conveying her intent to give her relationship with Halstead a go. They're two dedicated, professional cops, and will try their best to keep their romance separate from their job. But we all know that's impossible."
RELATED: 15 Jesse Lee Soffer-Tracy Spiridakos Friendship Moments That Will Warm Your Heart
What led to Upstead's breakup on Chicago P.D.
In Season 6 of the show, Upton becomes Halstead's partner in the Intelligence Unit. Their relationship stayed platonic at first, as Upton encouraged Halstead to go to therapy, and she opened up to him about her childhood trauma. But by Season 7, it is clear that they have feelings for each other. "Of course I love him, he's my partner," Upton said to Rojas when Halstead was in the hospital for surviving a gunshot wound.
After the much-anticipated first kiss, the two said "I love you" in Season 8, Episode 11. Surprisingly, Upton asks Halstead to marry her in the season finale. The two then tie the knot in the Season 9 Finale.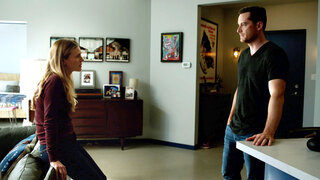 "It really was the perfect way for that to happen. It really stays really true to those two characters," Spiridakos told TV Insider. "It wasn't a big celebration because it's just for the two of them. Things have been so fractured for so long between them that it was a moment for the two of them to reconnect and kind of show that they're in this together and they're going to move forward together." 
RELATED: How Jesse Lee Soffer Feels About Halstead Ghosting Upton on Chicago P.D.
However, their marriage took a sharp turn in Season 10 when Halstead left Intelligence to take a job with the army to hunt down drug cartels in Bolivia. 
"I swear to you that we're gonna get through this because you're the love of my life, and if I'm yours, then you'll know that you have to let me go," Halstead tells Upton before his departure. 
In Season 10, Episode 12, Upton finds out that her husband has extended his stay overseas for an unknown amount of time, leaving her despondent. 
"She still considers herself still married," Spiridakos told Variety. "I think her taking [her ring] off, I'm sure there will be a moment that will come. I assume that's coming. I'm interested to see what that will be like. Is that a goodbye? Is that self preservation?... I'd like to explore is what that feels like to have been in such a raw place and she's not overly open anyway. I feel that she probably will just shut that door for a long time."