NBC Insider Exclusive
Create a free profile to get unlimited access to exclusive show news, updates, and more!
Sign Up For Free to View
How Jesse Lee Soffer Feels About Halstead Ghosting Upton on Chicago P.D.
"He's definitely a good person," Soffer said. Watch Chicago P.D. on NBC.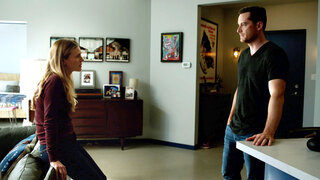 Chicago P.D. fans are still reeling from Jay Halstead (Jesse Lee Soffer)'s exit earlier in Season 10. The character is now in Bolivia, and his beau, Hailey Upton (Tracy Spiridakos), is grappling with his absence. 
What does Soffer think about this situation between the characters, you ask? Well, in a new interview with Variety, he said, "I know the fans are upset be­cause, like, 'This isn't the Jay that we know and love! Why isn't he calling? Why is he doing this?!' But, you know, the show must go on. I don't think I really have the right to feel any way about that. The writers have to do what they have to do to service the story, and the characters that are still there. Also, our show's pretty dark, and they love diving into the ugliest, hardest version of life. So for Hailey to have to go through this, it probably just made sense."
Soffer then went on to defend Halstead's intentions. "He's deeply flawed, because everybody on Chicago P.D. is," he said. "But he's definitely a good person, with really good motives."
Soffer isn't completely ghosting the Chicago P.D. universe, though, as he returned to the set to direct a Season 10 episode titled "Deadlocked."
"Some of it was effortless. Some of it was frustrating. Some of it was super rewarding. Some of it was humbling," Soffer said of his directorial experience. "It was easier than I thought it was gonna be, because we're storytellers in this industry, and I love telling stories. When I'd get a script that was a Halstead-centric story, I'd break that sucker down so much, calling the producers with suggestions. I've been doing that all along, so it was an easy shift."
But will we see more of Soffer in front of the screen again in future episodes? He left the possibility of his return up in the air.
"Never say never. I feel so bad for the fans that are like, 'Is he going to come back?' 'What's he going to do?' 'What's going on with him and Hailey?'" he said. "I like to think—and I hope the fans think this too — that he's just in another country right now, doing what he does best and making the world a safer place. In a family, sometimes somebody moves away or goes to college somewhere else. I still love it. I still love the fans. And I still love Halstead. Halstead's always going to be in my blood. That's never going to change."
Watch Chicago P.D. on NBC Wednesdays at 10/9c and next day on Peacock.