NBC Insider Exclusive
Create a free profile to get unlimited access to exclusive show news, updates, and more!
Sign Up For Free to View
All the Law & Order: SVU Detectives Through the Years
From Olivia Benson to Amanda Rollins, these SVU detectives have made our hearts go dun-dun.
The detectives and officers portrayed on Law & Order: Special Victims Unit have turned the NBC series into a global sensation. In between working their cases, we've grown to love these characters for their vulnerability, relatability, and all the joy they bring to the screen — yes, even on a show like SVU. 
Many detectives and officers have appeared on Law & Order: SVU throughout the years. Take a walk down memory lane, below, to remember all the cops from squad room, past and present. 
Captain Olivia Benson (Mariska Hargitay)
Season 1 - present
The woman, the myth, the legend: Olivia Benson is the heart of SVU, no questions asked. She tirelessly climbed the NYPD's 16th Precinct ranks, starting as a junior detective before eventually being promoted to sergeant, lieutenant, and — finally — captain of the SVU in Season 21. 
RELATED: Look Back at Mariska Hargitay's Acting Credits Besides Law & Order: SVU
Mariska Hargitay has taken home an Emmy and Golden Globe for her portrayal of the endlessly-badass Benson. 
Sergeant Odafin "Fin" Tutuola (Ice T)
Season 2 - present
The sophomore season of SVU started strong with the introduction of the one-liner-slinging Fin Tutuola (Ice T). Before starting his gig at the unit, Fin had been an undercover narcotics detective, but transferred after witnessing his former partner get shot in the line of duty. Fin is sarcastic, stoic, and no-nonsense — and nothing slips past him when interrogating suspects and tracking perpetrators.
RELATED: Inside the Exhilarating Career of Law & Order: SVU's Ice T
Fin initially struggled to fit in at the unit, butting heads with his partners and Benson. However, he eventually warmed up to his colleagues and nowadays thinks of Benson as family.
In Season 19, Fin was finally promoted to sergeant.
In November 2022, Ice T became the longest-running male actor in a television series.
Junior Detective Joe Velasco (Octavio Pisano)
Season 23 - present
Joe Velasco (Octavio Pisano) holds the honor of being Fin's current partner.
The unit met Velasco as the replacement for Junior Detective Katriona "Kat" Tamin (Jamie Gray Hyder) — and audiences quickly learned he is a former undercover agent with a challenging childhood that forced him to flee to NYC to escape a life of crime. Velasco's experiences have proven handy in numerous cases, but he took a while to earn Benson's trust. Nowadays, Velasco is a trusted mentor to many of the new Law & Order detectives.
Junior Detective Terry Bruno (Kevin Kane)
Season 24
Fans met Terry Bruno (Kevin Kane) as a scornful Bronx SVU detective who recently won a massive settlement from the city after suing his own department for malpractice. Despite pressure to leave and workplace tension, Bruno stayed at the Bronx Unit to ensure his superiors were kept in line.
Fin instantly recognized Bruno's passion and  fearlessness, leading him to recruit Bruno for Manhattan's SVU and gift him the nickname "Money Bags."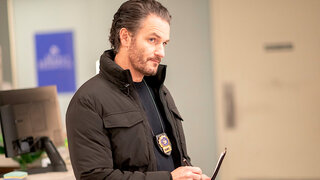 Officer Tonie Churlish (Jasmine Batchelor)
Season 24
Tonie Churlish (Jasmine Batchelor) may not have earned her Detective status on SVU yet but, based on her zealous tenacity, she will be one soon enough. 
Churlish was another promising recruit from the Bronx SVU who approached each case with exceptional professionalism and methodical calculation. Her cerebral nature initially led her to struggle socially in the squad room, but she has slowly become closer to her colleagues. Benson sees potential in Churlish, so many fans can't wait to check in on the Law & Order: SVU detectives in Season 25.
Senior Detective Amanda Rollins (Kelli Giddish)
Season 13-24
Amanda Rollins (Kelli Giddish) quickly became a fan favorite on SVU, joining the force as Fin's partner after moving to the city from Georgia. Frisson plagued Rollins and Benson's early relationship, mainly due to Rollins' gambling addiction, but she eventually got the help she needed and became close friends with Benson. Rollins is fearless and calculated, and never backed down from a police pursuit.
After Rollins became a single mom of two, she became much closer to her SVU friend and colleague, Sonny Carisi (Peter Scanavino), who stepped up to the plate more than either biological father. The pair eventually romantically united and got married in the Season 24 midseason finale. After surviving not one but two shootings in the line of duty, Rollins decided to take a teaching position at Fordham University, which was a heartbreaking goodbye for SVU viewers everywhere. 
Junior Detective, Now Assistant D.A. Dominick "Sonny" Carisi (Peter Scanavino)
Season 16-present
Sonny Carisi (Peter Scanavino) was introduced in the Season 16 premiere of SVU as the squad's newest dedicated Detective. When Carisi wasn't taking down bad guys, he was frequently seen studying for his law classes at Fordham (and he often provided unwelcomed but spot-on legal input to the precinct's ADAs). The chemistry between Rollins and Carisi was undeniable, especially after Carisi left the squad to take a position as an Assistant D.A. and they finally confronted their feelings for each other.
In the Season 22 premiere, it was confirmed the pair were finally dating. Nowadays, Carisi is Rollins' loving husband and the SVU's go-to ADA, taking down several nefarious wrongdoers in the courtroom. In the Season 24 finale of SVU, we got an exciting update in the world of "Rollisi": Carisi and Rollins were expecting a baby together! 
Senior Detective Grace Muncy (Molly Burnett)
Season 24
Grace Muncy was introduced in Season 24 of SVU after Benson teamed up with Bronx' Gangs Unit on a citywide sex-trafficking case. Benson instantly clocked Muncy's flair for connecting with victims and drafted her from the Gangs Unit as a candidate for the SVU. Muncy killed it as an SVU squad member, although she occasionally rubbed coworkers the wrong way with her down-to-earth lenience around the workplace.
Muncy eventually solved an incredibly tough serial killer case, earning her an enticing job offer for a DEA task force — an offer Muncy couldn't refuse.
Junior Detective Katriona "Kat" Tamin (Jamie Gray Hyder)
Seasons 21-23
Kat Tamin (Jamie Gray Hyder) joined the ranks of elite SVU investigators in Season 21 after being transferred from working undercover for the Vice Unit. Kat was incredibly eager to increase her case closure rate, often acting incautiously to guarantee justice. 
In Season 23 of SVU, Kat was shot in the line of duty, and while she survived the shooting, she decided the SVU was too intense, leading her to resign. 
Junior Detective Brian Cassidy (Dean Winters)
Season 1, Season 13-20
Brian Cassidy (Dean Winters) was an on-again-off-again investigator for the SVU who first made an impression on viewers as Benson's first-ever love interest. As an SVU Detective, he struggled to find his footing, largely due to grappling with his emotions while investigating grueling sex crimes. Although he struggled at the SVU, Cragen could tell Cassidy was a talented cop, so he was transferred to the Narcotics Unit.
In Season 13, Cassidy returned as an undercover officer for Internal Affairs Bureau, briefly sparking another romance with Benson. Their fling eventually fizzled out, and Cassidy retired after becoming the wrongful suspect in a criminal case.
Sergeant Mike Dodds (Andy Karl)
Season 17
Mike Dodds (Andy Karl) was introduced in Season 17 of SVU as the son of the former SVU Chief, William Dodds. Mike was a do-good detective who preferred to keep his relationships professional, but he eventually warmed up to the squad and became integral to their success.
On his last day of duty in the SVU, Dodds was shot after a hostage situation took a perilous turn. After being rushed to the hospital, Dodds suffered a stroke that left him brain-dead, and he was taken off life support. Benson was traumatized by Dodd's death and later revealed that she felt responsible for the tragic loss. 
Lieutenant Declan Murphy (Donal Logue)
Seasons 15-17
Declan Murphy (Donal Logue) was an NYPD Lieutenant who was briefly assigned to command the SVU after Benson was temporarily tabled during William Lewis's prison escape. Murphy specialized in undercover missions, unable to stay behind the desk for too long.
He is also the father of Rollin's second child. Rollins broke the relationship off after realizing she didn't love him.
Junior Detective Nick Amaro (Danny Pino)
Season 13-16
Nick Amaro (Danny Pino) rose to the challenge of filling the shoes of Benson's original partner after Season 12. Their relationship was initially strained as she struggled to acclimate to a new partner, but they eventually grew to have immense respect for each other's unique investigation styles.
Amaro was a bit hot-headed, especially when facing off against suspects or those who hurt him. Amaro briefly dated Amanda Rollins (Kelli Giddish), but left the force after their relationship ended and he got injured in the line of duty, encouraging his early retirement.
Captain Donald Cragen (Dann Florek)
Seasons 1-15
Before Benson was busting criminal butt as the SVU's Captain, fan favorite Donald Cragen (Dann Florek) was cracking the whip. Cragen began as an officer in the flagship Law & Order from Seasons 1-3 until jumping to the beloved spin-off.
He provided coveted advice to his squad any chance he could, quickly becoming a father figure to many of the investigators. Cragen was a tad cranky and stern but always trusted his detectives to get the job done.
He left the 16th Precinct in Season 15 after hitting the mandatory retirement age but has returned as a guest star numerous times on SVU and Law & Order: Organized Crime.
Sergeant John Munch (Richard Belzer)
Seasons 1-15
Introduced as a Senior Detective and later promoted to Sergeant in Season 9, John Munch (Richard Belzer) was one of the most beloved investigators of early SVU. Munch was as fascinating as he was exceptional in solving cases: He was an avid conspiracy theorist with a humorous cynicism that brought non-stop deadpan entertainment to viewers.
Munch worked with several partners throughout his SVU tenure, most notablyl Fin Tutuola. Munch bid farewell to his cherished colleagues in Season 15 after accepting a position as an investigator at the NYPD's D.A. office.
Senior Detective Elliot Stabler (Christopher Meloni)
Seasons 1-12
Elliot Stabler (Christopher Meloni) is half of one of the most iconic duos in television: Benson and Stabler, lovingly known as "Bensler" amongst fans, were responsible for hundreds of successful arrests as partners. Stabler's tenacious fearlessness served as the perfect balance to Benson's "good cop" demeanor, so perps never wanted to find themselves with Bensler spearheading an interrogation.
RELATED: The Emotional Evolution of Detective Elliot Stabler Through the Years
(Also, did we mention the decades-long romantic tension between Stabler and Benson?)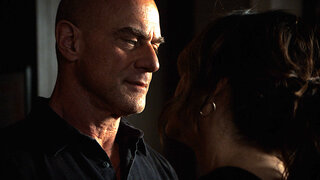 Benson and Stabler's most common trait as detectives is their tendency to take cases personally, which led them to be on opposing sides on a few occasions. Stabler suddenly left the SVU and NYC after Season 12 without warning or telling Benson, which devastated his colleagues. Luckily, Stabler returned a decade later in Law & Order: Organized Crime, so viewers got the Bensler reunion they always wanted.
Junior Detective Chester Lake (Adam Beach)
Season 8-9
Some of the worst villains on Law & Order are the cops that became dirty over time, and Chester Lake (Adam Beach) fit that bill. Lake joined the Manhattan SVU as Fin's partner after being transferred from the Brooklyn SVU in Season 8. Lake was a fine detective but a compromised cop, and his time on the force ended permanently after he murdered several other cops involved in a decade-long cold case. Lake didn't deny his role in the murders and was swiftly arrested for his twisted sense of justice.
Junior Detective Danielle "Dani" Beck (Connie Nielsen)
Season 8
Bensler fans weren't thrilled after learning Benson was leaving the squad on a temporary undercover assignment, but the introduction of Danielle Beck (Connie Nielsen) was an exciting remix. The SVU, however, proved a tough place for Beck, who was left shattered after attempting to save a child, only for the kid to try to burn down their home.
She left the SVU after asking Stabler if there was any reason to stay, after which he told her he couldn't make that call. Beck then returned to the Warrants Squad, and Benson was back in action lickety-split.
Junior Detective Monique Jeffries (Michelle Hurd)
Seasons 1-2
Monique Jeffries (Michelle Hurd) assisted in many nail-biting cases as one of SVU's first investigators, mostly seen at the precinct and in court as the squad's primary researcher. Jeffries was just as fearless as her frontlines-facing colleagues — especially once she started heading out for investigations as Munch's partner.
After surviving a harrowing police pursuit, though, Jeffries began acting recklessly, leading her to be taken off active duty. Finding herself unsettled on desk duty, Jeffries resigned, but viewers later learned she was back in uniform as a part of the Vice Unit.
Detective Ken Briscoe (Chris Orbach)
Season 1
Ken Briscoe (Chris Orbach) was a detective in the series' debut season, introduced as Jeffries' police partner. Ken was the nephew of Law & Order legend Detective Lennie Briscoe (Jerry Orbach).
Coincidentally, the actors who play the investigators were also related: Chris is the late Jerry Orbach's son.