NBC Insider Exclusive
Create a free profile to get unlimited access to exclusive show news, updates, and more!
Sign Up For Free to View
Christian Stolte Reveals the Most Romantic Thing Mouch Has Done for Platt
One Chicago's MVP couple!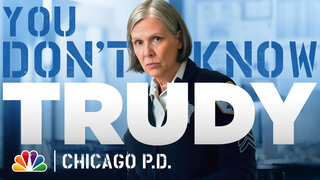 Chicago Fire's Mouch (Christian Stolte) and Chicago P.D's Platt (Amy Morton) are definitely an MVP couple in the One Chicago universe. Fans love them, and they've been through so much together. They also bring out sides to each other that viewers typically don't see. Platt softens around Mouch, while Mouch puts his wisecracks to the side and does some genuinely romantic things for his wife. 
From those romantic gestures, Stolte has thoughts on which ones meant the most to Platt. "I think it's a combination of all the square-dancing, scrapbooking classes, and all the things like that that you know damn well Mouch would not want to do but does it for her," he told NBC Insider. 
So sweet, right? We have no doubt more romantic gestures are coming, too, so long as Mouch and Platt stay together—which shouldn't be a problem. In fact, Stolte only doubted the future of Mouch and Platt once, and it was for a very obvious reason. 
Related: A Swoon-Worthy History of One Chicago's Power Couple, Mouch and Platt
"Was there ever a time I was worried Mouch and Platt weren't going to make it? Oh, there was indeed," he said. "It was the time my wife got blown up. I was seriously concerned that Mouch would not be able to maintain a relationship with a woman who was blown up." (He's referring, of course, to Season 5, Episode 16, when Platt is caught in an explosion that, thankfully, she survives.) 
Watch Chicago Fire on NBC Wednesdays at 9/8c and next day on Peacock.  
Watch Chicago P.D. on NBC Wednesdays at 10/9c and next day on Peacock.