NBC Insider Exclusive
Create a free profile to get unlimited access to exclusive show news, updates, and more!
Sign Up For Free to View
A Swoon-Worthy History of One Chicago's Power Couple, Mouch and Platt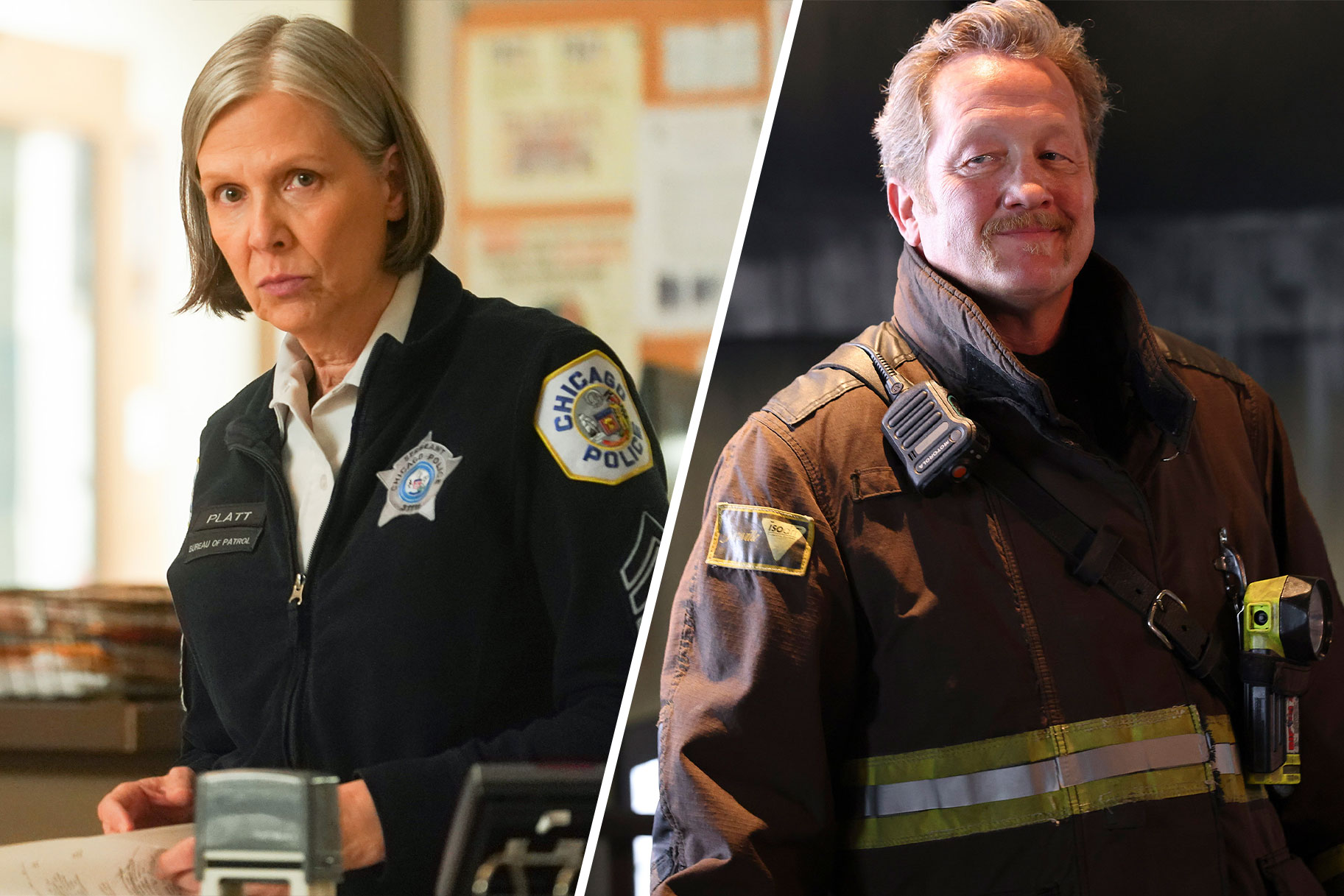 One Chicago, NBC's family of Chicago-set drama shows, is known for its crossover episodes, but a crossover couple is even better. Exhibit A: Chicago Fire's seasoned firefighter Mouch (Christian Stolte) and Chicago P.D.'s Trudy Platt (Amy Morton).
The relationship between Mouch and Trudy Platt on Chicago Fire has warmed the hearts of Chi-Hards for years. When Chicago Fire fans first met Mouch, he was a jokester with a big heart who was unlucky in love. Meanwhile, Chicago P.D.'s Trudy Platt was a fiery Desk Sgt. who didn't have any time for nonsense. If opposites attract, we can't think of a better example than Mouch and Trudy Platt's relationship on Chicago Fire.
Let's look back at some of Plouch's" greatest moments on One Chicago.
Season 2: Mouch and Trudy Platt Meet
While attending the wedding of Chief Boden (Eamonn Walker) at the end of Season 2, Mouch and Trudy have a lovely meet-cute near the wedding cake table. Instantly locking eyes, Trudy helps Mouch remove an escaped bite of cake from his chin, and the connection is undeniable. One Chicago fans were thrilled to see Mouch finally find a woman worthy of his love and see Trudy finally shed her disciplinarian demeanor. 
Season 3: The Beginning of Plouch
Season 3 of Chicago Fire begins with Mouch and Trudy's first date alongside Boden and his wife. The new lovers enter Molly's cackling, with Trudy exhibiting no hesitance for the wine list. Mouch takes Trudy's bold behavior in stride, falling for her even more. "You know how I get on red wine," she tells Mouch. By the look on his face, he definitely does. The pair grow closer, and Chi-Hards see both Trudy and Mouch finally find their perfect pair. 
Season 4: Trudy Platt and Mouch Get Married
About halfway through Season 4 of Chicago Fire, Mouch decides to take the next step in Plouch's relationship by proposing to Trudy. As a man that generally lacks glitz and glam, Mouch arrives at the police station and delivers a less than impressive proposal. "Uh...this is a ring," he says, with Trudy gasping in horror. She doesn't take the workplace proposal well. "A proposal is supposed to be the most romantic moment in a woman's life," she says, walking away in frustration.
Later, Trudy apologizes to Mouch in a rare, adorable moment of vulnerability for her character. "That proposal was really messy and half-assed. But then again, so are you. But you are also the kindest and most honest man I've ever met. I would be the luckiest girl on earth to call you mine," she says. She then proceeds to propose to Mouch instead. "Trudy Platt, marrying you would be my greatest honor," he chokes out. 
Season 8: Plouch Become Co-Owners of Molly's
After the tragic death of Otis at the end of Season 7 of Chicago Fire, fellow firefighter and Molly's owner Herrmann (David Eigenberg) struggles to keep the bar afloat. Trudy Platt and Mouch decide to save the day by investing in Otis' half of Molly's, much to the regulars' delight. But Trudy isn't one to passively ponder as an owner. No way. "She's excited to take Molly's to the next level," Mouch explains to Herrmann as they all three officially become business partners. "She has lots of ideas..." One Chicago fans wouldn't expect anything less from Chicago's favorite power couple. 
Chicago Fire airs Wednesdays at 9 p.m. ET on NBC, with Chicago P.D. airing at 10 p.m. ET right after. Catch up on all One Chicago shows on NBC.com and Peacock.