NBC Insider Exclusive
Create a free profile to get unlimited access to exclusive show news, updates, and more!
Sign Up For Free to View
Do These Photos From Chicago P.D. Spoil the Season 10 Finale? What We Know
A first look at the Season 10 finale, "Fight", airing Wednesday, May 25 at 10/9c.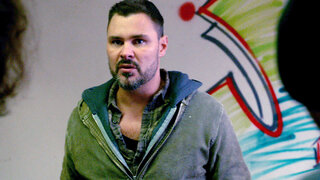 The Season 10 finale of Chicago P.D. is just around the corner, airing Wednesday, May 25 at 10/9c. "Fight" (Season 10, Episode 20) is set to wrap up Ruzek's (Patrick John Flueger) high-stake undercover investigation with the Becks, led by Richard Beck, a drug boss and white supremacist. He's also become closer to Richard's daughter, Samantha Beck.
While we don't know much, the official synopsis from NBC teases, "As Richard Beck's timeline for a deadly attack moves up and Samantha panics, Ruzek and the team scramble to get ahead of unprecedented disaster."
When we last saw Richard at the end of Season 10, Episode 15 ("Blood and Honor") he gave Ruzek a seemingly important role in an ominously vague "plan" that would have "multiple targets" and "many casualties". And Richard was carrying it all out in the name of a yet-to-be-discovered "cause".
In an interview with NBC Insider, Flueger opened up about what's to come for his on-screen counterpart. "It's this odd thing. Being undercover, that kind of stuff was something that he always loved, but this one has become so complicated," he told us. "He's with this young woman that I think he cares for and can see needs help, and she has a young son that I think he cares for. He has been told nothing but lies his entire life other than what he hears from his mom, who only has so much power to tell him the truth. That duality is not fun [for Ruzek], especially when he wants to go home, when he's got a daughter, and he's got [Kim Burgess] that he's rekindled his romance with."
He continued, "It's like partying in Vegas when you're in your 20s. It sounds awesome, [but] you just kind of grow out of these certain things, and you realize what's important. I think he's exhausted, and I think it's starting to wear on him that what he's undercover for, it's not for one individual. It's for this possible mass attack. So I think it is weighing on him as things go forward." 
In these new photos released ahead of the Season 10 finale, we get an even closer look at what's to come for Ruzek and the Intelligence Unit, and as always with Chicago P.D., things look very intense. Take Voight standing by am ambulance with his signature scowl.
And Burgess — who recently rekindled her relationship with Ruzek — looking very concerned at what appears to be Chicago Med.
In what's perhaps the biggest spoiler of what's to come, we see Ruzek with Samantha showing her evidence in an interrogation room, meaning that she somehow finds out that he's actual a cop. Maybe she even helps him with the investigation?
Lastly we have Voight again, seemingly aiming at a suspect in a room filled with firearms.
NBC Insider also spoke to LaRoyce Hawkins (Atwater) about what's to come. "I think we want to keep our eyes on Ruzek, for a fact. He makes it look easy sometimes, and I think he enjoys his job. But toward the finale it is going to start weighing on him.  It's definitely doing to weigh on him, and we're going to do our best to have his back."