NBC Insider Exclusive
Create a free profile to get unlimited access to exclusive show news, updates, and more!
Sign Up For Free to View
Inside Violet and Hawkins' Heartfelt Rekindling⁠—And What It Means for Gallo
Did y'all see this coming?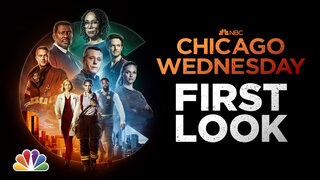 The Chicago Fire Season 10 finale left fans thinking Gallo (Alberto Rosende) was on the verge of telling Violet (Hanako Greensmith) that he still has feelings for her. The time seemed right for a rekindling. After all, Violet was disappointed in Hawkins (Jimmy Nicholas) for not doing more to help with the Emma (Caitlin Carver) situation. (You know, the whole Emma-was-after-Violet's-job-and-was-blackmailing-Hawkins to get it situation? Yeah, it was wild.) 
But Season 11 opened with some surprising revelations. It turns out, Hawkins ultimately took full responsibility for what happened with Emma—and as punishment, he's being transferred to right outside Indiana. Violet, clearly moved by this, tries to contact Hawkins but is unsuccessful. So she physically goes to see him, and their conversation ends in a kiss—and getting back together. With Hawkins' job changing, he and Violet no longer have to hide their relationship, which was one of their biggest obstacles in the prior season. 
So they show up to Molly's Pub at the end of the episode, hand in hand—and it's clear Gallo feels some type of way about it.  We have to ask: What does this mean for their ever-evolving love triangle?
Chicago Fire co-showrunner Andrea Newman tells NBC Insider, "What's so fascinating about Violet and those two guys is they're really two totally different paradigms of relationships. One is the relationship that starts with a friendship and is more on the fun side, and then you got Hawkins, and that started in a really hot place and went from there. Both of those things are a part of Violet's personality. So, she and Gallo are friends. Gallo is definitely still in love with her, holding a candle for her. But Violet's attention is 'gonna be all on Hawkins for the first bunch of episodes. That dynamic is very much alive, their threesome." 
Greensmith echoed this sentiment, telling NBC Insider, "It's probably going to be a long while before we actually get to see Gallo speak his feelings because we have to see how Hawkins and Violet play out. I think that's really going to influence how Gallo and Violet come together because we're going to recognize there's something very serious at play between Hawkins and Violet." 
In other words, it looks like the drama between these three is only just beginning! To find out what happens, watch Chicago Fire on NBC Wednesdays at 9/8c and next day on Peacock.