NBC Insider Exclusive
Create a free profile to get unlimited access to exclusive show news, updates, and more!
Sign Up For Free to View
What's the Deal With Emma Jacobs on Chicago Fire?
To say she's been acting shady would be an understatement.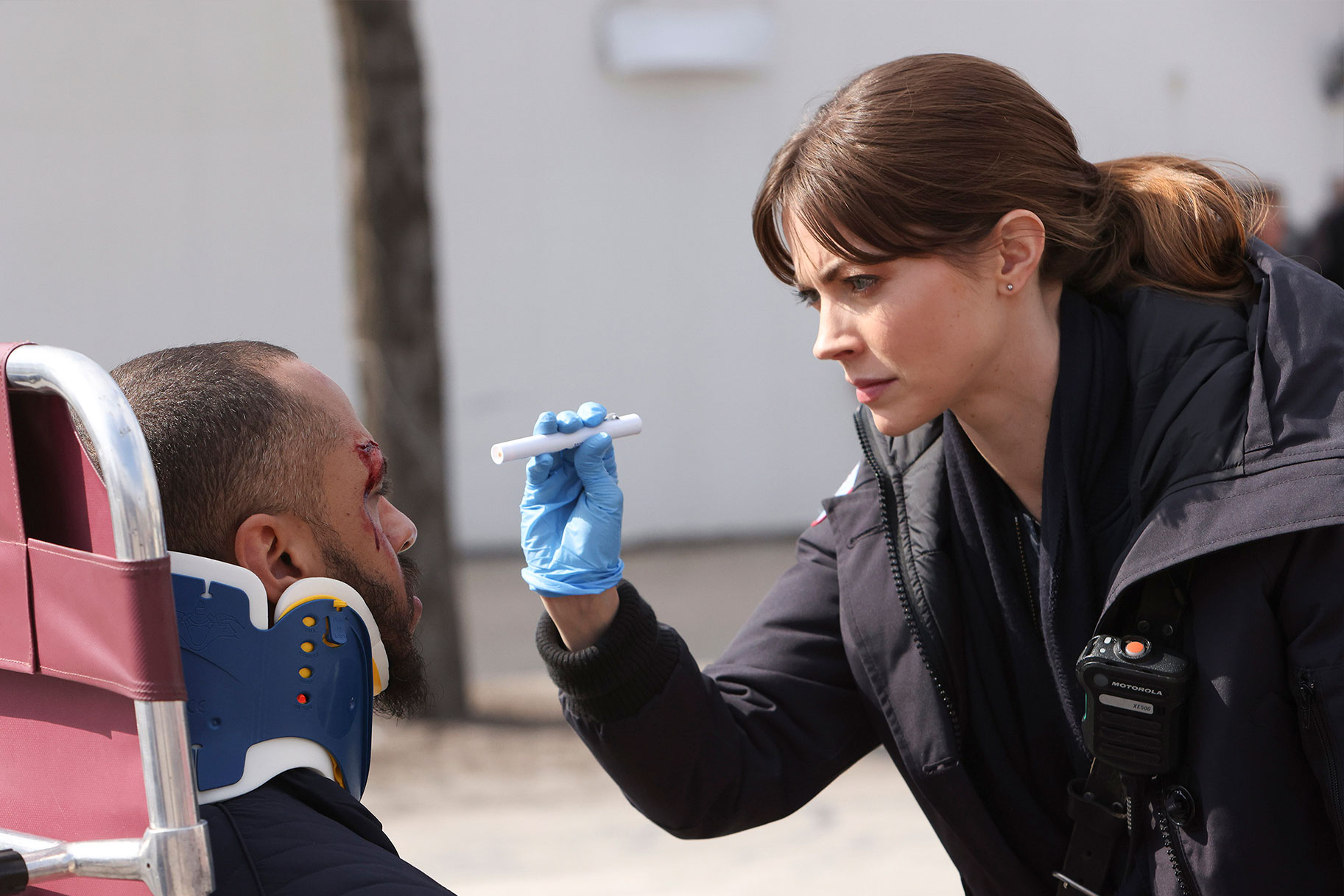 Chicago Fire introduced a new, suspicious character to audiences in Season 10: Emma Jacobs, played by Caitlin Carver. But in recent episodes, her shady behavior has becomes downright sinister. Read on to learn more.
She's the medic who has been temporarily assigned to Ambulance 61 while Sylvie Brett (Kara Killmer) is on leave. For a while, it seemed like Emma had good intentions; she was very friendly with her co-workers at Firehouse 51 and appeared to work smoothly with fellow medic Violet Mikami (Hanako Greensmith). 
But things have taken a turn in recent episodes. Emma's been pushing back on Violet as they work, going so far as to undermine her in front of patients. In one bizarre instance, she outright lied about Violet's reaction to a patient's injury that she was treating; Violet was cool, calm, and collected during the process, but Emma told Gallo (Alberto Rosende) she panicked and seemed uneasy. 
In Episode 20, we see Emma skulking around her and Violet's medic truck for an unknown reason. Then later, as the women are treating an asthmatic patient, Violet realizes the mask she needs isn't in her bag. Violet is certain the mask was packed, leading her (and viewers) to assume Emma intentionally took it out to sabotage Violet. But this has yet to be confirmed. 
What does Emma Jacobs want on Chicago Fire?
What is the motive behind all this shady behavior? Well, we found out in Season 10, Episode 20: She wants Violet's job—and she's willing to blackmail Hawkins (Jimmy Nicholas) to get it. At first, she tries to make Violet look bad by telling Hawkins about the missing mask—but then Emma takes things up a notch by threatening to expose Violet and Hawkins' relationship if he doesn't give her Violet's job. And how does Emma know about Violet and Hawkins, you ask? Earlier at Firehouse 51, Emma asked Violet to borrow her phone to "look up the hours of a flower shop." Because this was happening in front of Boden (Eamonn Walker), Violet obliged. That's when Emma found the receipts she needed to go to Hawkins. 
So, what will happen? Will Violet lose her job? Will Emma get away with this blackmail? Watch Chicago Fire Wednesdays at 9 p.m. ET on NBC to find out.