NBC Insider Exclusive
Create a free profile to get unlimited access to exclusive show news, updates, and more!
Sign Up For Free to View
How 12-Year-Old Brynn Cummings Could Remind You of AGT Winner Darci Lynne
The Michigan pre-teen and her trusted companion, Penelope, wowed AGT Judges by incorporating "mentalism" into their ventriloquism act.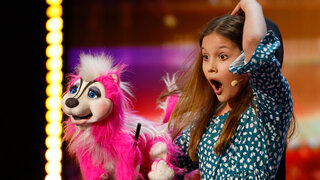 Judges on America's Got Talent were blown away by a youngster who came to the stage with a potpourri of talents. Her inspiration? That would be a past AGT winner regarded for helping bring ventriloquism back into the spotlight.
Who Is Brynn Cummings?
Twelve-year-old Brynn Cummings of Paw Paw, Michigan auditioned for AGT Season 18, equipped with a pink skunk-like puppet — quite literally — on hand. When asked by Judge Sofia Vergara about what inspired the pre-teen to enter the competition, she said it was AGT Season 12 winner Darci Lynne.
RELATED: The Beautiful Reason Howie Mandel Keeps Doing AGT — Even Though He's "Jaded"
"I remember seeing Darci Lynne on AGT, and that inspired me," said Cummings. "I literally looked at my parents as soon as I saw it, I went, 'That's what I'm gonna do.'"
In 2017, 12-year-old Darci Lynne won the Judges over for incorporating comedy and singing into her ventriloquism act. Recognizing Lynne's star qualities, Judge Simon Cowell later told AGT Host Terry Crews that Lynne was one of his favorite Golden Buzzer moments in AGT history.
Lynne went on to see massive success after winning AGT, including headlining in Las Vegas and doing several performances at the Grand Ole Opry. As for Season 18's Cummings, she also hopes to see success.
When asked by Vergara what she would use her $1 million winnings for if she were to win the competition, Cummings said she wanted to "follow in Darci's footsteps and start touring; to get a tour bus."
Cummings added that a "bearded dragon" would also be nice to have.
What Was Brynn Cummings' Act?
Cummings and her ventriloquism partner, "Penelope," began their comedy routine on stage. But it seemed Penelope wanted to switch things up by abandoning a musical act in favor of trying "mentalism" on the Judges.
Unlike Lynne, Cummings didn't bring singing into the act but she did provide some pretty impressive magic. Stepping down from the stage, Cummings and Penelope had Judges Howie Mandel and Heidi Klum participate in a card-guessing trick, earning a round of applause from the live audience.
But before walking back on stage, Penelope requested Vergara take an item from her own purse and keep it hidden from Cummings. The puppet then asked Cowell to turn around and collect any single item from any audience member.
After Cummings returned to the stage, Penelope requested Crews join her and bring a blindfold, with the Host first checking it to ensure no one could see through it. After tying the blindfold over Cummings' eyes, Cummings (correctly) guessed Vergara possessed a cookie while Cowell took an audience member's Apple watch, much to the audience's surprise and delight.
RELATED: Why the Judges Loved Avantgardey's "Weird" and "Genius" AGT Audition
Vergara started the judging process by saying, "Brynn, you are adorable!"
"It was so much fun," she continued. "It's so great to see you right up close, how good you're doing it. I loved it."
Mandel chimed in next, referring to AGT Season 18 as "a season of mashups."
"The fact that you did magic or mentalism and ventriloquism at the same time… " said Mandel. "You're amazing, young lady!"
Klum loved it too, adding she thought the Act was "a lot of fun."
"You are so talented, so charming, people are going to root for you," said Cowell. "You did something we've never seen before, and for me, you never want to see the same thing again but not quite as good; you want to see it better or different, and that's what you did."
Cummings and her trusted companion earned four yeses from Judges, prompting the girl to cry before she returned to her parents and Crews backstage.
"This is the best moment of my life," Cummings told Crews.
See what's next for Cummings and Penelope as Season 18 of America's Got Talent continues every Tuesday at 8/7c on NBC, with episodes available to stream the next day on Peacock.