NBC Insider Exclusive
Create a free profile to get unlimited access to exclusive show news, updates, and more!
Sign Up For Free to View
Aidan Bryant and Bello Sisters Reach Daring New Heights in All-Stars Joint Performance
Aidan Bryant ended up winning the AGT: All-Stars competition!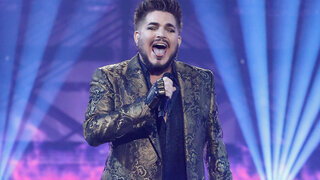 Two gravity-defying Acts, aerialist Aidan Bryant and acrobats The Bello Sisters came together for the America's Got Talent: All-Stars finale to deliver a breathtaking performance. Their seamlessly-choreographed Act made them a match made in heaven.
This performance was also accompanied by American Idol alum Adam Lambert, who sang a stunning rendition of "Chandelier" by Sia. The Act started out with The Bello Sisters forming in a human pyramid. "Party guys don't get hurt, can't feel anything, when will I learn? I push it down, I push it down," Lambert crooned into the microphone while the sisters extended their arms and legs, impressively balancing on each other.
The song then built up in suspense and erupted into the powerful chorus. "I'm gonna swing from the chandelier," Lambert belted. But the real kicker? Aidan Bryant soon appeared onstage, flying high and swinging back and forth, expertly moving to the fitting lyrics.
"I'm gonna live like tomorrow doesn't exist, like it doesn't exist," Lambert continued while Bryant landed on the ground before spinning rapidly in the air.
"I'm gonna fly like a bird through the night, feel my tears as they dry," Bryant then contorted his body and pulled off some seriously intense moves while the Judges looked up at him in awe. Heidi Klum was unable to contain her excitement as she cheered and bounced up and down on her seat.  
The Bello Sisters came back onstage and struck a pose while they climbed on top of each other, one doing a jaw-dropping handstand while on her sisters' feet.
The peak of the performance came when Bryant gorgeously soared over the trio, and the crowd erupted in cheers. The song ended in a soft crescendo while Bryant spun high onstage, holding himself up with one arm.
The Judges unsurprisingly gave the Acts a much-deserved standing ovation.
"Simon, what do you think about this?" Host Terry Crews asked.
"That was amazing," Judge Simon Cowell responded.
After this show-stopping performance, Bryant ended up being declared the winner of the first season of America's Got Talent: All-Stars, while The Bello Sisters finished in the Top 11. Bryant came in second place in Season 16 of AGT, while The Bello Sisters originally finished in the Top 10 of Season 15.
"When I heard about All-Stars, I knew I had to take the chance and really prove myself to America," Bryant said during his All-Stars Audition. Prove himself he did!