NBC Insider Exclusive
Create a free profile to get unlimited access to exclusive show news, updates, and more!
Sign Up For Free to View
The AGT: All-Stars 2023 Winner Has Been Revealed
Following February 27's finale event, we have the winner results thanks to the Superfans.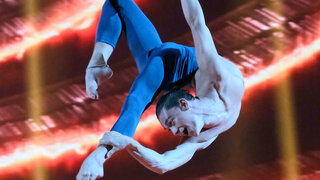 Following eight weeks of exciting competition that saw the return of 60 Got Talent greats, we finally have a winner of America's Got Talent: All-Stars. During February 27's finale, it was announced that the Superfans voted aerialist Aidan Bryant as the winner. Saxophonist and Season 17 Golden Buzzer winner Avery Dixon came in second place. 
From his first Audition of the season, Bryant made it clear that he was competing again to redeem himself following Season 16. At the time, he came in second to magician Dustin Tavella, who also returned for All-Stars.
"When I heard about All-Stars, I knew I had to take the chance and really prove myself to America," he said. "And the fact that I have to compete against Dustin again adds so much pressure, and I know I cannot lose to him again. I've been working so hard to come back strong and better than ever." 
When speaking about the 2021 finale, executive producer Simon Cowell said, "I watched Aidan's face when the winner [in Season 16] was announced, and I've never seen anyone look more gutted in my life. And I remember going up to you afterwards and saying, 'I promise you this is not the end.' I think you're one of the most talented Contestants we've ever had."
It turns out that Cowell was right, with Bryant's high-flying and exhilarating All-Stars Audition gaining the support of the Superfans and pushing him through to the Top 11. He continued to impress in the finale, where he nearly left Cowell speechless with a dangerous and show-stopping routine.
"I am literally searching for words right now," he said. "This is, like, one of those moments I remember as a kid when I used to watch the Olympics and one would outdo the other in the gymnast part of the Olympic Games. And the Judges at the end would just go, '10, 10, 10, 10, 10.' That's what it felt like to me."
Howie Mandel added, "You combined such stunning danger and strength with such elegance and grace and contortion and dance. I have never seen anything like that in aerialism before. You just set the bar, or the rope, or whatever that is."
The self-taught performer also opened up to People about his AGT: All-Stars return.
"To be in the finals means that all my hard work since I was 14 years old, practicing in the backyard in the tree has paid off," Bryant said. "I feel that I am ready to win this time. When I came in second place on Season 16, I never dreamed that I would make it that far, but now I feel like this is my second chance to prove to the world that I have gone from an amateur to a professional aerialist."
Congratulations to Aidan Bryant!
Watch AGT: All-Stars on NBC and on Peacock.