NBC Insider Exclusive
Create a free profile to get unlimited access to exclusive show news, updates, and more!
Sign Up For Free to View
How Avery Dixon 'Stepped It Up' For His AGT: All-Stars Performance
The Season 17 Golden Buzzer winner returned for a second chance.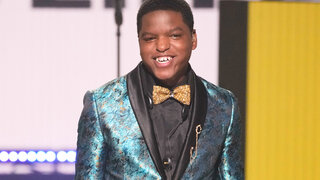 After earning a Golden Buzzer from Terry Crews and advancing all the way to the Top 10, AGT Season 17 finalist Avery Dixon returned to the stage on January 16 for America's Got Talent: All-Stars. 
This time, the saxophonist took on AGT with brand new confidence that he says he owes to the show. When Dixon first auditioned in 2022, he revealed that he was bullied by other kids, which affected his self-esteem. But playing the saxophone was his creative outlet and escape.
"I knew I was accepted in this place, and it's like I'm fighting to be here, and I'm not fighting the fight alone, and that's what made it all so much better," Dixon told NBC Insider at the time. "[The AGT fans] are going through my story with me. And to open up to them is like sitting on the couch with your best friends."
Now, the 21-year-old says that his career since Season 17 has been "insane in a great way" and that "people are calling me to play across the world." His latest rousing performance of Pharrell Williams' "Happy" on All-Stars showed exactly why.
"This is AGT: All-Stars. You, young man, are an All-Star," Howie Mandel said. "You really are; you stepped it up. You went to an amazing piece of talent to an amazing show. A whole show."
Heidi Klum added, "I mean, you can see that I love you. I can't stay in my seat."
Simon Cowell acknowledged that Dixon is one of the show's greatest Acts. "I believe when you're great, competition like this brings out the best in people," he said. "And this was you at your very, very best. There's no question or doubt."
By the end of All-Stars' third round of Auditions, Dixon won the Superfan Vote after being in the Top 3 alongside psychic Peter Antoniou and singer Keren Montero. Now, he and the week's Golden Buzzer winner, Mike E. Winfield, will move on to the Finals for a second chance at a coveted AGT title.
Watch AGT: All-Stars Mondays at 8/7c on NBC and next day on Peacock.