NBC Insider Exclusive
Create a free profile to get unlimited access to exclusive show news, updates, and more!
Sign Up For Free to View
How Mike E. Winfield's Golden Buzzer Made History on AGT: All-Stars
The comedian came to compete!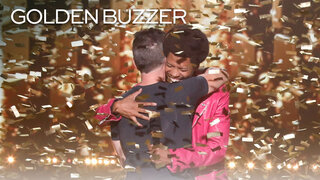 Before comedian Mike E. Winfield could even begin his set on America's Got Talent: All-Stars, the audience and Judges were on their feet. They clearly remembered the hilarious AGT Season 17 finalist, whom Howie Mandel called a "comic superstar." 
Though Winfield was eliminated in the Top 10 last year, he was eager to return to the stage and compete. "I was devastated, the way I got sent home," he said. "It actually pushed me to work hard. Ever since America's Got Talent it's just been nothing but star-studded life experiences."
The Baltimore native, who now lives in Los Angeles, went on to explain that his latest stand-up routine was inspired by those closest to him.
"I get a lot of material from my family. I've been using them to come up with what I think is my funniest set ever," he said.
His performance, which marked the return of "Step-man" (his wife's son, who also happens to be close to Winfield's age) earned yet another standing ovation, with Heidi Klum calling Winfield a "ray of sunshine" and Simon Cowell bestowing the comedian with the Golden Buzzer. It turns out the moment made history, as it marks the first time that Cowell has used his Golden Buzzer on a comic. Winfield is also the second-ever comedian in all of AGT history to receive a Golden Buzzer. The first was Drew Lynch in Season 10.
"I think if you had done that routine in the Final it would have been a completely different story because you've come back funnier, more confident," Cowell said.  "I can even see it in your eyes how much this means to you right now."
Winfield also opened up to People about the honor. "It just feels like, in this moment, I thought my life was already changed, but now it's solidified," he said. 
He also revealed that he's grown closer to Mandel since Season 17 wrapped. Some fans will remember that the former Deal or No Deal Host even offered Winfield a gig during the season's Live Shows. And though Winfield has been a little too busy to join him on the road, the two have still found time to bond.
"Our relationship has really grown in such a great way," he said. "I hang out with him now. I hang at his production company. I see how shows are made and pitched ... I know he's been in the business so long, and he's successful. So I kind of just pick up things that he's doing and know that there's going to come a time when I need to implement some of these same practices."
Winfield has automatically advanced to the AGT: All-Stars Final alongside fellow Golden Buzzers Light Balance Kids and the Detroit Youth Choir. We can't wait to see what else he has up his sleeve.
Watch AGT: All-Stars Mondays at 8/7c on NBC and next day on Peacock.