NBC Insider Exclusive
Create a free profile to get unlimited access to exclusive show news, updates, and more!
Sign Up For Free to View
Howie Mandel Reveals Why He Made Mike E. Winfield That Surprise Offer
"He just makes me, and an entire room, explode," the Judge said.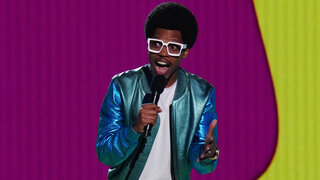 The first comedian of Season 17 is headed to the America's Got Talent Final!
During August 31's Live Results Show, it was revealed that Mike. E Winfield was in the week's fan-voted Top 2 alongside deep fake Artists, Metaphysic. (The remaining nine Acts were eliminated). This means that both Acts will move on to compete in the September 13 Finals for the $1 million grand prize. They'll join fellow performers magician Nicolas Ribs, singer Sara James, girl group Chapel Hart, magician Yu Hojin, country singer Drake Milligan, and saxophonist Avery Dixon as the Season 17 Finalists. The rest of the top Acts will be revealed next week.
This summer has proved to be an uphill climb for comedians at the Live Shows, with many earning mixed reactions from the fans and Judges alike. (Stand-ups Lace Larrabee and Mr. Pants both received a Red X from Simon Cowell.) But it was clear that Winfield knocked it out the park with his relatable jokes about his "older" wife and his stepson—whom he addresses as "stepman." 
The Baltimore native earned a standing ovation from the crowd during the Live Show, with Howie Mandel even making a surprise offer.
"I will tell you something. If you do not get voted into the Finals on September 9, I'm playing the Westbury Theater in New York," Mandel said. "You come and open up for me."
Winfield told People magazine that he'd "follow up somehow" on Mandel's pitch, but seeing as the comedian is headed to the Finals, it looks like he'll have to put the Westbury Theater on the back burner—for now.
As for what drove the AGT Judge to make the offer of a lifetime on live television? Mandel explained to People, "He just makes me, and an entire room, explode and my first thought is, you deserve one of the two votes to go on, but if America does not get it right and doesn't vote for you, I know that next week I'm going to be on the road anyway, in New York on the 9th," he said. "He lives on the east coast. Come on over, and I'll give you time on the stage on my show."
He added, "I think he's unique. I think he's a star in himself. I love everything he's talking about. I like the way he dresses and his glasses and the way he looks. I liked everything about him. I think the kid is a star. I thought that was the best performance of the night."
Watch AGT on NBC Tuesdays and Wednesdays at 8/7c and next day on Peacock.