NBC Insider Exclusive
Create a free profile to get unlimited access to exclusive show news, updates, and more!
Sign Up For Free to View
Here's Why the AGT Judges Like the Show's New Elimination Rules
A new format change means that nine Acts are eliminated every week during Live Shows.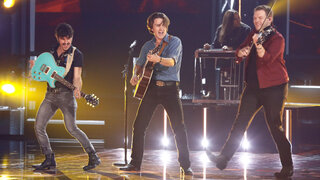 The first Live Results episode of America's Got Talent Season 17 unveiled a new format change for the long-running show. Instead of multiple rounds leading up to the Finale, each week, after 11 Acts perform, only two Contestants will move on to the September 13 Finale. Both slots each week are determined by fan votes. This means a total of nine Acts will be eliminated weekly during the Live Shows episodes. (There are four of them left.)
So far, saxophonist Avery Dixon and country singer Drake Milligan have made it past what Heidi Klum calls a "harsh" twist. But she told NBC Insider the switch-up re-emphasizes the importance of the viewers.
"We had so many [Contestants] that we put through, and then Simon thought about changing things up a little bit," she said. "I hope America votes because a lot of the times people go, 'Oh, this person's going to go through in any case,' but really every vote does count."
After August 9's show, Howie Mandel explained that the series with this new format feels even more intense compared to his previous experience as a Judge. 
"It seemed like a Finale," Mandel said. "And we don't have a Semi-Final or Quarter-Final anymore. People are going right to the Finale. And the fact that only two people can go through from 11 is crazy. I feel it forces people to push even harder than they would push."
Host Terry Crews said he could feel a shift in the performers' energy as a result of the change. "There were times we couldn't even get it together because the audience was screaming and about to erupt like a riot," he said. "The comedy Acts to the singing to the dancing, everything was hitting at the highest level because they know what's at stake. The stakes have never been this high this early."
The format change means that, despite their feedback on Tuesday nights, the Judges have no say in who moves on to the Finale—a fact that doesn't bother Mandel.
"Nobody's happier than I am. I don't want there to be a Judges' Choice, and ultimately, I think it's up to America," he said. "America is the one that buys the tickets, streams the music, that shows up at these people's shows. Talent is subjective. If they choose, they're right, there is no wrong. I just try to be honest and authentic all the time and tell you how I'm affected by what I see... America will tell you whether they feel like an apple or an orange, I'm not here to tell you that you should have an apple."
Watch AGT on NBC Tuesdays and Wednesdays at 8/7c and next day on Peacock.