NBC Insider Exclusive
Create a free profile to get unlimited access to exclusive show news, updates, and more!
Sign Up For Free to View
Drake Milligan Opens Up About the 'Pressure' He Felt During AGT's Live Show
Simon Cowell told the country singer he was "the best performance of the night."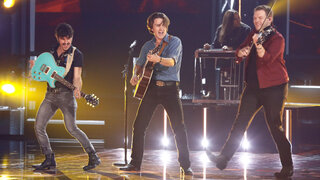 Drake Milligan is headed to the America's Got Talent Season 17 Finale! It was revealed during Wednesday's (August 10) Live Results Show that, thanks to a fan vote, the country singer will be back to compete for the $1 million grand prize on September 13 alongside saxophonist Avery Dixon.
"We did it, guys! We made it to the @AGT finals," he wrote in an Instagram post. "This was fan-voted, so we truly couldn't have done it without you. Thank you to every single one of you that voted."
When we first saw Milligan during Auditions, he performed his original song "Sounds Like Something I'd Do" and saw immediate success. Soon after the episode aired, the track climbed to number-one on the iTunes country chart. Hoping to echo that same success for his first Live Show appearance, the Texas native sang another original song, "Kiss Goodbye All Night." Simon Cowell called it "the best performance of the night."
"I've got to say something, Drake," Cowell said. "A lot of people after performing on the Auditions and their song goes to number one, they would just walk and not compete. The fact that happened, and you still come back to compete in this competition, you have my absolute respect because I was really concerned about that."
The Judge continued, "In my opinion, I think you are the real deal. You're a great songwriter. You have real charisma."
Despite the fanfare that came with his initial performance on AGT, Milligan told NBC Insider that the audience was key to his Act.
"I felt the pressure, but we did a lot of prep this week," he said. "So once I was out there, I was like, 'OK, we've done the work, I'll loosen up.' And once you get out there on that stage with the crowd, you're like 'Alright, this is awesome.' I'm feeding off of them."
So, what can we expect to see from Milligan during his Finale performance?
"I just wanna keep raising the bar," he said. "I wanna bring a new song out there."
Watch AGT on NBC Tuesdays and Wednesdays at 8/7c and next day on Peacock.