NBC Insider Exclusive
Create a free profile to get unlimited access to exclusive show news, updates, and more!
Sign Up For Free to View
Inside the Exhilarating — and Totally Free — AGT Live Shows
Yes, you can be part of the America's Got Talent live audience — and see Terry Crews, Simon Cowell, Howie Mandel, Sofia Vergara, and Heidi Klum in the flesh. 
One of the most fun elements of America's Got Talent is the fact that part of the season is filmed live. 
Not only does that add a touch of unpredictability — will an Act successfully pull off their performance? — but the audience's reactions enhance the show, as they roar with laughter, applaud, and generally ooh and ahh over the variety of performances seen on stage. Sometimes they agree with the Judges, sometimes they don't, but either way, fans provide an important viewing perspective.
And while watching from the couch is also a good time, seeing an AGT Live Show in the flesh is truly an exhilarating must-do for diehard fans. Here's exactly what you can expect if you're interested in attending.
How can you go to an AGT Live Show?
Here's the deal: It's free to be part of the AGT audience. You just have to apply and get selected! If that interests you, sign up for tickets by entering your info via the On-Camera Audiences (OCA) website. Mostly anyone can attend — you just need to be at least 8 years old.
The Auditions are filmed prior to airing, but the next portion of the show, when the Acts attempt to advance into the Final, is typically filmed live on Tuesdays and Wednesdays during the season. And, of course, the Final is also totally live. 
RELATED: A Water-Skiing Squirrel, a Singing Chicken, and More of the Greatest AGT Animal Acts
Make sure to act fact, as tickets do sell out quickly.
Where are the AGT Live Shows?
AGT is filmed in Pasadena, California, just outside Los Angeles, at the beautiful, historic Pasadena Civic Auditorium. The historic venue has been open for more than 80 years and also hosts the Daytime Emmys and NAACP Image Awards.
You can't miss the building if you come for taping. It's draped with banners announcing it as the home of America's Got Talent.
What can you wear to an AGT Live Show?
Before you head to AGT filming, it's important to make sure you're following the dress code. Like almost all television productions, there are strict rules about what you can and cannot wear, as outfit choices can impact a taping.
For AGT Live Shows,  you can only wear dark, solid colors because stripes, patterns, and white clothing can impact the way the recording looks on television. Logos also need to be avoided. T-shirts, sweatshirts, and shorts are also not allowed. You also must wear closed-toed shoes (no heels, either) due to safety concerns.
Ultimately, the AGT production team advises people to dress nicely; after all, you'll be on camera! You want to wear something you'd be happy about seeing yourself in on television for years to come.
What it's like actually being in the AGT Live Show audience
Being at an AGT Live Show is a fun, high-energy experience that begins long before the show even starts to tape. When you get there, an usher will help you find your seat (and it would be difficult to locate without them, as AGT regularly plays to a packed audience). The audience then participates in challenges to hype them up — ones that really focus on getting you used to standing up, cheering, and applauding throughout the show's two-hour run time.  You can even win some prizes from these challenges! (Swag includes T-shirts, tickets to the Las Vegas AGT show, and more!) 
RELATED: Where Is America's Got Talent Singing Sensation Jackie Evancho Now?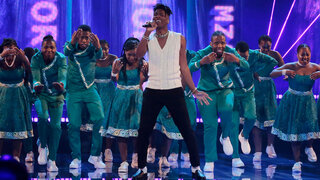 The most thrilling part of the whole affair may be when the Judges are introduced, and Heidi Klum, Sofia Vergara, Howie Mandel, and Simon Cowell come out. All four stars wave to the audience and say hello as they walk toward the table; Cowell may even make time for a speech directly addressing everyone in their seats. And when Host Terry Crews comes out, you know the party is about to begin. 
Once the show starts, it's nonstop laughing, cheering, and applauding as the various Acts perform. Sometimes the crowd gets to participate directly in the Act, like Brynn Cummings' magic trick with her puppet, or they get to sing and dance along with the musical Acts, like you're at an actual concert. Even the commercial breaks are fun, as members of the production team continue to hype up the crowd with more activities. (Don't worry: An onscreen timer ensures the audience knows when it'll be time to engage with the show itself again.) 
Before you know it, the show is over — after all, with the variety of performances, it truly flies by. Still, you'll be left with an unforgettable memory (and a hoarse voice from all the cheering) after you attend an AGT Live Show.