NBC Insider Exclusive
Create a free profile to get unlimited access to exclusive show news, updates, and more!
Sign Up For Free to View
Every Winner From The Voice Season 24 Knockouts, By Team
The three-way Knockouts are back, making the competition fiercer than ever. 
The Voice Season 24 continues to be one of the most competitive in series history, with 20 Four-Chair Turn Blind Auditions, a Battles round that left the Coaches in tears (and on the floor) many times, and, now, the return of three-way Knockouts. 
Yes, that's right: The Knockouts have officially kicked off on The Voice — with a twist that raises the stakes even more for Contestants. As fans of the show know, the three-way Knockouts see Artists being paired against two other teammates. Unlike the Battles, though, they get to choose their own songs  — with only one person emerging as the winner. Of course, the two losing Artists are able to be stolen by the other Coaches, who also each have one Save available.
Because the three-way Knockouts are so intense, a Mega Mentor is joining to help the Coaches with their teams: country legend Wynonna Judd. 
So, how did the Artists do? Read a full recap of The Voice Season 24 Knockouts, below. 
RELATED: These Ultra-Fast Chair Turns During Blind Auditions Will Go Down in The Voice History
The Voice Season 24 Knockouts: The results 
CORii vs. Kara Tenae vs. Kristen Brown
Their songs, respectively: "Ain't It Fun" by Paramore; "Leave (Get Out)" by JoJo; and "This One's for the Girls" by Martina McBride 
The winner: Kara Tenae, sending CORii home. John Legend stole Kristen Brown, bringing her to Team Legend. 
BIAS vs. Jason Arcilla vs. Jenna Marquis 
All their songs were not featured in the episode 
The winner: BIAS, sending home Jason Arcilla and Jenna Marquis
Tanner Massey vs. Chechi Sarai vs. Rudi 
Their songs, respectively: "In My Blood" by Shawn Mendes; "Never Can Say Goodbye" by the Jackson 5; "Smokin' Out the Window" by Silk Sonic
The winner: Tanner Massey, sending Chechi Sarai home. However, Stefani tried to use her Save on Rudi, while Legend and McEntire tried to use their Steals. Rudi opted to stay on Team Gwen.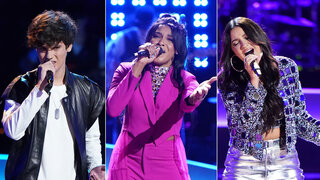 Brandon Montel vs. Taylor Deneen vs. Mac Royals
Their songs, respectively: "Nobody Gets Me" by SZA; "Sweet Thing" by Rufus and Chaka Khan; and "Lost Without You" by Robin Thicke 
The winner: Mac Royals, sending Brandon Montel home. However, Legend opted to use his Save on Taylor Deneen, keeping her on his team.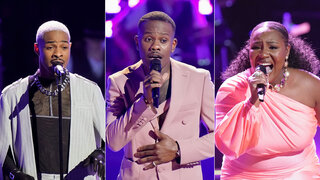 Deejay Young vs. Lila Forde vs. Stee
Their songs, respectively: Breakin' My Heart (Pretty Brown Eyes) by Mint Condition; "Fire and Rain" by James Taylor;  "Pretty Wings" by Maxwell 
The winner: Lila Forde, sending Deejay Young home. However, Stefani used her Steal on Stee. He is now a member of Team Gwen.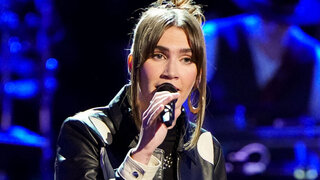 Kaylee Shimizu vs. Caleb Sasser vs. Mara Justine
Their songs, respectively: "Ain't No Way" by Aretha Franklin; "Jealous" by Nick Jonas; and "Without You" by Harry Nilsson (Maiah Carey's version)
The winner: Kaylee Shimizu, sending Caleb Sasser home. Both Stefani and Horan tried to steal Mara Justine. Justine opted to go Team Niall.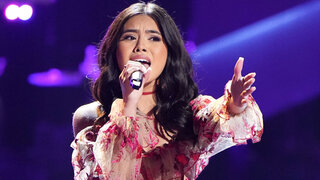 RESULTS: Watch Every Jaw-Dropping 4-Chair Turn From The Voice This Season
Jordan Rainer vs. Caitlin Quisenberry vs. Elizabeth Evans 
Each of their songs were not listed in the episode
The winner: Jordan Rainer, sending Caitlin Quisenberry and Elizabeth Evans home
Ms. Monét vs. Rachele Nguyen vs. Ruby Leigh 
Their songs, respectively: "Best of My Love" by The Emotions; Die From A Broken Heart Song by Maddie & Tae; "Blue" by LeAnn Rimes
The winner: Ruby Leigh, sending Ms. Monét and Rachele Nguyen home.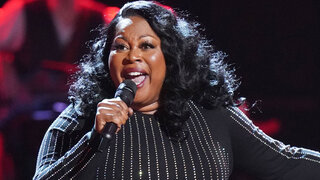 Alison Albrecht vs. Jacquie Roar vs. Tom Nitti
Their songs, respectively: "It's Too Late" by Carole King; "Girl" by Maren Morris; and "I Know I'm Losing You" by The Temptations 
The winner: Jacquie Roar, sending Alison Albrecht home. However, McEntire used her Save on Tom Nitti, and Stefani used her Steal. Nitti chose McEntire, keeping him on Team Reba.