NBC Insider Exclusive
Create a free profile to get unlimited access to exclusive show news, updates, and more!
Sign Up For Free to View
Every Winner from The Voice Season 23 Playoffs, By Team
The Playoffs round sees each team get narrowed down from five to just two Artists. Who made the cut for Live Shows? 
Of all the rounds on The Voice, the Playoffs section is arguably the most competitive. This part of the show sees each team's five remaining Artists singing their hearts out for a coveted spot in the Live Shows. The Coaches then have to narrow their teams down from five to just two Contestants, which is a pretty drastic drop.
At this point on The Voice, every Artist is incredibly talented. So in order to succeed in the Playoffs, you have to be at the top of your game. They need to take risks with their performances and vocal deliveries. It's not about just hitting the notes — every Artist on this show can do that — but can you make the audiences and Coaches feel something with your vocals? Can you take a song to the next level? That's what Blake Shelton, Chance the Rapper, Kelly Clarkson, and Niall Horan are looking for this go-around, so which of their Artists will meet the moment? 
Below, see the results of The Voice Season 23 Playoffs. Next stop: Live Shows — and fan voting! 
Who won The Voice Season 23 Playoffs?
Team Kelly 
How do you pick just two Artists from Team Kelly's incredible Top 5? I mean, we're talking ALI, Cait Martin, Neil Sasich, D. Smooth, and Holly Brand. The answer to that question is...you make the choice with a lot of emotion attached. During the Playoffs, you could tell Clarkson took this decision very seriously and with a heavy heart — especially considering the fact all her Artists performed phenomenally. 
D. Smooth and Holly Brand emerged the most victorious, earning Clarkson's vote to advance to the Live Shows. 
"I love D. Smooth's voice because it reminds me of the '90s," Clarkson said. "It just reminds me of those singers that can just really tell you a story and break your heart, do all the things. His voice is incredible."
As for Brand, her Playoff rehearsal was so good, Clarkson cried. "Get outta here!...I have no time for you. You make me cry," she playfully joked. 
Team Niall 
Horan's Top 5 Artists going into the Playoffs were strong: Michael B., Ross Clayton, Tasha Jessen, Ryley Tate Wilson, and Gina Miles. And they all brought their A-games to this round. Michael B.'s take on "The Joke" by Brandi Carlile even caused Clarkson to spring up from her red chair and give him a hug. 
"Look, let's just hug it out; that's all I want," Clarkson said. "That was so crazy. Oh my god, I'm, like, trying not to cry; that was so good."
For his Top 2 singers, though, Horan ended up choosing Gina Miles and Ryley Tate Wilson to advance to the Live Shows. And those choices were extremely valid. 
Miles' Playoff, in which she sang  "Wicked Game" by Chris Isaak, earned her a standing ovation from all four Coaches. 
"That was crazy," Clarkson said. "I mean the control … in the lower register. Especially that you didn't stay up, that would have been the easier choice. You came back down to that low moody tone that is so cool and mysterious."
As for 15-year-old Wilson, he sang "when the party's over" by Billie Eilish during the Playoffs, a performance that prompted Horan to say, "Ryley's mature beyond his years and puts in performances of someone who's been doing it for 20 years. And he smashes it every single time."
Team Blake
Shelton ultimately chose NOIVAS and Grace West to advance to the Live Shows after the Playoffs, sending home Kylee Dayne, Rachel Christine, and Mary Kate Connor. 
It was a tricky decision, because every Artist on his team excelled during the Playoffs. He even told Christine that he was "blown away" by her performance. "I gotta tell ya, man, you threw a monkey wrench into this whole thing for me," Shelton said. "Because to have you fall into the mix here last minute and for you to swing for the fence like that, you really did an incredible job, and I'm so blown away by you, Rachel. I really am."
Even still, the power of NOIVAS and West couldn't be denied. NOIVAS' rendition of "Come Together" by The Beatles was dubbed "one of the best performances of the season" by Horan. As for West, her take on "Love Is Alive" by The Judds earned her the moniker "country's next star" by Horan. "I think if Blake sends Grace to the Lives, she could do very well — if not win it all," he added. 
"Grace is only 19 years old, and she already has a publishing deal in Nashville," Shelton said. "And now this exposure here on the show — she's literally just one step away from being the next star on country radio."
Watch her performance, below.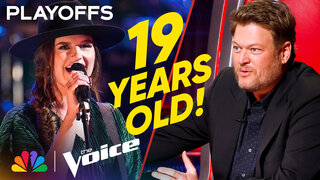 Team Chance
The Playoffs really displayed the power of Chance the Rapper's final five Artists. By the time the round finished, he arguably had the toughest decision to make because all his Artists gave near-perfect performances. In the end, he chose Sorelle and Ray Uriel to move to the Live Shows, sending home Kala Banham, Jamar Langley, and Manasseh Samone. 
Banham's exit was particularly shocking, given the fact her Playoff rehearsal brought Chance to tears. "I am broken right now," Chance said following her version of "My Funny Valentine." "I literally just started crying. Oh my gosh. Your voice is incredible."
Samone leaving was also a surprise, seeing as how she won the Playoff Pass and Chance dubbed her his "secret weapon." After her cover of "Speak the Name" by The Voice Season 8 finalist Koryn Hawthorne, Chance said, "There are people that are watching at home right now; their eyes are welling up with tears 'cause you just professed the name of Jesus in front of 10 million-plus viewers at home." 
That said, Sorelle and Uriel's spots in the Live Shows are well-deserved. Sorelle's take on the Christina Aguilera version of "Something's Got a Hold On Me" was so good, Shelton joked, "This is cheating!" He literally called it "too perfect."
As for Uriel, his cover of "Essence"" by Wizkid ft. Tems earned high praise, as well. "Your voice is like the angel I'd like to sing to me. You have such a beautiful tone, like, it's so broken, but it's just so sweet and smooth," Kelly Clarkson told Uriel after his performance. Watch it for yourself, below.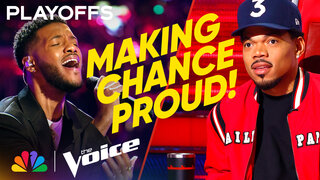 Watch The Voice on NBC Mondays at 8/7c and next day on Peacock.