NBC Insider Exclusive
Create a free profile to get unlimited access to exclusive show news, updates, and more!
Sign Up For Free to View
How Jamar Langley "Brought the Beast Out" During His Playoff Performance
He may be known as a "shy" guy, but Artist Jamar Langley made his presence known Monday on The Voice with a "cool" and "playful" performance.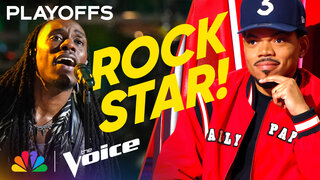 The Voice Artist Jamar Langley is usually one quiet guy, but on Monday night's Playoffs he "brought the beast out." 
Langley kicked his soulful performance of B.B. King's "The Thrill is Gone" up a notch by not only having flawless vocals, but also by bringing the audience into the high-energy performance by interacting with the band and adopting a more "playful" style.
"You are incredibly cool, man. Oh, like, I mean you just walk onstage, the music isn't even started, and I already want to be you," Coach Kelly Clarkson told Langley. "You're just so cool, dude. When you play, it's like your body is singing with your voice. That was such a great performance."
During rehearsal, Langley's Coach, Chance the Rapper, encouraged him to play into the live performance aspect a bit by drawing the crowd into the song.
"First of all, that sounds fire," Chance told him. "The one thing you have left to unlock is just a little bit of swag."
Chance went on to explain the concept of "motivated sound," whether it's moving with the guitar like Prince or playing off the mic stand.
"People are hearing stuff, but they want to see the visual, like what's motivating that feel," he said. "It reminds us that you are controlling that piece on the stage." 
RELATED: Here's What Chance The Rapper Has Said About His Tattoo — and a Possible Second One
"Yes, I got to take it back to the living room," Langley replied. 
The song already had a personal meaning to the 37-year-old from Andrews, South Carolina and stirred up memories from his childhood.
"This is actually one of my personal favorites, something my dad used to play and sing," he told Chance. "It's all we heard. Him in the kitchen playing, my mama whipping up Sunday dinner." 
When it was time for him to take the stage Monday night, Langley used some "motivated sound" of his own, creating a "conversational" performance that just drew people in with his guitar in hand. 
"Chance, you've got some really big singers and I don't know how he stacks up against everybody else, but I think from the standpoint of just what you do vocally, you nailed it and then to mix in the guitar, I think you gotta move him forward," veteran Coach Blake Shelton said, playfully adding that it was his show and so Chance had to do what he said. 
Coach Niall Horan also had praise for Langley on the performance. 
"Your voice just sounds so familiar to me, some of your runs today as well," he said. 
"And the conversational," Clarkson added. "I forgot to say that, but you were like, laughing and playful. It was so cool." 
"Yeah and usually you're shy, Jamar, you know?" Horan agreed. 
"It's time to bring the beast out," Langley replied from the stage. 
While the performance clearly resonated with the Coaches, it was ultimately up to Chance to determine which two team members he planned to move forward into the live semi-finals — and he had to admit he was impressed by what he saw with Langley, confessing to producers that he had "no idea" how he was going to pick the final two. 
"Jamar, my boy Jamar, he just went off," he said "His technical ability, his pitch, his timing. This round is definitely making people bring their A-game." 
When the time finally came for Chance to pick his top two to move forward in the competition, he chose the pop trio Sorelle and R&B singer Ray Uriel, but not before commending his entire team.
"I'm incredibly proud of all of you guys. You guys are just awesome individuals. You guys have true love for music which you see every week when you guys come up here. Everybody top to bottom should be winning this show," he said.
To find out how Team Chance fares in the semi-finals, tune in to The Voice Mondays at 8/7c on NBC or streaming the next day on Peacock.