NBC Insider Exclusive
Create a free profile to get unlimited access to exclusive show news, updates, and more!
Sign Up For Free to View
Why This 'Emotional' Battle on The Voice Had Chance the Rapper 'Literally Shaking'
Chance The Rapper paired Mariah Kalia and Jamar Langley up to sing "Gravity" in the Battle Rounds and called both artists "equally fire."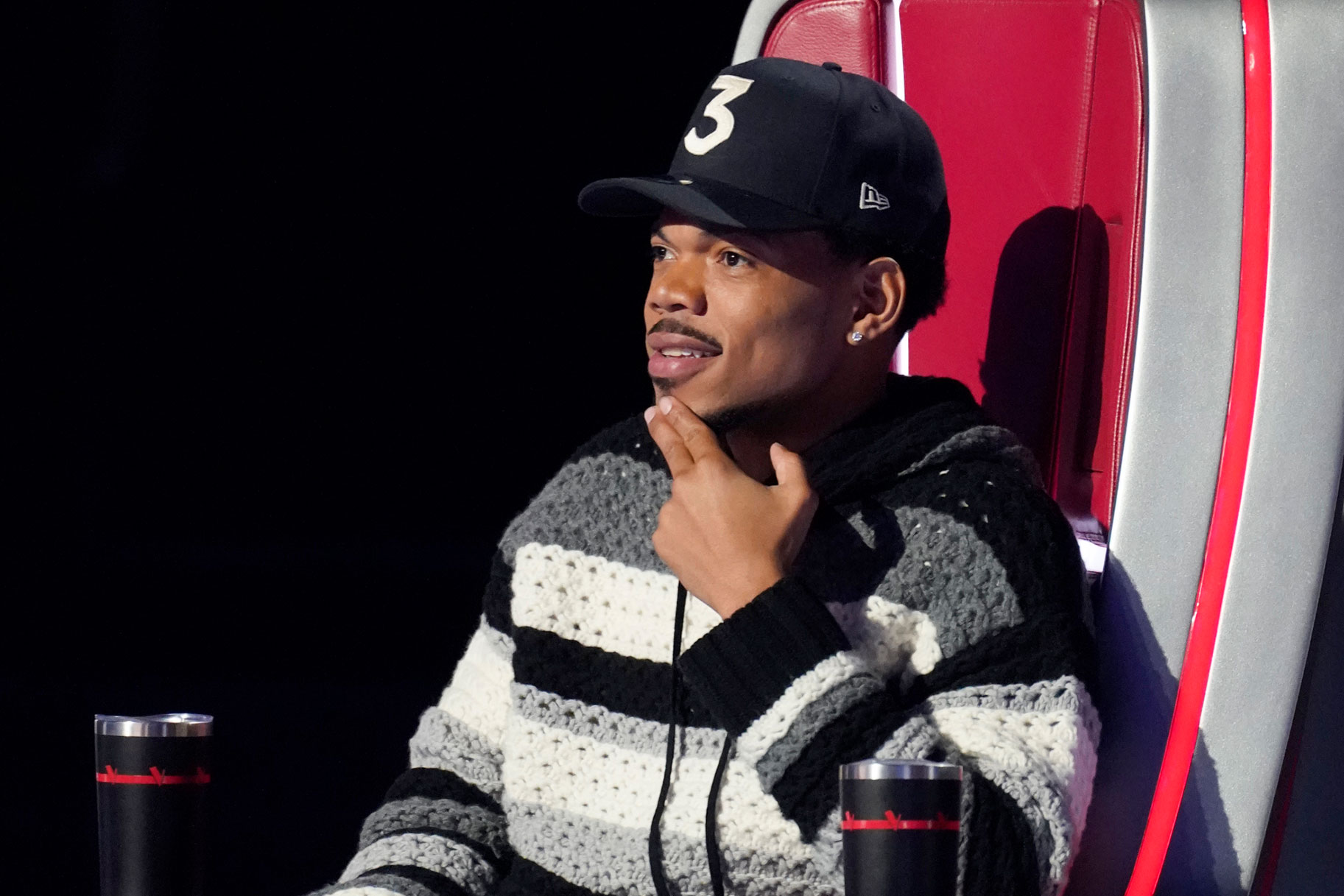 It was an emotional Battle Round on The Voice for not only the artists, but for Coach Chance The Rapper, as he picked his first Team Chance winner to move on to the Knockout Rounds — a decision he said was really "messing" with him.
"I'm literally shaking over here. Like this is very, very difficult," Chance said as he mulled his decision.
Chance The Rapper pitted Mariah Kalia and Jamar Langley against each other to sing "Gravity" by John Mayer, hoping his "production prowess" would help him get the right pairings on Team Chance. He chose the song because "it's a song that has a lot emotionally within the lyrics and I want to see their interpretation on the song from two different viewpoints."
"I paired them together because they both have similar tones," Chance added. "He's 20 years older than her, but they're both wildly talented."
Chance encouraged Kalia to ad lib and "have fun with it," while his advice to Langley was to use his life experience to bring the song to life.
Langley surprised the coach by bringing an electric guitar to rehearsal after going without an instrument in his Blind Audition.
"This one's going to be hard because they were both like, equally fire," Chance said after rehearsals.
After the powerful performance of "Gravity," Coach Kelly Clarkson said that was her favorite version she's ever heard of that song.
"Mariah, you brought this youthfulness and sass to it," Clarkson said. "And Jamar, my gosh, I love the ease in which you sing — you have an incredible gift."
Clarkson admitted they were evenly matched but gave the edge to Jamar Langley as the winner in her eyes.
"Jamar, we see Artists a lot on this show, where you're going, 'How does this person not already have a record deal?' You're ready, right now," Coach Blake Shelton said. "Mariah, she's always going to get better every time she gets on the stage."
Shelton added if he was going to invest money, "I'd invest a lot of money in Mariah because I think she's going to be a superstar."
Ultimately, Shelton picked Langley to win the battle.
Coach Niall Horan also admired Mariah Kalia's sass during the performance.
"All the dynamic the whole way through, the song from start to finish was just unbelievable," Horan said of Kalia's performance, adding she should be really proud of it.
But he also saw something with Langley.
"Jamar, that tone was just so solid and you can hear the years of gigging in your voice, and it's an amazing thing to have too," Horan said.
But Horan picked Kalia to win the battle, leaving a split among the Coaches for Chance The Rapper to consider in his decision.
RELATED: Breaking Down Chance the Rapper's Iconic Career Before The Voice
"I'm literally shaking over here," Chance said. "Like this is very, very difficult. Jamar, obviously, you are an artist, artist. Like I didn't even know you play guitar until we got to rehearsal. And I think that's going to be something I want to see through the competition."
Chance told Kalia she makes him think about his daughters, who also love music.
"Mariah, you just have so much control with your voice. When you do that run and you climb all the way up there like every time, it just blew me away."
Chance added he felt as though both Langley and Kalia were meant to be there, so "it's really messing with me right now to make a decision."
Ultimately, Chance The Rapper picked Jamar Langley to move on to the Knockout Round and Mariah Kalia was eliminated from The Voice. 
"Jamar is the artist that's ready right now," Chance said. "The control that he kept, the choices that he made, felt like a seasoned artist that's ready to win this whole show. And Mariah still has time to grow."
Horan said if he'd had a second steal option, he'd have stolen Kalia.
"I'm just happy that I even got to be here in the first place, and I'm not going to stop making music," Kalia said.
Watch The Voice Mondays at 8/7c and Tuesdays at 9/8c. You can stream episodes next day on Peacock.