NBC Insider Exclusive
Create a free profile to get unlimited access to exclusive show news, updates, and more!
Sign Up For Free to View
See Why Gina Miles' "Insane" Playoff Performance Earned Her a Standing Ovation From All 4 Coaches
"Oh hell yes!" Coach Blake Shelton yelled out during Gina Miles' playoff performance on The Voice.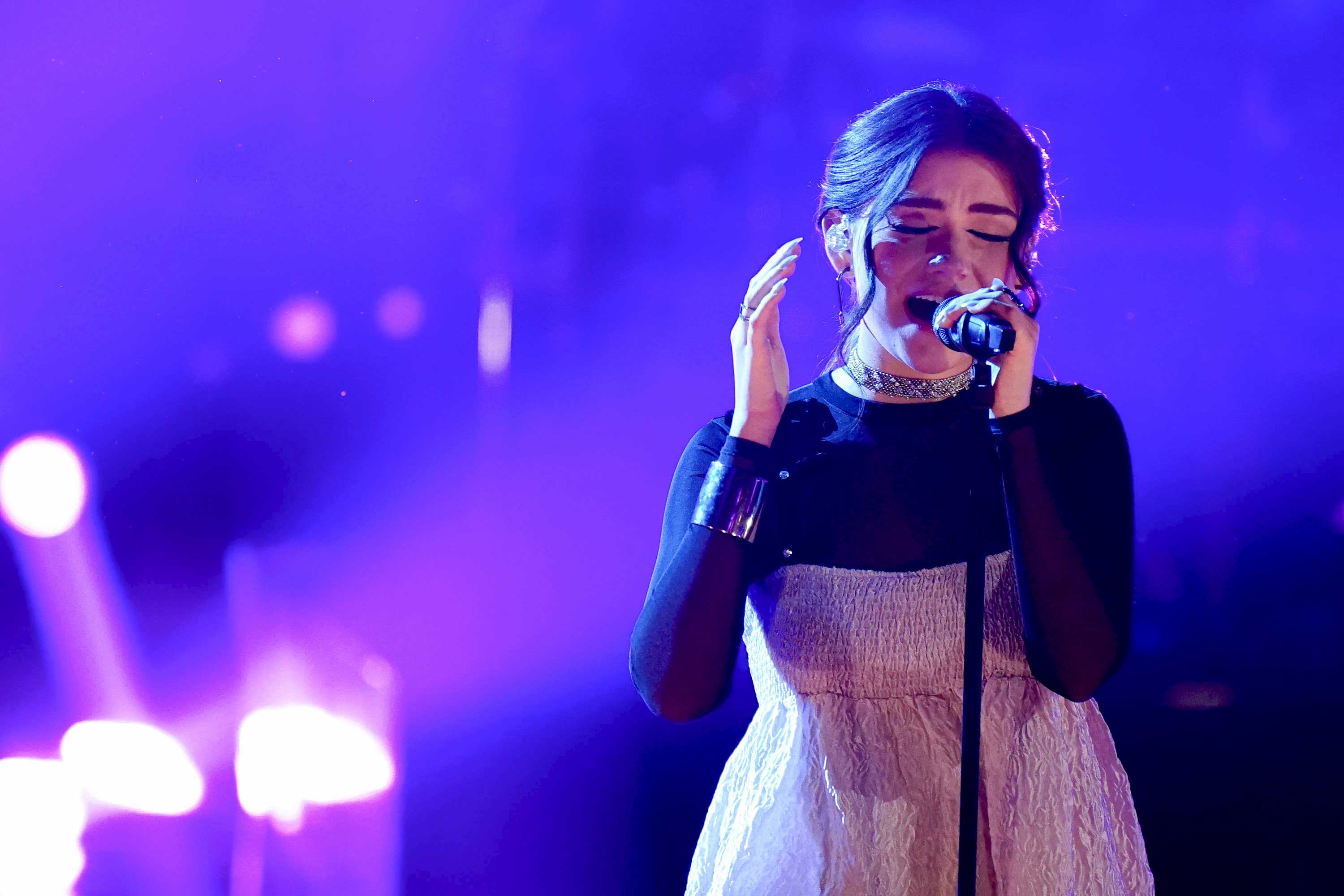 Gina Miles has made quite an impression.
"She speaks at two decibels, and sings at 400," Coach Niall Horan said of The Voice Artist Gina Miles, but her quiet speaking voice didn't stop her from putting on what Horan called "her best performance" during the Playoff Rounds.
"If you don't put her through, you are not only fired from the show, you are not my son anymore," Coach Blake Shelton told Horan after Miles sang. "I mean, oh my god, that was my favorite thing that I've heard in a long time. Loved it."
The 19-year-old from Paxton, IL sang "Wicked Game" by Chris Isaak for the Playoff Rounds.
"I chose that song on day one for her," Horan said. "I could hear her singing it. Her ability to tell a story is insane. She's got this beautiful, standout, unique voice."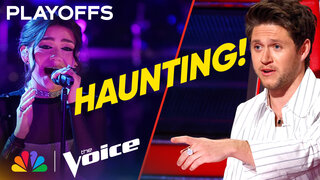 The song was a special one for Miles.
"I think the overall message about the song is about longing," Miles said during rehearsals. "And that's how I feel about the competition.  I want it so badly."
Miles' "giant" singing voice has been a focus during the shows, including when Horan and Coach Kelly Clarkson both turned their chairs for her in the Blind Auditions.
"I've sang at bars, hotels, at a mall, but I'm very shy, and I have a smaller speaking voice," Miles said. "I feel more comfortable in my voice when I'm singing. But they are very different. It's very jarring for people sometimes."
Horan was visibly moved by that big singing voice during her Playoff Round rehearsal, saying, "Absolutely exceptional, God almighty, I nearly cried. I'm doing my best to hold it in."
RELATED: Where Are Kelly Clarkson's The Voice Winners Now?
Miles went on the "nail" her performance in front of the audience, according to Horan, and got a standing ovation from all four Coaches.
"That was crazy," Clarkson said. "I mean the control … in the lower register. Especially that you didn't stay up, that would have been the easier choice. You came back down to that low moody tone that is so cool and mysterious."
Miles' own Coach Horan added he still had goosebumps from the performance.
"You know when you hear a unique voice on the radio, and you know that's that person?" Horan said. "You've got that distinct tone to your voice that you don't hear often."
Miles feels she's grown and matured during the competition, and it's impacting her performances.
"My confidence I feel like has grown a lot," she said. "I feel so comfortable in my own voice and my ability to perform."
That confidence and growth contributed to Horan choosing to advance Miles and 15-year-old Ryley Tate to the Top 8 Live Semifinals to represent Team Niall. They're the youngest team remaining in the competition.
"I moved Gina forward to the live semifinals because her growth has been so obvious," Horan said. "As Coaches, audience members, people at home, you want to be moved. You want an artist that makes you feel something, and Gina did that ten-fold today. Gina Miles is absolutely ready for the live shows."
To see who viewers advance in the Live Semifinals, tune in to The Voice on Mondays at 8/7c on NBC and the next day on Peacock.