NBC Insider Exclusive
Create a free profile to get unlimited access to exclusive show news, updates, and more!
Sign Up For Free to View
Why Kelly Clarkson Hugged Michael B. After His "Crazy" Playoffs Performance
Michael B. said he connected with the Grammy Award-winning song "The Joke" for an important reason.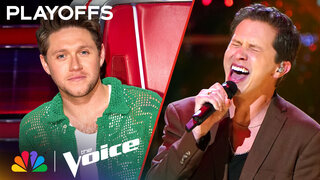 It's the second half of The Voice Playoffs, and only a select few will move into the Live Performance Shows.
Longtime Coach Kelly Clarkson and freshman Coach Niall Horan didn't have it easy when tasked with picking just two of their five Team Kelly and Team Niall singers to advance into the next round. But it was Niall's team member Michael B.'s Playoffs performance that had Clarkson rushing the stage to embrace the L.A.-based singer.
The 29-year-old performer sang the multi-Grammy Award-winning 2017 song "The Joke" by Brandi Carlile, and before Host Carson Daly could ask the Coaches for their thoughts, Clarkson was out of her seat.
"Look, let's just hug it out, that's all I want," said Clarkson as she went on stage. "That was so crazy. Oh my God, I'm, like, trying not to cry; that was so good."
Coaches Blake Shelton and Chance the Rapper were envious of Horan for snagging Michael B. for himself earlier this season, which Horan discussed while he and his protégé rehearsed in the studio. Horan referred to the singer as his "theatrical dark horse."
"Michael is, hands down, one of the standout singers in this competition," Horan told producers. "He has this musical theater-ness to his pop voice. And he's grown so much in this competition, and all the Coaches are starting to take notice now."
Michael B. discussed how a song like "The Joke" was a tune he connected with for personal reasons. Horan agreed that, vocally, the song was made for him.
"This song is a little bit about groups of people that feel unloved or unwanted or misrepresented," said Michael B. "I'm gay; let's get that out of the way."
Michael discussed coming out as gay at 19, stating he couldn't keep the secret inside of him any longer.
"And for a minute, I thought, 'Will I ever find true happiness? Will I ever do what I love?'" the singer continued. "It took a while, but it's happening."
RELATED: Where Are Kelly Clarkson's The Voice Winners Now?
Michael B.'s rehearsals wowed Horan, who instructed his team member to give extra drama and vibrato to the song. Michael B. admitted he was anxious to perform in the Playoffs and hoped he could deliver, and based on Clarkson's reaction, he did just that.
"Michael, I've known that you were so talented this whole time, but woo! I was like, 'Why is this dude not in the theater on Broadway?'" said Clarkson after hugging him onstage. "Your voice is just so booming and beautiful."
Shelton echoed Clarkson's sentiment, telling Michael B. his performance was "incredible." He said it'd be a real head-scratcher if he didn't make it into the Live Rounds because "I haven't seen anybody pour more of themselves into a performance than you have."
Coach Chance discussed the technical side of Michael B.'s talent, calling it "really cool" to see another side of the Artist.
"I'm used to seeing you do a lot of crazy runs, and now I'm getting introduced to your sustains," Chance observed. "When you do those high-range sustains, those remind me of Broadway."
Horan agreed with Chance that Michael B. nailed the song's technicalities but applauded his ability to connect with the music.
"Your connection to a lyric is unlike anyone else in the competition," said Horan.
Although Horan called Michael B. "one hell of a singer," and Clarkson referred to him as a "finale singer," Horan had the daunting task of picking just two winners from his team, which consisted of Michael B., Ross Clayton, Gina Miles, Tasha Jessen, and Ryley Tate Wilson.
Clarkson had to do the same, choosing from D. Smooth, Cait Martin, Neil Salsich, ALI, and Holly Brand for the semi-finals.
In the end, Horan would pass over Michael B., instead choosing Gina Miles and Ryley Tate Wilson for the win. Clarkson chose D. Smooth and Holly Brand.
The singers will now join Team Blake singers NOIVAS and Grace West, and Team Chance acts Sorelle and Ray Uriel for the Live Performances.
Tune in to The Voice as the competition continues, Mondays at 8/7c on NBC and streaming the following day on Peacock.