NBC Insider Exclusive
Create a free profile to get unlimited access to exclusive show news, updates, and more!
Sign Up For Free to View
Why NOIVAS' Playoff Was Called "One of the Best Performances of the Season"
NOIVAS' "wild," high-energy performance Monday night blew The Voice Coaches away and left some fearing the intense competitor.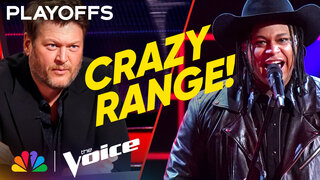 NOIVAS kicked off the playoffs on The Voice Monday night with a bang, delivering a high-energy, "wild" rock performance that had some Coaches fearing the fierce competitor in the weeks ahead. 
"NOIVAS, whoa," a stunned Coach Niall Horan said. "Insane. You brought a different level of energy every week and this week you've come out and you've put on one of the best performances we've seen on this show." 
The Texas dad stepped onto the stage wearing a black leather jacket, black cowboy hat and black eyeliner, before performing a dramatic and mic-wielding rendition of The Beatles' "Come Together," pulling the audience in from nearly the first rock-infused note.
"Incredible," NOIVAS' former Coach Chance the Rapper exclaimed. "You just turned this into your own concert." 
Chance added that if it were up to him, he'd "send him right ahead" into the semi-finals. 
Each Coach is tasked during the Playoffs with choosing just two of their team members to advance to the live semi-finals, forcing the Coaches to make some difficult, and admittedly painful, decisions. 
Chance's endorsement of NOIVAS was echoed by Coach Kelly Clarkson.
"I have no idea how you don't make it. It was so incredible, I mean, your range, you were like shredding with the guitar vocally. It was like, what?" Clarkson said. "I think I'm going to see you in the finale. I'd be shocked if I didn't."
But ultimately whether NOIVAS advanced in the competition would be up to his Coach, Blake Shelton, who is finishing up his final season on the singing competition.
During rehearsals, Shelton and NOIVAS bonded over the difficult loss of their older brothers early in life. NOIVAS shared that he was just 21 when his brother — who he described as a "great father" and "always the person you looked up to" — passed away in 2013. 
"The last thing he told me was to do me," he told Shelton. 
The advice shaped the man he became in the years after his brother's death.
"Before my brother passed away, I was very quiet. It wasn't until I lost my brother that I started to become fearless and this is a big song and I'm not afraid," he said of being willing to put himself out there. 
After his high-powered performance Monday night, which saw NOIVAS swinging the mic stand back and forth to the rhythm of the guitar,  Shelton delivered some high praise — but not before showcasing his trademark dry sense of humor.
"I'm glad the producers decided to not give you the most dangerous half of the microphone stand. Yeah, because I mean people almost got hurt," Shelton joked. "But I'm talking about just an overall eruption that happens on the stage when this guy gets up there. Your singing was incredible, but the way you perform, it's a little bit wild, and it just works for you, dude. Great job."
NOIVAS wasn't the only member of Team Blake to leave it all on the floor Monday night and as the night came to a close, Shelton admitted deciding who to send home wasn't easy.
"For my journey to go out with five absolutely amazing vocalists, and by the way, really great people — it's literally storybook stuff for me to go out with a group like this. I just can't thank you enough for all your hard work and I'm sorry about this for three of you," he told his team. "I would have quit a season before had I known. That's how bad this sucks."
After delivering the heartfelt apology, Shelton announced that NOIVAS was one of two artists to continue onto the semi-finals. Country crooner Grace West was also chosen to advance.
"NOIVAS, I mean he just does these huge performances that he sings with everything he has in his body," Shelton said after making the decision. "There's no way to deny this guy's talent."
RELATED: This Legendary Voice Coach Just Announced a Vegas Residency—How You Can Get Tickets
And some of the other Coaches are already fearing the competition. 
"Every time he steps on the stage, NOIVAS brings it. When he gets to the lives, he is tough, tough competition for Team Niall," Horan said.
To find out how NOIVAS will do in the weeks ahead, tune into The Voice Mondays at 8/7c on NBC and available streaming on Peacock the next day.