NBC Insider Exclusive
Create a free profile to get unlimited access to exclusive show news, updates, and more!
Sign Up For Free to View
Why the Coaches Called Kala Banham's Playoff "Actually Perfect" and "So Beautiful"
Kala Banham pulled out another great performance after a series of ups and downs and near-eliminations on The Voice.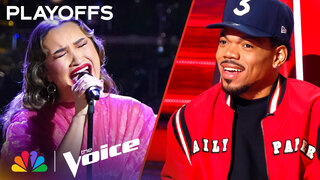 Kala Banham's wild ride came to an end on The Voice this week, even as the Coaches swooned over her Playoff Rounds performance of "My Funny Valentine" by Ella Fitzgerald for Team Chance.
The Coach called the singer his "blessing in disguise" after she was let go by two Coaches in the competition.
"I'm so proud, that was so incredible," Chance The Rapper said of Banham's performance. "Like, it's crazy that you slipped through two other Coaches. You made me cry in the rehearsal. It was amazing."
Banham's unconventional journey in the competition started when rookie Coach Niall Horan blocked Coach Kelly Clarkson from getting Banham after her version of Joni Mitchell's "Both Sides Now" in the Blind Auditions.
The 24-year-old was then saved for the first time from elimination by Clarkson in the Battle Rounds, as Clarkson got her revenge on Horan by stealing Banham for her team after she sang "Skinny Love."
Then, after her rendition of the Goo Goo Dolls' "Iris" in the Knockout Rounds, Banham was once again saved from elimination during a double steal by Coaches Blake Shelton and Chance The Rapper, ultimately ending up on Team Chance.
Chance The Rapper held his hands over his heart as she sang "My Funny Valentine," while Clarkson and Shelton both gave Banham a standing ovation afterward.
RELATED: Chance The Rapper Went for an Ultra-Stylish Blue Look for The Voice Knockouts
"You made it Kala's version, like as if that was a brand-new song," Clarkson said. "It was so beautiful, and dark, but inspiring — all the great adjectives."
Horan also praised Banham for her song choice.
"Kala, that song was made for you," Horan said. "I spoke to you about this when we started — make sure that you sing songs that could be on your record. And that's just different level now."
Shelton called her performance "actually perfect."
"You have to put her in the next level, for that reason. That was unbelievable," Shelton said to Chance The Rapper. "You have to. It's my show, so you have to do what I say."
Chance agreed with the praise, adding, "It showed off her ability to change songs, to fit her aesthetic and feel."
"It just reminded everybody how dumb they were for losing her on their team, like I would never make a choice like that — are you crazy?" Chance said.
But the rapper would later eat his own words, and not follow Shelton's advice. Chance chose Sorelle and Ray Uriel to advance to the live performances for Team Chance, eliminating Kala Banham once and for all.
Watch new episodes of The Voice on Mondays at 8/7c on NBC, or watch episodes the next day on Peacock.