NBC Insider Exclusive
Create a free profile to get unlimited access to exclusive show news, updates, and more!
Sign Up For Free to View
How Rachel Christine's Playoff "Threw a Wrench" in the Game and "Blew Blake Away"
Wisconsin songwriter Rachel Christine sang Paramore's "The Only Exception" for her chance to make it to The Voice's semi-finals.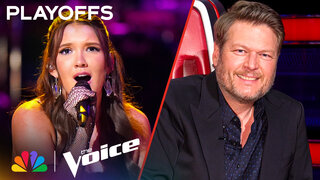 It's time for The Playoffs on The Voice, with Team Blake singer Rachel Christine never ceasing to surprise Coach Blake Shelton.
For the last time before his retirement, Shelton was tasked with picking just two of his five team members to advance into the Live Performance Shows' semifinals. This time, he had to choose between Wisconsin-raised Christine, NOIVAS, Grace West, Kylee Dayne, and Mary Kate Connor (the latter of whom advanced to the Playoffs when Shelton used his all-new Playoff Pass).
Twenty-two-year-old Christine, once part of Coach Kelly Clarkson's team, didn't win against fellow Team Kelly singer Holly Brand during The Knockouts. However, Shelton used his last steal to take Christine for his team.
"It's definitely a once-in-a-lifetime feeling to be Blake's last steal ever," Christine told producers.
Coach Shelton and Christine came together in the studios to rehearse Christine's rendition of Paramore's 2009 single "The Only Exception." Christine commented that she considered Paramore's lead singer, Tennessee-born Hayley Williams, to be an inspiration for her songwriting.
It also helped that Christine was raised by a family of writers and songwriters.
"I'm very grateful to be here, but I almost feel like maybe I'm just getting lucky; maybe I'm not as talented," said an emotional Christine. "I'm just really surprised that I'm still here because I didn't think I was gonna make it past the Blinds."
During rehearsals, Coach Shelton said he had no regrets about stealing Christine, adding, "I know I did the right thing."
Shelton said it was important that Christine remains consistent throughout her performance, but he had no clue who he would pick for the semifinals outside that. The other Coaches, including this season's newest Coaches, Chance the Rapper and Niall Horan, agreed.
Chance, the first of the Coaches to share his thoughts, said Christine "had great control of the stage."
RELATED: Blake Shelton Is "Most Comfortable" Here: See Where He Lives
"I feel like maybe there was like one or two moments where it got a little pitchy, but then you still caught yourself right behind that," said Chance. "I thought it was an awesome performance."
Coach Clarkson — Christine's former Coach — said Christine did a "great job" and offered that she loved where Christine took the song artistically.
"I love how big and open your voice is, Rachel," said Clarkson. "It's so beautiful."
Horan agreed Christine gave a "beautiful" performance, calling her rendition of the song "theatrical" and something he hadn't heard before. He complimented Christine on getting through the intimidation of hitting the lower vocal register and said he wasn't envious of the decision Coach Shelton would have to make.
"I gotta tell ya, man, you threw a monkey wrench into this whole thing for me," Shelton told the Artist. "Because to have you fall into the mix here last minute and for you to swing for the fence like that, you really did an incredible job, and I'm so blown away by you, Rachel. I really am."
Clarkson said she was excited to see Christine continue on the show after having to choose Holly Brand as the winner of the Knockouts. But following Christine's performance of "The Only Exception," Clarkson told producers she wondered if she made "a poor decision."
Speaking of decisions, Shelton said, "The stakes have never been higher" when having to choose just two acts to move forward.
"Rachel, I totally respect her song choice to show off like she's capable of," Shelton told producers. "Man, I don't know what I'm going to do now."
The Voice Season 23, Episode 13, had Shelton pick two Team Shelton singers to enter the semifinals, as well as Chance having to pick two of his five acts, which included Kala Banham, Jamar Langley, Manasseh Samone, Ray Uriel, and Sorelle.
"I would have quit a season before had I known; that's how bad this sucks," said Shelton.
After some tough decision-making, Team Blake's NOIVAS and Grace West — along with Team Chance's Sorelle and Ray Uriel — were picked for the Live Performance Shows.
The Playoffs continue on The Voice, airing Mondays at 8/7c on NBC and available to stream the next day on Peacock.