NBC Insider Exclusive
Create a free profile to get unlimited access to exclusive show news, updates, and more!
Sign Up For Free to View
Ray Uriel's "Angel"-Like Playoff Gave Niall Horan Goosebumps: "Unbelievable"
Ray Uriel's performance had The Voice Coaches dreaming of angels and rooting for a radio takeover.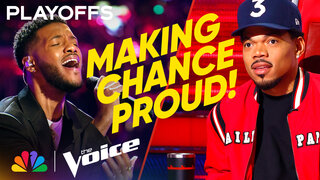 Ray Uriel's voice is like the angel The Voice Coach Kelly Clarkson wants in her life, she recently said.
"Your voice is like the angel I'd like to sing to me. You have such a beautiful tone, like, it's so broken, but it's just so sweet and smooth," Clarkson told the 24-year-old Monday night after his "unbelievable" performance of Whizkid's "Essence" during the Playoffs.
Uriel started the R&B song slowly and then built on the "feel-good song," showcasing his effortless runs and smooth delivery.
The Gary, Indiana native — who was deemed the "subtle soul singer" by his Coach Chance the Rapper — earned rave reviews for the performance from newbie Coach Niall Horan, who drew comparisons to singer-song writer Frank Ocean.
"Oh, Ray, man, I could just watch you every week. You're unbelievable," Horan said. "It just feels like the real deal. I've got goosebumps as I'm saying it right now."  
"Doesn't that feel like you're watching an award show?" Horan then asked the crowd as cheers erupted. "Your tone is just so good, kind of like Frank Ocean-ness. Just pure."
Clarkson agreed, but felt Ray's style  might be more like "if Frank Ocean and Miguel had a musical baby." 
Even country legend and veteran Coach Blake Shelton was eager to hear more of Uriel, hopefully on a radio station near you soon. 
RELATED: Chance The Rapper Went for an Ultra-Stylish Blue Look for The Voice Knockouts
"Ray, I want you to make it as an artist and then you turn back the sound that's on popular radio right now, back to that, because I think I mentioned to you in the Knockouts, that there's something very '90s about how you sound," Shelton said, before telling Chance "you gotta put this guy through."
Chance and Shelton were each tasked Monday night with painfully cutting their teams down to just two members. Those members will go on to compete in the competition's live semi-finals (Clarkson and Horan will be put in the same tough spot during next week's Playoffs).
Chance admitted he believed Uriel might be one of the Artists he "could see winning the whole thing" and commended the business and data analyst for the incredible growth he's shown since Season 23 began. 
Uriel admitted during rehearsals that he wasn't always feeling so confident.
"Music has saved my life in a lot of different ways," he told producers. "During my childhood, making friends was not that easy for me. I was very different from a lot of people in my environment. I was just kind of like a nerdy kid."
Although he "did get picked on a lot," his life took a positive turn when he moved to a performing arts school. 
"I met a lot of people that were like me and I was, you know, free to just be myself," he said. 
If his powerful performance in the Knockouts was any indication, it appears that's working for him. 
However, Uriel wasn't the only member of Team Chance to deliver a top-notch performance. 
Chance was quick to point out his whole team was "fire," making the decision of who to send home that much harder. 
"I'm incredibly proud of all of you guys. You guys are just awesome individuals. You guys have true love for music which you see every week when you guys come up here," Chance said. "Everybody top to bottom should be winning this show."
Before the show concluded, Chance was forced to deliver his verdict and chose the pop trio Sorelle and Uriel to go forward in the competition. 
For Chance, Uriel's confidence is what propelled him ahead of the competition.
"Ray is an amazing Artist. I think he has potential not just as a vocalist but [as] a writer, and I'm always just looking for the uniqueness. I think what he brings to the show is himself," he said. 
To find out how Uriel and the other artists will fare in the singing competition, tune in to The Voice on Mondays at 8/7c on NBC or available streaming the next day on Peacock.