NBC Insider Exclusive
Create a free profile to get unlimited access to exclusive show news, updates, and more!
Sign Up For Free to View
Chance the Rapper's Throwback SNL Hockey Sketch Will Make You Love Him Even More
The Season 23 Voice Coach flexed his funny bone for all to see during his Season 43 SNL appearance.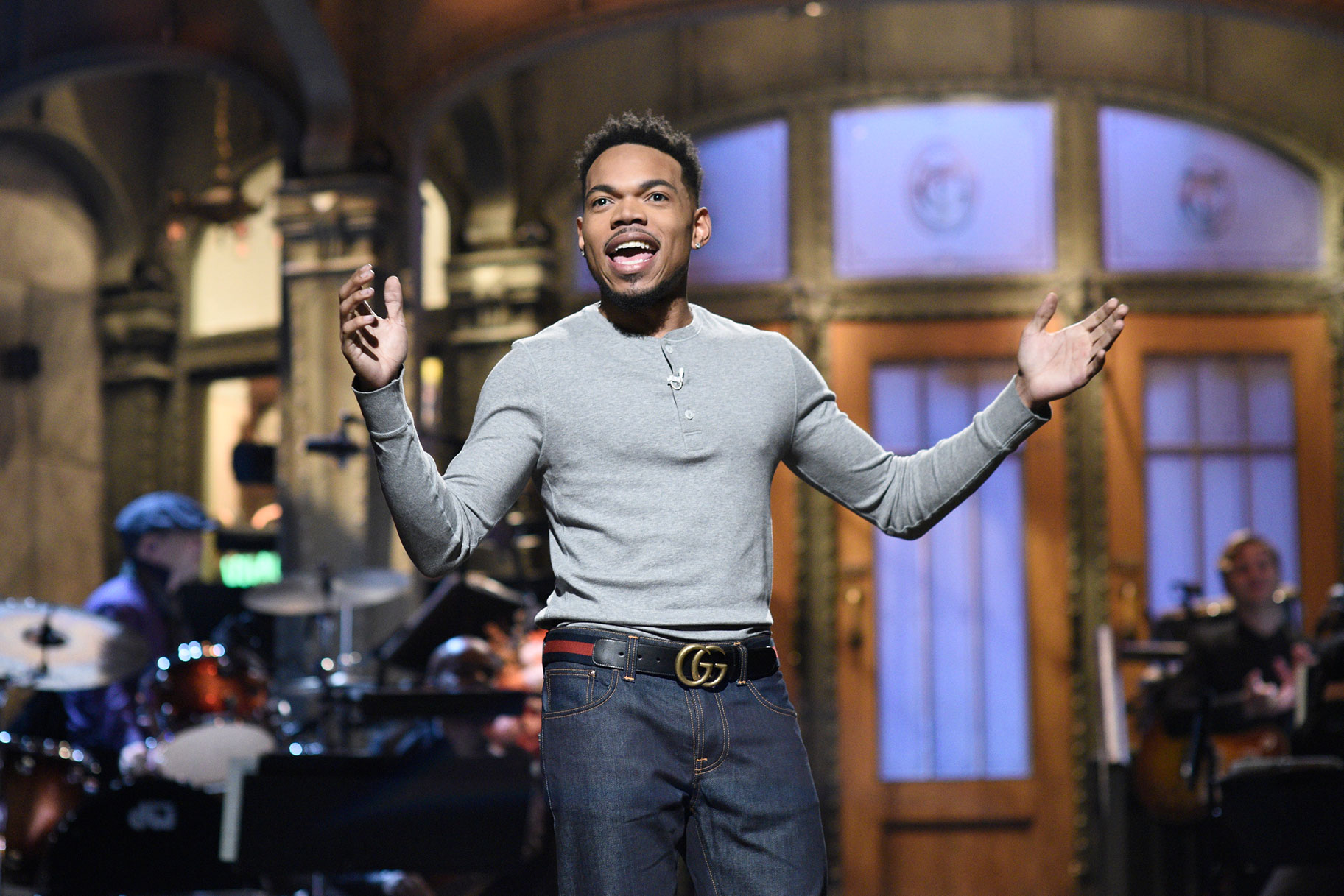 As Season 23 Coach on The Voice, it's no secret that Chance the Rapper is a Renaissance performer. He raps, produces, dances, and acts. And as proven by his 2017 gig as Saturday Night Live Host, Chance is also quite the comedian.  
In this hysterical Season 43 SNL sketch called "Sports Announcer," Chance plays a New York Knicks basketball commentator named Lazlo who is transferred to the hockey division for a high-stakes New York Rangers game. The typical side-line commentator is on paternity leave, forcing an ill-qualified Lazlo to reluctantly step in. 
The punchline is that not only does Lazlo know virtually nada about hockey, but he's also struggling with the chilly temperatures of the hockey stadium. It's cold, he's confused, and the players are full-on fighting, so it's safe to say Lazlo is out of his element.
"Here at the hockey game, lots of fun hockey going on. Lots of white dudes on skates running into each other at full speed," Chance announces to the anchors. "I don't get it... I'm just messing around. But very different from working at the Knicks games. Much colder."
"What's your impression of the game so far?" Rangers anchor Dale asks.
"Well, Dale," Chance begins. "The story of the game is one of the main guys on the Rangers - don't know how to say his name, it has like 30 letters in it, none of them are vowels- he's playing great. Which is crazy because he got in a full fistfight in the first minute of the game."
Chance quickly saves face by adding, "But hey, as they say in hockey: let's do that hockey! Uh... I miss The Knicks, uh, I'm just kidding."
What proceeds is a hilarious back-and-forth between Lazlo and the anchors as they attempt to understand what's happening in the game. 
"I want to talk about this Ranger offense," Dale says.
"You should do that," Chance retorts.
"I meant with you Laz," Dale clarifies. "They came out of the box with an aggressive offense we haven't seen from them in a while..." 
Chance hilariously responds, "That's what's up."
Anchor Christie pivots by asking Chance, "From down there on the ice, who do you think really made a difference in the first period?"
"Definitely the hockey players, Christie," Chance responds. "They were the ones who got all the scores. And then you got the goalie, wearing every pad in the world and baseball gloves, he's working very hard too. It is so cold."
If you thought that correspondence was messy, it becomes even more ridiculous once Chance begins interviewing one of the Rangers players. 
"I got to know, in the next period, how are you gonna do that hockey?" Chance asks the hockey player.
"You know, we just got to keep the pressure up and stay out of the box," the athlete explains. 
But Chance has no idea where to go from there, so again, he hilariously says, "That's what's up."
Watch more of the endlessly hilarious Chance The Rapper on Season 23 of The Voice on NBC Mondays at 8/7c and the next day on Peacock.
Watch Saturday Night Live Saturdays at 11:30/10:30c on NBC and stream the next day on Peacock.