NBC Insider Exclusive
Create a free profile to get unlimited access to exclusive show news, updates, and more!
Sign Up For Free to View
How Kylee Dayne's Voice During the Knockouts Made Reba McEntire Cry
Describing herself as an outcast, the 20-year-old Texan chose the Celine Dion version of "All By Myself," bringing the Mega Mentor to tears.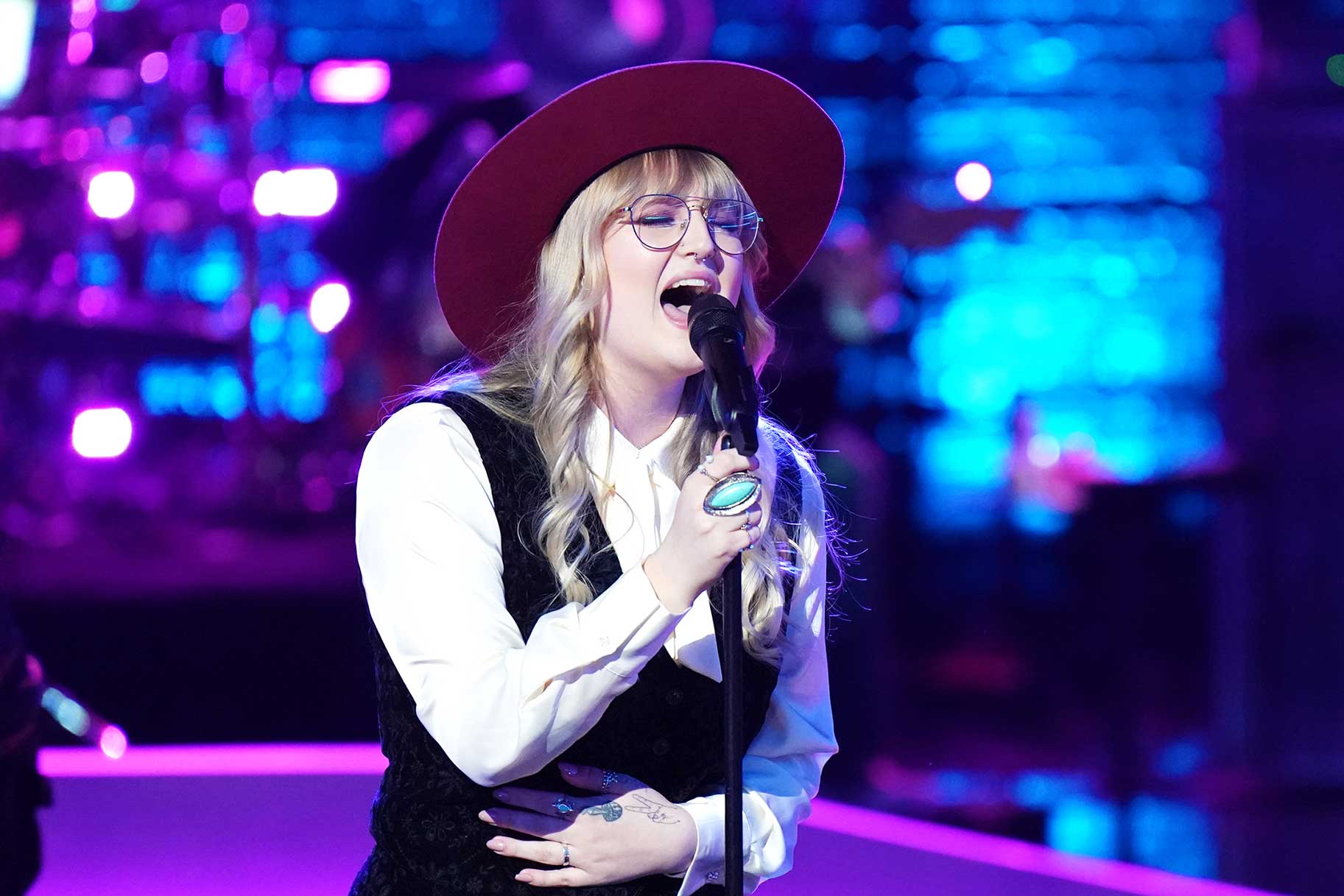 Contestants on The Voice are giving it their all to earn a spot in The Playoffs, but it was Kylee Dayne's Celine Dion version of "All By Myself" that brought Season 23's Mega Mentor Reba McEntire to tears.
Dayne's choice to sing the 1975 hit — originally written and performed by Eric Carmen — was an ambitious decision for The Knockouts against Team Blake contestant Walker Wilson. Wilson had opted for a honky tonk song with Waylon Jennings' "I Ain't Living Long Like This," a smart choice when rehearsing for McEntire and fellow country legend and Oklahoman Coach Blake Shelton.
Twenty-year-old Kylee Dayne of Carrollton, Texas, explained she always felt like an "outcast," leading her to pick the song in particular, which she called "healing." She added that being a part of The Voice helped her feel "included and loved," but her emotions came through with the song.
"When Kylee came on, she was real cute, real shy, and I thought, 'Well, she's gonna have a little bitty voice, probably,'" McEntire assumed.
Not only was McEntire wrong, but she was reduced to tears, hugging Dayne and sharing her heartfelt impression.
"You really touched my heart," McEntire emotionally told the contestant. "That's the biggest thing, is to capture somebody in the audience to where they're sobbing or laughing or crying. Get some emotion out of them, and you did it for me."
Shelton knew the reaction from McEntire would go a long way in the competition.
"Kylee definitely has a connection to this song; she made Reba cry," said Shelton. "So that tells you the effect that this song has on people when they hear Kylee singing it."
For his song, Wilson wanted something that would show the "wild kid" inside. Growing up in the small town of Raymond, Mississippi, Wilson said that, as a child, he and his friends often got into trouble, adding, "It was never bad, but it wasn't ever good, either."
McEntire clapped as Wilson sang, smitten by the singer's country "swagger" and the "gravel in his voice," calling it "really cool, really sexy." She said Wilson "slayed" with his smile, which McEntire compared to the likes of late actor and heartthrob Patrick Swayze.
Even rival contestant Dayne said Wilson's rehearsal lit a fire under her.
RELATED: Who Are Blake Shelton's Most Frequent Songwriting Partners?
"Kylee and Walker are in two different lanes, maybe two different interstates," said McEntire. "They're just great."
The pair of singers slayed during The Knockouts, taking their songs to the stage to perform for Shelton and fellow Coaches from The Voice Kelly Clarkson, Niall Horan, and Chance the Rapper. In the stands were rival contestants permitted to bypass The Knockouts thanks to the show's new Playoff Pass, used on Manasseh Samone, D. Smooth, Ryley Tate Wilson, and Mary Kate Conner.
But it would be up to Coach Shelton to decide who between Dayne and Wilson would make it to The Playoffs. Offering his opinion, Horan said both Dayne and Wilson gave "two completely different ways to rip the roof off the joint."
"Walker, I felt like that was in your wheelhouse right there; every time you come out here, you're fully committed to getting a good vibe going in the room," said Horan. "And Kylee, I thought you absolutely nailed it. You really got in there, and you just kept going, and it was incredible."
Horan said he would have chosen Dayne for The Playoffs, with Chance saying the Texan "completely" blew him away.
When commenting on Wilson, Chance said, "You're technically skilled in a way where your pitch is always perfect, and you just feel comfortable up there." He added Dayne's performance "got a little pitchy," but that she was "so in-tune" that she didn't let it derail her from the rest of the song, prompting Chance to also pick Dayne for the next round.
Clarkson said the honky tonk song was a perfect fit for Wilson but recognized "Mariah riffs" (referencing legendary singer Mariah Carey) in Dayne's version of "All By Myself."
Ultimately, Shelton chose Dayne for the win, based on how she "sang the hell out of the song."
Despite watching someone as talented as Walker Wilson go home, Shelton said it was essential to "take the best team we can to the Playoffs."
"You want somebody who's willing to lay it all out there and swing for the fence like that," Shelton said of Dayne.
To see who else makes it to The Playoffs, watch The Voice, Mondays on 8/7c on NBC and available for streaming the next day on Peacock.