NBC Insider Exclusive
Create a free profile to get unlimited access to exclusive show news, updates, and more!
Sign Up For Free to View
Watch Jason Momoa's SNL Sketches and Monologue from His November 18 Episode
The Iowa-raised Aquaman and the Lost Kingdom star brought his signature enthusiasm to his second time hosting SNL—watch all of the sketches now. 
November 18 marked Jason Momoa's second stint as host of Saturday Night Live, and as evidenced by a behind-the-scenes video the show shared ahead of the live broadcast, he clearly has a great time in Studio 8H. The Aquaman and the Lost Kingdom star's return  didn't disappoint. 
After a cold open that found President Joe Biden (Mikey Day) meeting Tian Tian (Bowen Yang), an adorable panda who will return to China after a longtime loan, Momoa opened the show with a monologue that traced how Iowa-raised Momoa made his way to Hawaii after seeing his cousin, surfer Brian Keaulana, in the 1998 movie In God's Hands. 
"So I went back to Hawaii to surf with my family, and I ended up on a TV show called Baywatch," Momoa said. Years later, he's back in the water onscreen in a much bigger way, and the actor went on to explain how his love for the ocean inspired his company, Mananalu water, and its goal to eliminate single-use water bottles.
"We're going to save the whales, the coral reef, and the SpongeBobs, because Jason Momoa loves life!" he said.
RELATED: Jason Momoa Looks Back at His Baywatch Days
Momoa definitely brought his signature zest for life to SNL's sketches. Watch all of Jason Momoa's SNL sketches from November 18 now.
Jason Momoa's monologue: "Mahalo nui loa!"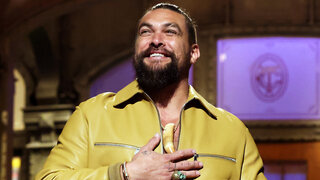 Momoa opened his monologue with a Hawaiian expression of thanks—and sweetly shouted out his mom in the audience.
November 18 Biden Panda cold open
[Watch above]
Now that we've met Yang's Tian Tian, we don't want him to leave.
Old Timey Movies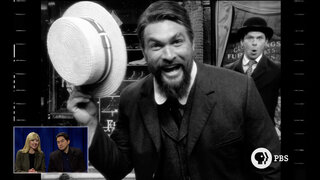 Heidi Gardner and Bowen Yang play the Host and guest on a PBS show in which unearthed black and white footage of The Wonderful Wizard of Oz author L. Frank Baum (cast member Michael Longfellow) keeps getting interrupted by people (Momoa, Mikey Day, Chloe Fineman, and Kenan Thompson) getting extremely silly for the camera, old-timey style. 
Rome Song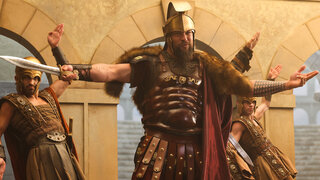 This sketch about the brief TikTok trend where women asked their boyfriends, "how often do you think about the Roman empire?" showcased Momoa's rap skills and the singing talents of Ego Nwodim, Punkie Johnson, and new cast addition Chloe Troast, who revealed her strong voice in the "Little Orphan Cassidy" sketch from Timothée Chalamet's episode. 
RELATED: The "How Often Do You Think About the Roman Empire?" Trend, Explained
Thanksgiving Week Airport Parade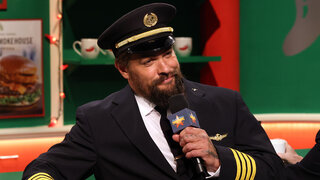 Nwodim and Yang's hilarious screen chemistry rivals Momoa's drunk airline pilot Captain Gary for the best part of this sketch, which finds two TSA employees interviewing Newark Airport travelers like "Woman who refuses to check luggage," and introducing a troupe of dancing flight attendants. 
RELATED: How to Watch the 2023 Macy's Thanksgiving Day Parade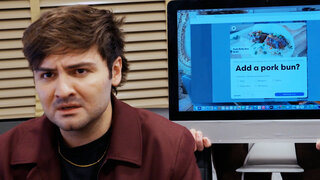 As John deals with being dumped over the phone, Martin and Ben try to sympathize and order ramen for lunch at the same time.
RELATED: The Please Don't Destroy Movie's Director Explains How Conan O'Brien Was Cast as Ben's Dad
UNTOLD: Battle of the Sexes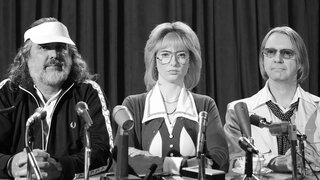 The mock-documentary pretaped sketch parodies 1973's real-life Battle of the Sexes, in which female tennis player Billie Jean King beat player Bobby Riggs. Except in this version, an enormous tennis player (Momoa) hits the tennis ball so hard it makes a Death Becomes Her-style hole in his opponent's (Sarah Sherman) middle. 
Nightclub Line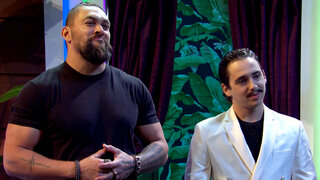 In which Momoa quite literally picks Michael Longfellow up in the air, and sets him down somewhere else. 
Cast Away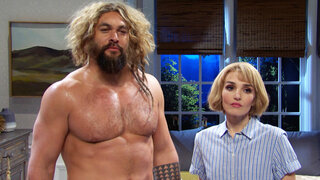 Andrew Dismukes plays a man put in a position that no husband wants to be in: His wife's ex looks like Jason Momoa (if Jason Momoa got shredded while trapped on a desert island for five years).
Cab Driver