NBC Insider Exclusive
Create a free profile to get unlimited access to exclusive show news, updates, and more!
Sign Up For Free to View
TikTok's Roman Empire Trend Gets an SNL Music Video Starring Jason Momoa
Chloe Troast's singing got another showcase in Saturday Night Live's latest music video sketch starring host Jason Momoa. 
Season 49 of Saturday Night Live has featured several nods to moments that any extremely online viewer would recognize: Think Molly Kearney recreating the Kevin James meme during Timothée Chalamet's episode, for example. Host Jason Momoa's November 18 episode tackled yet another trend that took social media by storm in 2023: The series of TikTok and Instagram videos that found men answering the question, "How often do you think about the Roman Empire?" 
The "Rome Song" sketch opens with a man (Momoa) and his girlfriend (Ego Nwodim) in a bedroom, intercut with another woman (Chloe Troast) and her husband (Mikey Day), and another couple (Punkie Johnson and Kenan Thompson). The women sing of wondering what's on their seemingly distracted mates' minds. 
"What you thinking about, baby?" Nwodim's character asks.
"I'm just thinking about...the Roman empire, ancient Rome," Momoa's character replies, launching into a rap about his passion for the era while dressed as a sword-wielding gladiator. Day and Thompson's characters then chime in with their own verses about Rome's undeniably fascinating and culturally-influential history.
RELATED: Watch All of Jason Momoa's Monologue and SNL Sketches
Their wives plead with them to focus on more pressing real-life concerns like bills. This leads to side verses about equally-valid interests, such as astrology (the little boy rapping about how awesome dinosaurs are is the real MVP).
Watch "Rome Song" below.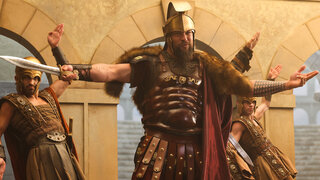 Chloe Troast's singing stands out again
While SNL fans have grown familiar with Nwodim and Johnson's many talents over the past several seasons, newcomer Chloe Troast proved again that she also has quite the set of pipes on "Rome Song." 
Troast first revealed her singing talent to SNL viewers in November 11's "Little Orphan Cassidy" sketch co-starring Host Timothée Chalamet.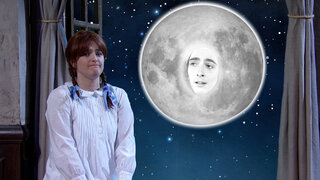 What is the How often do you think about the Roman Empire trend? 
Some trace the trend back to an August 2023 Instagram post from user gaiusflavius, who posts videos in character as a Roman gladiator. "Ladies, many of you do not realize how often men think about the Roman Empire," video text, overlayed over footage of ruins, read."Ask your husband/boyfriend/father/brother—you will be surprised by their answers!"
Over the subsequent month and beyond, people (yes, often women) posted videos that featured the men in their lives telling them that yes, they think about the Roman empire surprisingly often. While there's no way to tell how truthful every single person was being, a few Rome fans did provide receipts.
The hashtag "romanempire" has over 2.6 billion views on TikTok, though the app's user-end metrics don't indicate how many videos express a genuine fascination, and how many are solely musings and split-screen duets that comment on how odd this whole (possible) phenomenon is. Seriously, though, how often do you think about the Roman Empire?