NBC Insider Exclusive
Create a free profile to get unlimited access to exclusive show news, updates, and more!
Sign Up For Free to View
Gina Miles and Niall Horan Beautifully Duetted Billy Joel on The Voice Finale
The Team Niall Artist showcased her jaw-dropping vocals during the Season 23 finale.
The Voice Season 23 was a thrilling ride. After an eventful season that welcomed new Coaches Niall Horan and Chance the Rapper, as well as the return of Kelly Clarkson and a long farewell to Blake Shelton, the live finale night did not disappoint.
As always during the finale episodes, the remaining Top 5 Artists performed duets with their Coaches to celebrate their life-changing journey throughout the competition. The bewitching Gina Miles sang "New York State of Mind" by Billy Joel with her Coach, Niall Horan, and it was yet another show-stopping performance from her. Check out the video above to see the performance in full. For more on Miles' time on The Voice, read more for everything to know about the Artist and — spoiler — Season 23 winner. Miles' win was announced on May 23 during the live show. Coming in second place was Grace West, followed by D.Smooth in third, Sorelle in fourth, and NOIVAS in fifth. 
Who is Gina Miles?
Who is Gina Miles' Coach? 
The 18-year-old singer is the Season 23 winner of The Voice. Originally from Paxton, IL Miles is a resident of Sacramento, CA. According to her official Artist bio, she credits her father and his regular DJ gigs for fostering her love of music thanks while she was growing up. At 14 Miles began working with her father by setting up equipment ahead of his gigs, eventually moving to California and in with her aunt to be closer to a larger city and more entertainment opportunities. 
Miles was Coached by Horan. As a member of Team Niall. 
Gina Miles' journey on The Voice
Miles first blew the crowds away during her powerful Blind Audition of "The One That Got Away" by Katy Perry. 
"I love voices with so much character, like you've got," Horan told Miles after she sang. "That was incredible to see you get up there and really hit those notes with proper control. Like, for such a young girl, it's incredible."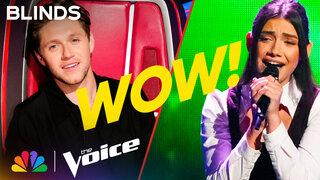 "You went for the big chords, but you were so amazing in the early moments of the song," Horan complimented. "They are the moments that are like, oh God, you know when you hear a good verse sung by someone who really means what they're singing? There's no better feeling."
Miles continued to shine during her "insane" Playoffs performance of "Wicked Game" by Chris Isaak. Horan accurately described Miles as an "unbelievable talent." Even Horan's Coach rival Clarkson had to give Miles some props.
"That was crazy, I mean the control … in the lower register," Clarkson commended. "Especially that you didn't stay up, that would have been the easier choice. You came back down to that low moody tone that is so cool and mysterious."
"You know when you hear a unique voice on the radio, and you know that's that person?" Horan asked. "You've got that distinct tone to your voice that you don't hear often."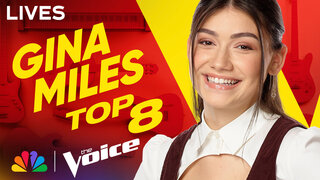 After Miles' mind-blowing Top 8 performance of Kodaline's "All I Want," Horan commented on the fascinating juxtaposition between her speaking tone and her powerhouse vocals. "She speaks at two decibels, and sings at 400," Horan quipped during the Live Semi-Finals, where Miles earned a much-deserved standing ovation. 
The awe-inspiring performance also earned Miles the nod to head into the Season 23 finale, where she continued to impress every time she took the mic. 
"I'm pretty confident [that] I've got the Season 23 winner on my team," Horan told NBC's Mark Barger. "The longer [the] competition goes on, the more I realize that I may have a chance of at least having someone in the finale. At least we'll be making it to the finale. And yeah, I do think I've got the winner."
This post was originally published on May 23, 2023. It was updated on May 24, 2023.