NBC Insider Exclusive
Create a free profile to get unlimited access to exclusive show news, updates, and more!
Sign Up For Free to View
Tracy Spiridakos Posted a Sunny Vacation Pic for Marina Squerciati's Birthday
The two Chicago P.D. co-stars are best friends behind-the-scenes.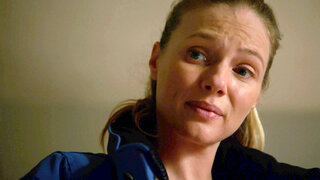 Chicago P.D. stars Marina Squerciati (Kim Burgess) and Tracy Spiridakos (Hailey Upton) are gal pals for life!
On April 29, Spiridakos took to her official Instagram page to give a lovely shout out to Squerciati for her 39th birthday. The snapshot showed Squerciati holding the camera while the two stood in front of a pool on a bright, sunny day. Palm trees could be seen in the background while they both sported some cool black shades. Spiridakos held onto her straw sunhat with one hand, while Squerciati sported a colorful bandana. 
"Happy birthday @marinasqu 🥳🥳🥳🎂🎊🍾🎉 I hope you're having the best day! Miss you!! 🤗 (I know I'm early you guys but when your birthday is on a Sunday, it's a whole birthday weekend event!) 🥳," Spiridakos eagerly captioned the post on her friend's special day. 
Happy birthday, Marina!
The feeling of friendship is mutual between the two Chicago P.D. co stars, as Squerciati went all out for Spiridakos's birthday this past February as well. It started out with an epic birthday lunch with some friends, and they later gathered for some sight seeing at the Art Institute of Chicago. 
"Early birthday celebrations with these beauties 🥳 Thank you @marinasqu for organizing ❤️ and @artinstitutechi for being fabulous as always and @eatatandros for having us! The food was delicious," Spiridakos captioned the post on her Instagram page.
But it gets even better, as the two later took a relaxing vacation to Cabo to kick the celebration up a major notch. Squerciati posted an adorable photo to her Instagram page of the two leaping into the air while in front of a pool while wearing swimsuits.
"Birthday trip in Cabo for Tracy? Don't mind if I do. #cabosanlucas #cabo #eldorado #birthdaygirl #birthdayparty #birthdaysuits #tracyspiridakos #bupton #swimsuitseason #swimsuitfashion #swimsuits #chicagopale #winterescape #chicagowho? #jumps @eldoradoresorts @zimmermann @vitaminaswim #zimmerman #vitaminaswim #gettingoffmyphonenowpasstherosé" Squerciati captioned the post. 
A month later, the two pals took a break from filming Chicago P.D. to have a luxurious spa day together. Squerciati posted some snapshots of the pair relaxing together while wearing some fluffy bathrobes. We love our self care queens!
"Facials & massages @cowshed. Champagne at @sohohousechicago. Hours of conversation with @spiridakos. Highly recommend. #fiveoutfivestars #season10isalmostover #perfectchicagoday #thingstodoinchicago #bestfacials #girlsstaycation #tracyspiridakos #sohohouse #cowshed," Squerciati captioned the post, followed by a series of hashtags. 
Watch Chicago P.D. on NBC Wednesdays at 10/9c and next day on Peacock.