NBC Insider Exclusive
Create a free profile to get unlimited access to exclusive show news, updates, and more!
Sign Up For Free to View
Tracy Spiridakos Had an Epic Cabo Birthday Trip With Marina Squerciati: See Pics
Happy birthday, Tracy! Watch the 200th episode of Chicago P.D. this Wednesday on NBC.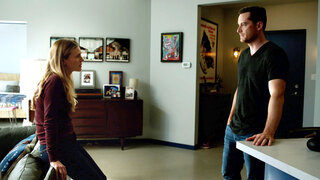 Windy city, where? Chicago P.D. stars Tracy Spiridakos (Upton) and Marina Squerciati (Burgess) were recently seen at an amazing, beach-filled getaway in sunny Cabo for a second celebration of Spiridakos' birthday.
On February 20, Squerciati posted a joyous photo to her Instagram page of the two actresses having the time of their lives in San Jose del Cabo, Baja California Sur. In the post, we get a snapshot of the two girls leaping into the air with glee on a bright, cloudless day in front of some clear water and palm trees. They both fittingly sport swimsuits, sunglasses, and head coverings, while letting their hair fall loose. Squerciati grips her sunhat in one hand, flinging it behind her while Spiridakos has her arms outstretched with her mouth wide open.
"Birthday trip in Cabo for Tracy? Don't mind if I do. #cabosanlucas #cabo #eldorado #birthdaygirl #birthdayparty #birthdaysuits #tracyspiridakos #bupton #swimsuitseason #swimsuitfashion #swimsuits #chicagopale #winterescape #chicagowho? #jumps @eldoradoresorts @zimmermann @vitaminaswim #zimmerman #vitaminaswim #gettingoffmyphonenowpasstherosé" Squerciati captioned the post, followed by a sequence of vacationed-themed hashtags. (We can say we're officially jealous!)
This tropical getaway is a much different environment than where Spiridakos had her first birthday get-together this month. On February 15, she hit the city of Chicago with Squerciati and co-star Amy Morton (Platt) for a yummy lunch and museum visit to celebrate her special day early.
The first snapshot posted by Tracy Spiridakos shows her holding up some yummy-looking food. Then, we see her grinning ear to ear while she and Morton clink some drinks together. Squerciati and Morton pose together side by side in a close-up selfie in the next photo before we see an adorable, zoomed-out group picture of them all sitting at the table. Spiridakos puts her arm around her friend while wearing a cozy grey sweater in the next photo. Next, they all smile towards the camera while Spiridakos tilts it at an angle. And for the final photo, Squerciati poses next to Spiridakos while holding up a pamphlet from The Art Institute of Chicago.
"Early birthday celebrations with these beauties 🥳 Thank you @marinasqu for organizing ❤️ and @artinstitutechi for being fabulous as always and @eatatandros for having us! The food was delicious," Spiridakos captioned the post, tagging Squerciati, the restaurant, and the museum. Looks like it was a great day!
Happy birthday, Tracy!
For something else to celebrate, watch the 200th episode of Chicago P.D. NBC this Wednesday at 10/9c and next day on Peacock.