NBC Insider Exclusive
Create a free profile to get unlimited access to exclusive show news, updates, and more!
Sign Up For Free to View
Is Millie Bobby Brown The Tonight Show's "Box of Lies" MVP?
Taylor Swift and Jenna Ortega also flexed their acting skills to beat Fallon at his own game.
Jimmy Fallon has never shied away from some friendly competition — and the same could be said for many celebrity guests who've faced off against him in one of the delightfully madcap games that The Tonight Show Starring Jimmy Fallon is known for. For some reason, "Box of Lies" is a challenge that seems to particularly engage Contestants' appetite for victory.
Maybe it's the dramatic, face-framing set or the fact that it requires some in-good-fun deceit. What we do know, for sure, is that stars have a great time with this unique acting challenge, in which convincing Fallon that they are lying when they're actually telling the truth can help them win. 
Look back at three standout "Box of Lies" installments below, featuring Tonight Show games pros Taylor Swift, Millie Bobby Brown, and Jenna Ortega. 
RELATED: 10 Times Stars Got Super Competitive Playing Tonight Show Games
What is "Box of Lies" on The Tonight Show? 
Fallon explains how it works at the top of each game. "We have nine mystery boxes containing items no one has ever seen before," he says. "When it's your turn, pick a box. Take out the object. Describe it to your opponent. They have to guess if you're lying or telling the truth."
The game goes for three rounds. As for how to win, if a player correctly guesses whether the describer is lying or telling the truth, they win that round. If they guess wrong, the other player wins.
Jenna Ortega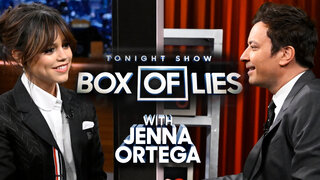 In round 1, Ortega tried a rarely-seen technique: Banging on the table to confuse Fallon with noises. It doesn't work, because the Wednesday star fell into a common "Box of Lies" trap: Describing an incredibly strange item too quickly and accurately. 
She reversed that error in round 3 with a wild lie (claiming an Elvis doll was "Peter Pan figurine wearing a business suit, wearing a Leonard Cohen fedora hat") and managed to pull one over on Fallon. Ultimately, as always, the best part of this game is all of the competitive banter. 
Millie Bobby Brown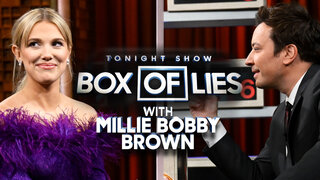 "You're not even ready for this," the Stranger Things actress and seasoned Tonight Show game-player said, as she and Fallon tried to psych each other out. 
Brown won round 1 by playing it very straight, describing a diorama in which a Stranger Things Demogorgon paints a portrait of E.T. using a palette from Brown's makeup line.
Then Fallon took the opposite tack with a fib in round 2, relying on a correct assumption that the British actress wouldn't know what Chef Boyardee is. But Brown is simply too good at this.
"I know you are lying," she told Fallon, who asked her how. "Because you're horrible at it!"
Brown, on the other hand, proved an excellent tall-tale-teller, fooling Fallon in round 3 and sweeping the game...until Fallon's competitive spirit spurred him to go for a fourth round. 
RELATED: Millie Bobby Brown Wins Most-Watched Tonight Show Game of Season 10
Taylor Swift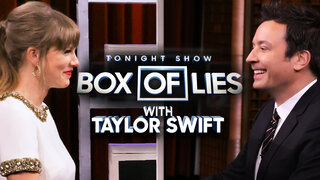 Swift's "Box of Lies" turn makes two things clear right away: You shouldn't mess with a writer who's known for her quick wit and, as the pop superstar tells Fallon, "I will do anything to bring up Selena Gomez!" The ease with which Swift came up with, "It's a Wizards of Waverly Place DVD!" is truly astounding.
Fallon won round 2 with a lie, however, prompting Swift to credit either Fallon's acting talent "or we're like, the worst poker players. We shouldn't be allowed outside! Too gullible."
While Fallon ultimately took this game, we may be the real winners—because we're still laughing over what was in Swift's final box.