NBC Insider Exclusive
Create a free profile to get unlimited access to exclusive show news, updates, and more!
Sign Up For Free to View
See Why Reba McEntire Says She "Clicked Immediately" with Niall Horan
Coach Niall Horan worked closely with country legend and mega mentor Reba McEntire to prepare his team for the final night of the Knockouts on The Voice Season 23.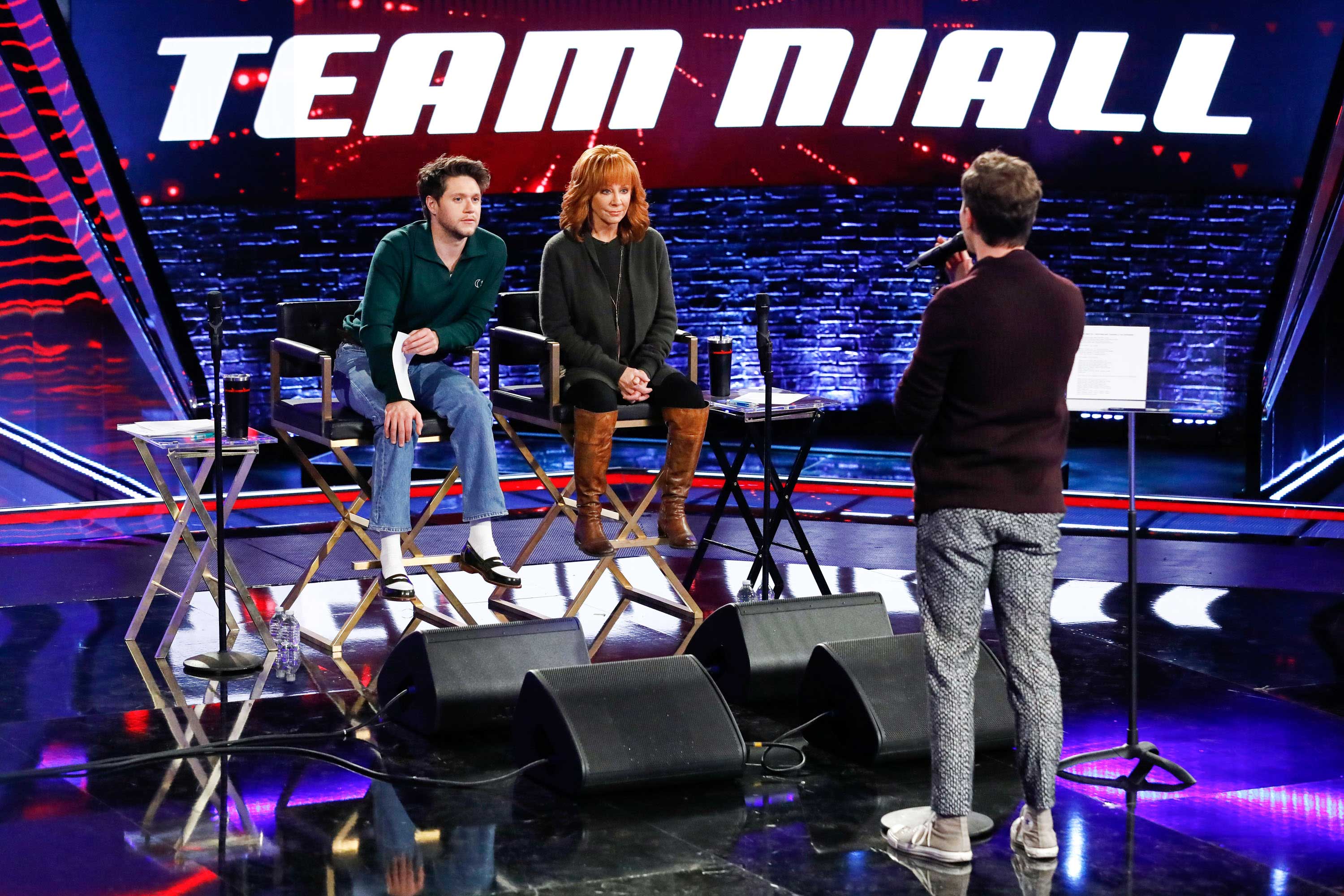 He may be the newbie on The Voice this season but Coach Niall Horan is already making some famous friends. 
This season's Mega Mentor, Reba McEntire, said she "clicked immediately" with the Irish-born singer as they prepped for the Knockout Round, joking together throughout the rehearsal sessions.
"Pretty chilled out show, really, isn't it?" Horan said. "It's not, like, over produced."
"Nope," McEntire agreed.
"I've really enjoyed it,"  Horan said. 
"And you know that they can edit it and take out the bad stuff that you say, which I haven't said anything really stupid yet, which is good," McEntire added. 
"Yeah, well, I'm planning on it," Horan quipped as McEntire broke out into laughter. 
"You want a show, huh?" the country legend asked.
"See if you can edit this one out," Horan responded, as they laughed. 
McEntire and Horan then got to work to help Team Niall Artists E.J. Michaels and Michael B. prepare for the Knockouts. 
Each Artist delivered very different, but amazing performances Monday night, leaving Horan in a tough spot as he weighed E.J. Michaels' crowd-pleasing front man performance of "Trip Switch"  with Michael B.'s powerfully soulful rendition of "When You're Gone." 
Soul ultimately won out and Horan chose to stick with Michael B, sending Michaels home. 
"I guess I just have to go with what I see in the future and in my gut for the coming rounds and the bullet-proofness of it," Horan said while making his decision. "The winner of this Knockout is Michael." 
McEntire and Horan were back together again as two other Team Niall Artists, Jerome Godwin III and Ross Clayton, prepared to battle it out on stage. 
"Have you ever been to Oklahoma?" McEntire asked of her home state before the artists arrived for rehearsal. 
"Touring-wise, yeah," Horan said. "Not a state I've spent a lot of time in though. You're always kind of on the move when you get into that run." 
"Yeah, we see the airport, hotel, and the venue and that's it," McEntire agreed.
The easy banter between the pair was one reason McEntire felt a connection to Horan. 
"I'm working with him to try to come out of his shell," she joked to producers. "Nah, I'm kidding. He is a sweetheart. We clicked immediately." 
With plenty of chart-topping hits of their own, Horan and McEntire spent time trying to help Godwin and Clayton find ways to stand out on their own on stage. 
RELATED: Who Are Blake Shelton's Most Frequent Songwriting Partners?
"Jerome is a real gospel, soul singer and Ross, he's really good at this kind of like soft rock, country twang. Both of them are amazing. These pairings are horrible because then again, I have to pick someone," Horan told McEntire. "That's why you're here and that's why I need your help."
"Oh, I was afraid of that," McEntire replied. 
Godwin chose to slow it down this time around with the well-known ballad "Someone You Love," by Lewis Capaldi. During rehearsal, McEntire urged him to make sure he dug into the emotion of the song. 
"Great sound," she said before adding, "I want to know that you did go through that. I gotta see that pain." 
Clayton chose a song with deep personal meaning to him, Steely Dan's "Dirty Work." 
"My dad used to play the album for me on repeat," he told Horan and McEntire. 
Clayton lost his dad to cancer when he was just 12 years old and sang the song in his honor. 
"I think about him every day and this song, as soon as I hear it, I'm sitting with him again," he said. "I'm going to do my best to do it justice and I think no matter what I do out there even if I go up there and totally blow it, he'd be proud."
The song got rave reviews from McEntire.
"Ross, he's a great stylist. If you hear Ross on the radio, you'll know immediately that's him," she said. "If I was a record executive that's what I would look for." 
Monday night both Artists knocked it out of the park, but Clayton's polished concert-level performance won out and Horan chose him as the winner. 
"I know for a fact, there's more in your back pocket," Horan said. 
To find out how Team Niall does in the weeks ahead, tune in to The Voice Mondays at 8/7c on NBC and available streaming on Peacock the next day.