NBC Insider Exclusive
Create a free profile to get unlimited access to exclusive show news, updates, and more!
Sign Up For Free to View
Why Patrick John Flueger Is 'Nervous' for Jesse Lee Soffer to Direct Chicago P.D.
The actor talks his "very, very, very close friend" returning to set.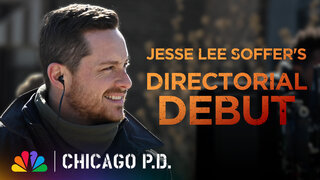 While Jesse Lee Soffer exited Chicago P.D. in October after playing Detective Jay Halstead for a decade, fans were happy to learn he'll be back for Season 10, this time behind the camera as Episode 16's director.
When chatting with NBC Insider about Soffer's return to set, Patrick John Flueger (Ruzek) echoed LaRoyce Hawkins' (Atwater) thoughts and says the role of director is a natural fit for Soffer. 
"He's got incredible ideas, he's able to offer them to actors and to the writers and to camera people in a way that displays diplomacy that I think you have to have when you're directing TV that maybe you don't have to have when you're directing movies," Flueger tells us. "I just think he's got that in spades. He's just got a way of getting what he wants, when he really wants it, and when he knows it's right. But also offering those suggestions and those opinions in such a way that it doesn't put people off."
However, Flueger does admit he has some hesitation about what's to come, especially since he considers Soffer a "very, very, very close friend." 
"When you work this closely and you become that close with somebody after a decade, they know you pretty well. So I'm excited for him to direct, but I'm also a little nervous for him to direct," Flueger jokes. "'Cause I don't know if I'm gonna be able to get through things without laughing. Because I'm embarrassed that Jesse can see right through me like I'm a transparent ghost."
Something tells us that no matter what, Flueger and Soffer will still produce a thrilling episode.
Watch Chicago P.D. on NBC Wednesdays at 10/9c and next day on Peacock.