NBC Insider Exclusive
Create a free profile to get unlimited access to exclusive show news, updates, and more!
Sign Up For Free to View
Girl Named Tom's Taylor Swift "Anti-Hero" Cover May Have Their Best Harmonies Yet
It's me, hi. I'm crying over these harmonies — it's me. (Watch The Voice on NBC.)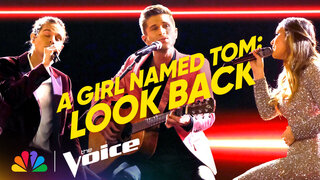 The Voice Season 21 winners Girl Named Tom have some of the best harmonies in the show's history. The trio of siblings — Bekah, Joshua, and Caleb Liechty — have voices that perfectly complement each other, and when blended, fans get something truly angelic. 
They've proven this time and time again with their covers. The band has taken on everyone from SZA to Ed Sheeran and wowed time and time again. But their latest cover of Taylor Swift's "Anti-Hero" might contain their best harmonies yet. 
Starting off with some heavenly "ahhh" sounds, Bekah takes point with the track's first verse. "I have this thing where I get older but just never wiser. Midnights become my afternoons," she sings. "When my depression works the graveyard shift all of the people I've ghosted stand there in the room." 
The group skips the pre-chorus and dives right into, "It's me, hi! I'm the problem; it's me," their harmonies sounding light, airy, and completely gorgeous. Listening to them singing this is like floating on a cloud. 
"I'll stare directly at the sun but never in the mirror," the trio croons. "It must be exhausting always rooting for the anti-hero." 
Listen to their cover for yourself, below: 
"Anti-Hero" is the lead single off Swift's blockbuster album Midnights, which dropped in October 2022 and broke streaming records left and right. The pop icon is currently embarking on her Eras Tour, a six-month spectacle of stadium shows, all of which have essentially sold out. Several outlets have reported that the Eras Tour could become the highest-grossing tour of all time by the end of its run. 
If you're in the mood for more Girl Named Tom excellence, check out this other recent cover of theirs, Rema and Selena Gomez's "Calm Down": 
The Voice Season 23 wraps in May. It could be anyone's game at this point — including Sorelle, the latest trio on the show who has very similar shades to Girl Named Tom. 
"The girls got up on stage and were cute as a button," Mega Mentor Reba McEntire said after Sorelle's rehearsal during The Knockouts. (Their Coach is Chance the Rapper.) "They did the little dance routines and taking turns singing, and that three-part harmony which I absolutely loved. I just fell in love with them."
Watch The Voice on NBC Mondays at 8/7c and next day on Peacock