NBC Insider Exclusive
Create a free profile to get unlimited access to exclusive show news, updates, and more!
Sign Up For Free to View
Watch Girl Named Tom's Journey to Winning Season 21 of The Voice
When Girl Named Tom competed on Season 21 of The Voice, they quickly became frontrunners. You can see why.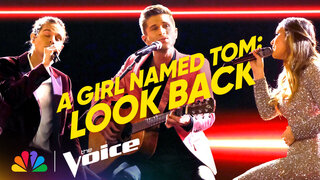 It has been a wild and intoxicating ride for the country music group Girl Named Tom since they won Season 21 of The Voice. The trio of siblings—Bekah, Joshua, and Caleb Liechty—are now on a 40-city tour, most of which is far from their home in from Pettisville, Ohio.
They had once planned to become doctors, following in their grandfather's footsteps, but all that changed when their mother encouraged them to pursue their passion for singing.
Much to the delight of their fans, the group has been sharing an impressive array of covers like their version of Miley Cyrus's "Flowers" and SZA's "Kill Bill". Here's a look back at their incredible and historic road to victory.
Why Bekah Liechty's Brothers Called Her "Thomas"
Viewer knew this group was singing a new tune and bringing a different vibe when Bekah explained to a clearly baffled Ariana Grande during the Blind Auditions that her brothers once called her Thomas.
Coach Kelly Clarkson thought it was hysterical, while EGOT winner John Legend solved the puzzle, suggesting they called her Thomas because they wanted a brother.
Girl Named Tom Got a Four-Chair Turn
The siblings formed a band, performing for wineries, churches, retirement centers, and anywhere else they could get a gig. But fate met destiny when the trio landed on The Voice's Blind Auditions in Season 21. Their flawless harmonies and celestial voices, leading to a rare four-chair turn from the coaches.
They joined team Kelly, who was the first to hit her buzzer. "I am so stoked about Girl Named Tom. First and foremost because there is no girl named Tom," Kelly said.
Girl Named Tom Got Help From a Team of All-Stars
Even with all their talent, there was room for improvement and they got assistance from some of the biggest stars in the music industry—including artists like Jason Aldean and Ed Sheeran.
That tutoring paid off leading to success on the music charts while still on the show: They reached number two with "More Hearts than Mine (The Voice Performance)."
Girl Named Tom Achieved A Historic Victory
All the hard work and coaching was rewarded with a historic victory when Girl Named Tom became the first-ever group to win The Voice.
More Talents of Girl Named Tom Have Been Revealed
And the group continues to delight and surprise its growing fan base. In March, Bekah revealing a hidden talent in an Instagram post: She also plays the flute.
"Yep sure nuf there's @bekahliechty sitting on the floor doing her thing ," the Season 21 winners captioned the post. No word yet if she plans any flute solos during the group's tour.
You can watch Season 23 of the Voice on NBC Mondays at 8/7c and Tuesdays at 9/8c, and the next day on Peacock.